They say possession is 9/10ths of the law, and in NHL rules terms you can say an official's call is nearly 9/10th's provable guilt. When officials make a call, its almost a given that half of the fans watching will love the call and about the same number will hate it. They may gain some cheers for the calls benefiting the home team, but those fans can become instantly hostile in a blink of an eye if a call is made on their local heroes. Its not a fun job, where more often than not you're maligned, jeered and fans take joy whenever you get hit with a puck or get knocked to the ice. Fans at home have the benefit of near instantaneous replay and slow-motion where they never give the official the benefit of the doubt for being unable to make that determination in the fraction of a second. So what about the most recent controversy involving an official when NHL referee Tom Kowal called a match penalty on Nick Johnson for headbutting Jarome Iginla during a fight. After Johnson's head made contact to Iginla's chin, Iginla complained to Kowal about a head butt and then fired a few right handed hooks towards Johnson who tried to answer back with a few left handed jabs before the officials moved in and picked it up. As Johnson was taken to the box, and Iginla continued to complain about the headbutt all of the way to the sin bin Kowal skated over to the Wild's bench to explain the call. As he was explaining what happened to Wild Head Coach Mike Yeo, team captain Mikko Koivu was attempting to interject and Kowal lost it. Turning towards the Wild captain with a look of exasperation he let loose with an expletive-filled tirade as he dressed down Koivu right in front of his teammates. It was an absolutely over the top and ridiculous overreaction from prompts coming from the team's captain, which equaled the match penalty call that was given to Johnson. The league more or less exonerated Johnson by not giving him a suspension for the alleged 'head butt' but this has stirred a bit of a furor from some fans as they felt Johnson got off easy in comparison to Buffalo's Patrick Kaleta who was tagged with a 4-game suspension for his head butt to Philadelphia's Jakub Voracek. Watch that hit for yourself and tell me if there is a difference between Johnson's head butt and what Kaleta did.
Kaleta's head butt…
Now Johnson's head butt…(you can also see Kowal's tirade as well)
I think the differences are rather apparent don't you think? One has a player putting his head down in the middle of a fight as he's being pummeled by a superior fighter has his head bump into the chin as they grapple with one another. The other shows a player driving his head right into another opponent; attempting to catch him with the crown of his helmet. So for Sabres fans to clamor for a 4-game suspension for Johnson simply because that's what Kaleta got is comparing apples to oranges and while they both may be fruit they're not nearly the same kind of thing.
Minnesota now tries to refocus itself after its 3-0 victory, and making the trip to San Jose to take on the red hot San Jose Sharks. It is a reunion for Wild snipers Devin Setoguchi and Dany Heatley as well as former Wild players Brent Burns and Martin Havlat. I have no doubt the always loud Sharks crowd will have a bit more vitriol than normal, but the Wild must put that out of their mind. Heck, even the normally respectful Brent Burns added some interesting fodder for the locker room when he was quoted as saying, "I've been watching how they've been doing, hoping that they would lose every game. You have to be competitive to reach this level and I'm a pretty intense guy. And when a team doesn't want you, you sure don't want them to go 82-0. I have a lot of friends there and you want them to score six goals and lose." He may or may not have been serious when he made this statement but I have no question it will be discussed by the members of the Wild before this game. While Heatley and Setoguchi may try to use that to add a bit more fire to their game the rest of the Wild need to continue with the formula that has brought about its recent success. Great hustle, finishing checks and funnelling shots on goal. The Sharks have a lot of depth and if Minnesota tries to play run and gun with San Jose I think they'll find themselves overwhelmed real quick. Possession matters, and success at the faceoff circle has been an unsung element in Minnesota's success thus far. So will Minnesota put together another solid road effort or will Burns, Havlat get their revenge over their former team?
Click on "Read More" for the rest of the article…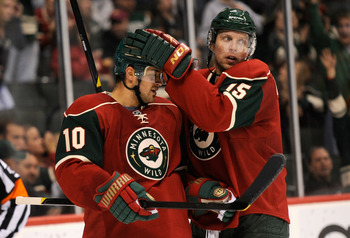 9
1st Period Thoughts: The Wild did not have good pace to start the 1st period. San Jose was moving with and speed and purpose right away which had Minnesota chasing early. Joe Pavelski ripped a wrist shot that was steered aside by Niklas Backstrom. The Sharks early pressure had Minnesota scrambling as Backstrom had his stick knocked away from him; and so Scandella tried to help out but he'd play a puck as he had both sticks in his hand and that would earn San Jose its first power play. Minnesota's penalty killers did a nice job of keeping San Jose to the perimeter. The Sharks best chance came off the stick of Joe Thornton who turned and swung a shot on goal that was directed away by the leg pad of Backstrom. Minnesota would earn the early penalty kill, and Minnesota would try to get something going offensively and the 2nd line would dump the puck deep and forecheck and the hustle of Devin Setoguchi drew a penalty on his former Sharks' teammate in Douglas Murray. The Wild power play would be short lived as Minnesota failed to win a battle along the boards for the puck and ended up tripping up Joe Thornton to negate the man advantage. A few moments later, the Wild took another penalty as it was Setoguchi tripping up Douglas Murray as they battled for a puck. Minnesota's penalty killers again pressured the puck carrier well, and nearly had the whole penalty killed off when Joe Thornton appeared to have a gimme from close range as he had Backstrom sprawling only to be stopped by the stick of Nate Prosser. The Wild killed off another Sharks' power play and Minnesota tried to counterpunch with its 2nd line and Pierre-Marc Bouchard would hammer a slap shot that was steered away by Antti Niemi. The Wild were starting to exhibit a bit more jump in their skates and they were also playing with more physicality as well. Justin Falk put the hammer down on a big hit on Patrick Marleau. Minnesota's energy line of Cal Clutterbuck, Kyle Brodziak and Nick Johnson created a little havoc down low in the zone as Johnson tried to stuff a shot near the left post as Niemi put up a wall. The Wild were now skating with the Sharks, but they were still playing fairly conservatively and being rather patient in taking its chances to put shots on goal. Minnesota's energy line continued to counter punch as Kyle Brodziak carried the puck into the zone and he threaded a short pass to Johnson who moved down the slot and fanned on his initial attempted and then got off a quick wrist shot that was stopped by Niemi and the rebound was just out of the sight of Cal Clutterbuck. Clutterbuck was seeing a lot of black jerseys skating his way as former Wisconsin Badger Brad Winchester took a run at Minnesota's hit machine near the Wild bench. You could sense Minnesota's patient, counter-punching style was starting to wear on the Sharks as the period ended with both clubs knotted at 0-0. It was a terrible start, with a disturbing amount of penalties taken early, but once they got their legs going their level of play was fairly even with San Jose.
2nd Period Thoughts: The Sharks would try to ramp up their play as they put out their energy line of Tye McGinn, Torrey Mitchell and Andrew Dejardins. The pressure drew a hooking penalty on Bouchard and the Sharks would go on its 3rd power play of the game. Minnesota's penalty kill again was looking strong until a fairly innocuous dump in was played by Niklas Backstrom who had Justin Falk skating towards him and Backstrom decided to give him the puck but for whatever reason Falk would reach out for the puck and miss it and then overskate it and an opportunistic Patrick Marleau swept in and fired a quick shot by Backstrom to give the Sharks a 1-0 lead. It was a cheap power play goal, but perhaps one that was due as it broke the Wild's penalty kill streak at 22. The game would slow down a bit after Marleau's goal as both sides were content to dump it deep and force each other to bring the puck up the full-length of the ice. Minnesota would earn an opportunity as Ryane Clowe was tagged with an interference penalty. The Wild had a great chance early as Bouchard fired a wrist shot that was deflected and just missed wide of the Sharks' goal. Minnesota's power play was moving the puck very well, setting up a number of nice scoring chances as they moved it to the slot for a quick wrist shot by Heatley that was stopped by Niemi and unfortunately the Wild were unable to capitalize on the rebound. I really liked how the Wild were executing, setting up a variety of different plays but wasting little time setting up the chance and simply focusing on getting as many quality shots on goal as possible. The pace of the play started to intensify, as the Sharks were looking to add to their lead and Minnesota was looking a bit disorganized. Minnesota tried to take its chances with its top line and it was Heatley attempting to set up a crashing Guillaume Latendresse who had Torrey Mitchell hooking and water skiing behind him that just failed to click before the Wild power forward collided with the Sharks' goal, knocking it off its moorings. No penalty on Mitchell either. The Wild's penalty troubles continued; especially Marco Scandella's as he tripped up Logan Couture. The Sharks' power play was pretty simple, work the puck out to the point for a slap shot and crash the crease. San Jose's power play would be persistent and with some quick puck movement in the dying seconds of the man advantage as Ryan Clowe threaded a cross-ice pass to Marleau for a big one-timer that beat Backstrom to extend the Sharks lead to 2-0. The Sharks were starting to play with some swagger and the Wild started to look seriously overmatched. Minnesota would try to put out its energy line, to try to start something but even they were outworked by the Sharks' fourth line. San Jose would light the lamp right off a faceoff as a faceoff win by Michal Handzus was drawn back to Torrey Mitchell who blistered a slap shot by Backstrom to put the Sharks up to a 3-0 lead. The Wild again went with its energy line to get something started a long outlet pass to Nick Johnson yielded a late scoring chances as he took a slap shot that was knocked down by Niemi and followed up by Latendresse but the Sharks goalie was able to make the stop. Minnesota had to feel a bit demoralized after giving up 3 goals to really see the game slip away with one period left to play. The Wild simply hadn't been able to get much going offensively to believe they were capable of answering back from an 3-goal deficit.
3rd Period Thoughts: When you're down three goals going into the third period, the mantra should be shoot, shoot, shoot, and shoot again. Of course that also means that you must be in control of your game and getting into the offensive zone. Unfortunately, seven shots on goal in a period where you need a miraculous comeback (and this has happened for the Wild against the Sharks) usually won't cut it. And if you're going to rally, you need to score your first goal much, much earlier than Kyle Brodziak's goal at the 13:33 mark of the period. If there's one positive about tonight's game, is that they didn't get completely shut out. With a five-game win streak, many fans (myself included) wondered how long the streak could last. Considering the team's recent past, those five games were something to be proud of, and hopefully can hopefully be built upon. There are still three more games to this road trip. Personally, I'd be happy with four points out of those three games. And with that dear readers, I must get some sleep. This is the danger of not only games on the West Coast, but game that are allowed to start an additional half hour later.
Wild Notes:
~ The Wild roster tonight was as follows: Mikko Koivu, Devin Setoguchi, Dany Heatley, Guillaume Latendresse, Matt Cullen, Pierre-Marc Bouchard, Kyle Brodziak, Darroll Powe, Nick Johnson, Cal Clutterbuck, Colton Gillies, Brad Staubitz, Nick Schultz, Marek Zidlicky, Jared Spurgeon, Nate Prosser, Justin Falk and Marco Scandella. Josh Harding backed up Niklas Backstrom. Clayton Stoner and Warren Peters were the healthy scratches.
~ The 3 Stars of the Game were: 1. Patrick Marleau, 2. Torey Mitchell, 3. Niklas Backstrom
~ Attendance was 17,562 at HP Pavillion.
Houston Aeros Report:
Houston 3, Abbotsford 5
The Aeros were looking to avenge a terrible loss at home on Sunday at the hands of the Toronto Marlies, but another slow start would play Houston. The Abbotsford Heat got on the board first when former Aero / Wild forward Krys Kolanos rifled a shot by Matthew Hackett. In the 2nd period, penalties on the Aeros would prove costly (perhaps they were missing Warren Peters being up with the Wild) as Greg Nemisz and Kolanos tallied power play goals. Houston would finally get on the scoreboard as David McIntyre scored his 7th of the season to make it a 3-1 game going into the 3rd. Abbotsford was a little undisciplined at the end of the 2nd period, giving Houston a long 5-on-3 to start the 3rd. The Aeros peppered Leland Irving with shots but the Flames prospect was up to the task. When you can convert on your opportunities they often come back to bite you and the Heat would score what would be the game winner as Jon Rheault ripped a wrist shot that beat Hackett cleanly to give Abbotsford a 4-1 lead. With the game slipping away the Aeros would strike on a late power play on a flukey goal by Kris Foucault. Foucault would dump the puck in off the glass and it would strike a stanchion and angle right into the empty net as Leland Irving was caught out of his crease where he had anticipating playing the puck behind the goal as it made its way around the boards. Leland's mistake breathed new life into the Aeros and they went back on the attack. Houston would strike one more time on the power play as Casey Wellman continues his hot start by moving in close and snapping a shot over the shoulder of Iriving to cut the lead to one. But that was as close as it got as Houston couldn't manage to tally the equalizer and Rheault would seal it with an empty netter to give the Heat a big 5-3 road victory. Hackett had 20 saves in the loss.
Wild Prospect Report:
LW – Brett Bulmer (Kelowna, WHL) ~ Bulmer didn't look all that out of place at the NHL level so it should be no surprise that upon his return to the WHL he'd be a force. The Prince George, British Columbia-native provided 3 helpers in Kelowna's 6-4 loss to Red Deer last night. So far in just 3 games, Bulmer has 2 goals, 7 points, 4 penalty minutes and is a +3.
D – Josh Caron (Kamloops, WHL) ~ Overage players are expected to set an example for the younger members of their team, and show maturity both mentally and physically as a model to follow. Josh Caron is being just that with the Blazers this season, as the 6'4″ 212lbs defenseman has 6 assists a +9 and 59 penalty minutes in 16 games thus far into the 2011-12 campaign. This is precisely why the Wild decided to tender a contract to the bruising blueliner after the way he tried to help set the physical tone at the team's annual prospect camp in Traverse City two years ago by showing a willingness to drop the gloves.
World Jr. A Challenge Tournament Update:
TeamUSA's best Jr. A players are battling it out in Langley, British Columbia at the World Jr. A Challenge Tournament which is a tournament where TeamUSA is hoping for a 4th championship in a row. There are 6 teams in the tournament including Canada West, Canada East, Russia, Sweden, and Czech Republic. The American squad is led by Head Coach (Elk River, Minnesota-native) Regg Simon and assistant coach Shane Fukushima (Owatonna, Minnesota). As one would expect there is a very strong presence from the State of Hockey led by Wild prospect Mario Lucia (Wayzata), Brett Patterson (Eden Prairie), Tony Cameranesi (Maple Grove), Andy Welinski (Duluth), Mike Reilly (Chanhassen), Ethan Prow (Sauk Rapids), Austyn Young (South St. Paul), A.J. Michaelson (Apple Valley), and goaltender Zane Gothberg (Thief River Falls).
The American team won a 4-1 exhibition game over Canada East on Saturday. Mario Lucia was the first to light the lamp just about 2 minutes into the first period. Peter Hinostroza added a shorthanded goal to give TeamUSA a 2-0 lead going into the 2nd. Canada would cut the lead to one on an early tally in the 2nd, but Indiana Ice star Sean Kuraly found the twine a few minutes later to give the Americans a 3-1 advantage. Florida-born Austin Cangelosi scored mid-way through the 3rd to seal a 4-1 win. Illinois-native Ryan McKay had 32 saves in the victory.
TeamUSA would play again on Monday against Team Sweden, and despite outshooting the Swedes 44-24 they'd lose 1-0. Swedish netminder Oscar Dansk was outstanding, making a number of great stops at point blank range as the Americans couldn't solve the Tre Kroner goalie. On the flipside, Zane Gothberg demonstrated his great athelticism too only to give up the game winner with just 6 seconds left in regulation.
On Wednesday night, TeamUSA battled the 'home' team of Canada West and it wasn't even close as the Americans stormed to a 6-1 rout. Wild prospect Mario Lucia was again the big story scoring twice and adding a helper to be named the 'player of the game'. Ryan McKay had 29 saves in the win. TeamUSA now moves on to play Russia in quarterfinal action.