What a difference a few days makes. After looking downright awful in the second half against Providence on Thursday night, the UConn Huskies came to play on Sunday as they upset #13 Marquette 89-73 in a Big East Conference game at Gampel Pavilion. The win for the Huskies ended their losing streak at two games while Marquette suffered it's second straight loss.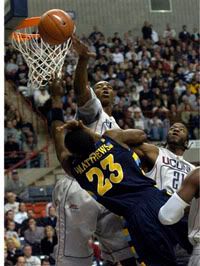 One of the big differences in the game was the free throw shooting by UConn. Yes, you heard me right. I am actually praising UConn's free throw shooting. They got to the charity stripe 39 times, converting 33 of those (84.6%). With Marquette committing 29 fouls, 22 in the second half, you can understand why UConn had so many chances at the line. Thabeet had four of those misses (9-13) but considering how terrible he was at free throw shooting last year, I'll definitely take those numbers. I am sure Jim Calhoun will too.
A.J. Price led a well-balanced scoring attack for the Huskies (12-5, 3-3 Big East) this afternoon with 17 points and 8 assists. Jeff Adrien, Craig Austrie and Thabeet all added 15 points each. Thabeet also had 6 of UConn's 10 blocked shots on the day. Stanley Robinson chipped in with 10 points and Jerome Dyson added 9 points for the victorious home team.
Marquette (13-4, 3-3) was paced by Lazar Hayward with 14 points. Wesley Matthews added 13 points while Dominic James, Dan Fitzgerald, Maurice Acker and Jerel McNeal all had 9 points for the Golden Eagles.
Marquette started out cold from the floor missing 10 of their first 11 shots as the Huskies got out to a 12-4 lead. Dyson got himself into foul trouble in the first half as well but UConn shot 51.7% (15-29) to give themselves a 15 point lead (39-24) heading into the break. UConn's trademark defense showed in the first half as the Golden Eagles were 8-of-29 (27.6%).
More of the same in the second half as UConn's defensive pressure was outstanding. Marquette missed 7 of their first 9 shots and all of the sudden the Huskies were up 22 points at 51-29. UConn's biggest lead of game was 29 at 67-38, which came on a Thabeet basket. UConn never let Marquette back in the game after that though, hitting most of their free throws down the stretch.
Next up for the Huskies is a visit to the hometown of injured women's basketball player Mel Thomas and Red Sox first baseman Kevin Youkilis as they will take on the Cincinnati Bearcats. Tip-off is at 7:30 PM and the game will be broadcast locally on My-TV9.
Notes and musings:
The starters were A.J. Price, Jerome Dyson, Stanley Robinson, Jeff Adrien and Hasheem Thabeet.
The Huskies got some bad news in regards to recruit Nate Miles. He was not cleared by the NCAA Clearinghouse to enroll at UConn for the spring semester. Odds are that he will never play at UConn. He could go to a junior college to try improve his academic standing but it's still unlikely that he'll play for the Huskies.
The Huskies wore their alternate gray uniforms.
Curtis Kelly was the first big man off the bench today. Lately that role has been filled by Gavin Edwards.
The win ended a 7-game losing streak to ranked teams. Last win over a ranked team was in 2006 Sweet 16 against Washington.
UConn shot 54.6% (25-46) while holding Marquette to 40% (26-65).
The Huskies won the battle of the boards 37-29.
One of my favorite stats is assists-to-baskets ratio as you know from the women's posts. UConn had 16 assists on 25 made baskets while the Golden Eagles had 12 on 26 made baskets.
Marquette only committed 9 turnovers while the Huskies had 13.
Marquette also outscored the Huskies in the paint 30-24.