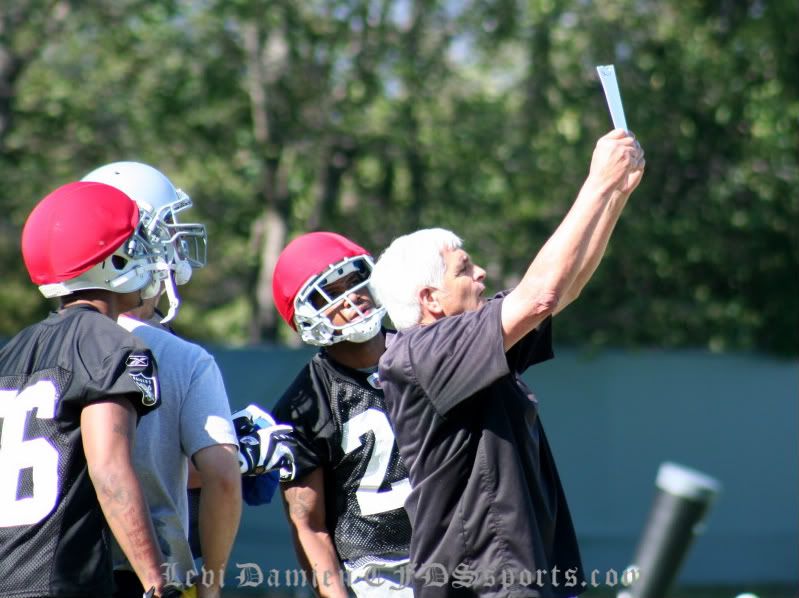 Marshall calls a play during a drill (L Damien/TFDS)
There's an old cliché that defense wins championships; it knows no bounds and it is not sport specific—by that I mean it is not just relative to the game of football. The Oakland Raiders defense has been abysmal during the this seven year stretch of eleven or more losses, ranking at or near the bottom in every category except for passing defense. Many people think that is due to the fact that their opponents know that they can just run the football and they don't have to test the waters of establishing a pass game when playing against Oakland.
2006 was probably the team's best defensive effort during this stretch of mediocrity, when the team finished third in overall defense for the year. What people leave out when speaking of that season is that the team was still only 25th in the league against the run and still allowed over 20 points per game en route to their worst regular season record during the current stretch with 2 wins and 14 losses.
Needless to say, it was no surprise when Oakland decided to move on from Rob Ryan as their defensive coordinator after five seasons. They went with experience when they made their choice for a replacement in John Marshall. Marshall had been in the same position with Seattle from 2005-2007. During that time span, his defense was second in the league with 136 total sacks. Marshall was known for bringing the heat, attacking the offense with relentless linebacker blitzes and a unique Nickel 3-3-5 package (3 defensive lineman, 3 linebackers, 5 defensive backs). Marshall brought with him Dwaine Board, his former defensive line coach from Seattle, but Board only lasted one season with the Raiders.
It was not due to anything that Board did wrong; it was just that the Raiders did not want to let an opportunity pass them by; an opportunity to re-unite with their defensive line coach from the John Gruden era, Mike Waufle. Waufle left the team shortly after the 2002 Super Bowl loss, in 2003, to join the New York Giants coaching staff. During his time with the Giants, their defensive line was known for being one of the more exceptional lines in the league. Just about every player in their front seven was multi-functional in one way or another. Sounds familiar doesn't it?
The Giants firing of Waufle was baffling to many outside observers. Some say that it was because he was quite vocal about being mistreated and underpaid. Giant's defensive end Osi Umenyiora simply said this, "I am extremely saddened by it. He is a great coach and we have a special relationship. I'm sure he will be okay though because there should be very high demand for a coach of his caliber."
Waufle's unit in New York was crucial to them shutting down the previously unbeaten New England Patriots in the Super Bowl at the end of the '07 season. Their squad produced an NFL leading 53 sacks that year, including three players with over 10 sacks individually. Injuries hurt the Giants defensive line this past season. Justin Tuck played most of the season with an injured left shoulder and free agent acquisition Chris Canty was bothered by hamstring, calf, and knee injuries. Defensive end Osi Umenyiora, defensive tackle Fred Robbins, and defensive tackle Barry Cofield didn't have good seasons either, each coming off of knee surgeries.
Enough with the Giants problems, if I may, let's jump back to John Marshall for a second, as he experienced similar production with his unit in Seattle during around the same time that Waufle was having such success in New York. Marshall instructed a defense that led the NFL in touchdown passes allowed (15) and ranked fourth in the NFL with 20 interceptions as well as fourth with 41 sacks in 2007. They had 26 forced fumbles and 14 recoveries. His defensive unit boasted four Pro Bowlers and two AP First Team All-Pros.
Skip back two seasons to 2005; his defense led the NFL with 50 sacks, allowed only one 100-yard rusher, finished second in the NFL in red zone defense (40.4%) and rushing touchdowns allowed (5) picked of 16 passes and forced 18 fumbles while recovering 11 of those en route to a berth in Super Bowl XL. In 1997, he was at the helm of the NFL's top defense with the San Francisco 49ers, they ranked second versus the rush and pass, and sent five players to the Pro Bowl. Last year, in Oakland, Marshall's defense led the league in tackles for loss (93) and was seventh in the league against the pass. Here's a little taste of what Marshall's defense showed us last year, and here's hoping they can further their development and team chemistry this offseason.
I was reading Jerry MacDonald's chat on Tuesday and he said something that caught my eye. He said, "New England is known for coming out with a different look each week on defense." He also stated that he thought that's what the Raiders would like to do this year.
I think it's a very interesting take, because the roster moves they made for linebackers this offseason were quite extensive. They added Kamerion Wimbley, Quentin Groves, Rolando McClain, and Travis Goethel via trades and the draft. They also are expecting Trevor Scott to make his switch mid-way through last season to WSLB permanent. And let us not discount that last year's starter's Ricky Brown and Thomas Howard are still with the team, along with the 2009 draft rookies Slade Norris and David Nixon.
It's puzzling to even attempt to comprehend the possibilities. Perhaps they could use a newly invented seven linebacker, four defensive back set. But then, what would Mike Waufle do? And it wouldn't be in anyone's best interest to put Richard Seymour, Matt Shaughnessy, Jay Richardson, Desmond Bryant, or Tommy Kelly on the bench; and what to do with impressive newcomers Lamarr Houston and UDFA Alex Daniels?
The picture is puzzling, but like Jerry and many others have suggested, it almost creates an opportunity for limitless "looks" that could absolutely puzzle an offense. I know, based on the Oakland Raiders recent history I should not be excited to see this defense; as they will likely get shredded by their opponents running game all year right?
Not so fast. The top two rookies in the draft this year for Oakland came from the number one and number two rush defenses in NCAA Division I football last season. There is an obvious exclamation point focused on stopping the run this year in Oakland's defense. The addition of Jason Campbell and the holdover of last year's fan favorite QB Bruce Gradkowski should keep the offense in contention for more first downs, thus giving the defense more rest. This is also vital to stopping the run—giving your defenders a break longer than a three and out series every now and again.
It will be fun to watch how this thing develops over the next few months. While the Raiders ran a very basic and, some would say, vanilla defense during their recent mini-camp, they have the capabilities to be quite exotic starting this season. Much of the fundamental stuff aimed at the mini-camp rookies will fly out the door during the OTA's starting on May 18th when the media's access to coverage is more limited than the mini-camp period. We likely won't see what Tom Cable said would make us "like the Raiders defense" this year until the preseason begins. A little teaser for some of you, Raider Nation, the last time Cable talked of using a 3-4, he was not so adamant about being a base 4-3 defense. Personally, I'm expecting to see multiple looks, which could include a 5-2-4 or a 4-6 with one deep safety. I'd also expect them to dive into more plays with their unique three safety set from last season. It should be fun…stay tuned.
Follow me on Twitter: Raidersblogger
Follow TFDS on Facebook