Today at noon there was the Josh Beckett and Jacoby Ellsbury Celebrity Wine Launch at the House of Blues.  And, lucky me…I got the chance to attend.  Unfortunately, Josh was unable to attend because of his recent back injury.  I was bummed to not be able to see him up close and personal, but I'd much prefer him to be available to possibly pitch on Friday, even if it means that I didn't get to share a glass of wine with him. And let's be honest…Beckett avoids me.  I've accepted it.  No fear though, Jacoby Ellsbury did not disappoint the masses and was in attendance.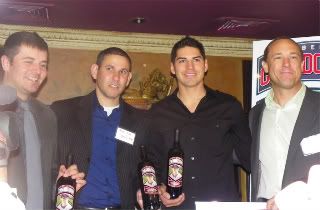 (Jacoby pictured with members of Charity Hop and Charity Wines)
The event was emceed by NESN's own Heidi Watney.  I got the chance to talk with her briefly after the event…and let me tell you, she is really sweet, personable and nice.  Plus, it goes without saying that the woman is beyond gorgeous….and in person, just as much so.
Ok.  The wines.  Josh's wine is the Chardon-K.  It's a nice, light white wine.  Jacoby's wine is the ZinfandEllsbury.  It's also a nice, refreshing red wine.  I'm not a huge wine drinker and I didn't have incredibly high expectations…but I gotta say, the wine is well worth the price of admission.  By the way, if you would like to buy a bottle…or ten…click here.  The wines can also be found at most liquor stores in Red Sox Nation.  All the proceeds go to the player's perspective charities.
Of course, the idea of being in the same room with a member of the Red Sox is not awesome enough, I am also a social worker…and so, the charities that both players support got my attention just as much.  This wasn't just a fun day about sipping some wine and spending time with a player, but it is clear how important the charities are to both the athletes.
Money raised from Josh's wine supports the Josh Beckett Foundation which benefit the Boston Children's Hospital.  A representative from the foundation talked about the cancer treatment rooms that Josh has redone to look like a mini-Fenway Park.  I think it's fantastic.  I can't imagine what it must be like to be going through that as a child and to make it a little less scary and clinical…is such a godsend.  You can throw money at anything, but those personal touches truly make the difference in people's lives.
Money raised from Jacoby's wine goes to The Navajo Relief Fund, Project Bread and the Ellsbury-Read Project.  Jacoby spoke most about the Navajo Relief Fund.  He stated that he has seen first hand the devasting poverty and needs in the community.  Jacoby's mother is a full fledged member of the Navajo community.  The organization helps with food and hunger relief, employment assistance, housing, health concerns and anything else that becomes a presenting issue.  Jacoby's passion for the issue was evident during the event.
I didn't get to get any video at the event….so check out the blog entry over at Sox and Dawgs.  It'll almost seem like you were there.  Also, a big thank you from Ian over at Sox and Dawgs for taking my picture with Jacoby Ellsbury!
And last but not least. A big ol' THANK YOU to Brett Ruby from Charity Hop for getting me an invite to the event. It was a lot of fun. Also, thanks to Charity Wines for giving us a fun way to raise money for some very worthy charities.