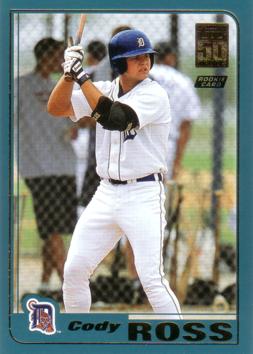 Can someone kindly explain to me what in the blue fuck is going on these playoffs in San Francisco? THAT Cody Ross won the NLCS MVP? Edgar Renteria just had 3 RBI's in a World Series game while still somehow starting at SS? Aubrey Huff…He's alive? AND hitting in the middle of the order? Finally, and the topper of it all…Andres Torres is playing CF and hitting leadoff for a team up 2-0 in the World Series? What?
Cody F'n Ross hit 2(!) HR's off probably the most dominant pitcher in baseball today fresh off a no-hitter, and he was claimed off waivers this season…and now the crowd chants "MVP! MVP" when he comes up to bat. This is more improbable then the plot of Teen Wolf. His slugging percentage (.950) is among the tops in playoff history! They have been playing baseball for like 500 years now…and Cody Ross seems destined to have his name etched among the greats of all-time for a postseason. Let me repeat that, CODY ROSS is having one of the greatest postseasons ever!
Edgar Renteria hit a HR tonight in the World Series! A guy who's only notable achievements with the Tigers included wanting to Ugueth Urbina Orlando Cabrera, and being apart of the worst trade of the Dombrowski era (Jurrjens)…And here he is about to be a baseball god in San Francisco. In Detroit, Renteria had the range of a Ben Wallace jumpshot and was so disappointing he was booed in Detroit! Add two more years of suck onto his body…and he's now launching game winning HR's in the World Series? C'mon.
I don't even know what to say about Aubrey Huff's stay in Detroit last year. A team desperate for offense picked him up last summer to help us into the postseason…Huff in 40 games pitched in with a .189 avg., a slugging % of .302 and somehow made me miss Sean Casey's athleticism. I swear, if given the chance, I could hit .189 with a .300 slugging % and move around the infield like I had blown out both my ACL's. And I suck! OF COURSE he's hitting .429 in the World Series. Of course.
And finally, we have Andres Torres. Look at his stats, look at them. He farted around Detroit from 2002-04 and never did a thing. Seriously, he wished he had a third of the offensive ability of Nook Logan. Texas brought him up in 2005, and why not, he played a handful of games and hit .158. Then…nothing. From 2006-2008 he didn't play a game in the MLB. SF brought him in and voila! Here is your starting CF and leadoff hitter for a team up 2-0 in the World Series. Also, he hit 16(!) HR's this year. Sweet. When he is suspended next year, I'll be that guy that you will remember that called this out beforehand and you can give me internet DAP then. Seriously, I will need it.
Fuck logic. Trying to make sense of what I am watching has caused repeated nose/eye bleedings to occur. So, enjoy this bizarro world where Cody Ross and Andres Torres are integral parts of what probably will be a World Championship team. 152 days until opening day. I'm already eagerly anticipating a World Series that will heavily involve Brent Clevlen, Jarrod Washburn, Kevin Hooper and the unstoppable closer…Yorman Bazardo.