The entire country went nuts today when FIFA announced that, despite the U.S.'s strong push, Qatar would host the 2022 World Cup.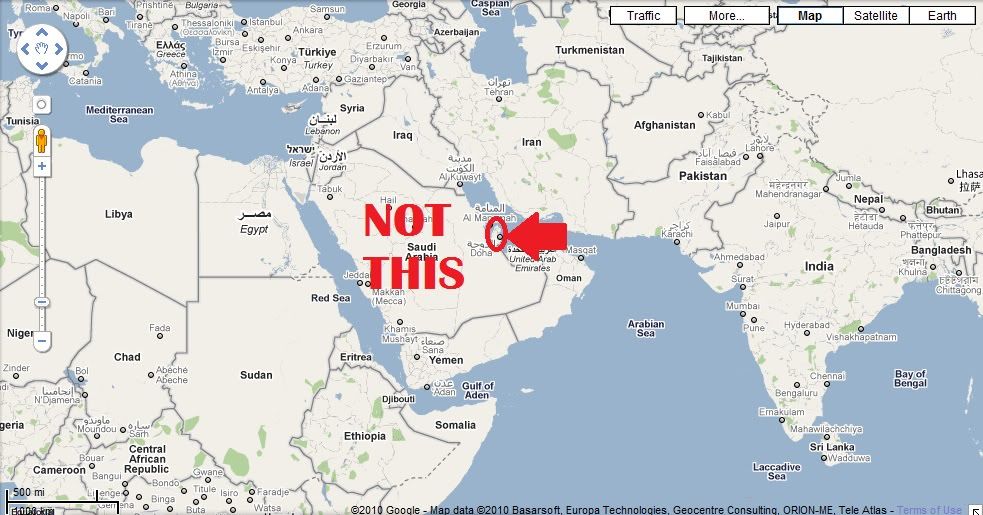 Yup, that little booger hanging off of Saudi Arabia (honestly, you can't even see it because of the fucking circle) is going to host the biggest tournament in the world in under 12 years.
This isn't so much about the game of soccer and its growth in the United States as it is about common sense, patriotism, and good old American arrogance. Seriously, I wish I were making these quotes up.
Qatar, an oil-rich nation that has been independent since 1971, has a population of about 1.7 million — 500,000 less than Houston.
Qatar, which has promised to overcome heat of up to 130 degrees with air conditioned outdoor stadiums, led on every round of balloting…
Seriously, WTF.
The World Cup was played in the United States for the first time in 1994, setting a record with 3.58 million tickets sold…
At 4,416 square miles, [Qatar] is smaller than Connecticut…The stadiums will all be within an hour of each other.
FIFA's inspection report highlighted a danger posted by heat — the average high in late June is 106 degrees.
Qatar, which has never even qualified for a World Cup, used its 30-minute presentation to underline how the tournament could unify a region ravaged by conflict.
To be fair, "Guns and Goals" is a pretty catchy slogan.
Qataris and others…blew the vuvuzelas that became synonymous with the World Cup in South Africa.
Oh fuck no.
[ESPN]