Earlier this afternoon, Fox 2 News in Detroit continued to destroy what little credibility Detroit's print media has left by breaking a story on Twitter that Rich Rodriguez had been fired.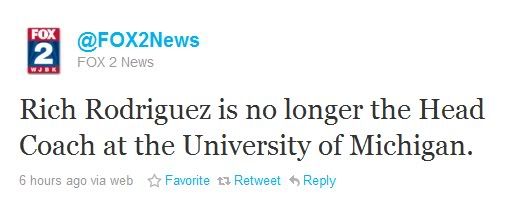 After what seemed like an eternity for this fan/alum (but was really like 3 hours), we learned that Rodriguez has not been officially fired as of yet. A players' meeting originally scheduled for 7 pm today has been postponed until tomorrow.
I can speculate for hours on what is taking so long (insert Domino's joke here), but the reality is that no one, save for David Brandon and the man upstairs, has any idea what is going on inside the walls of Schembechler Hall.
As for the poor Twitter operator at Fox News? I doubt that individual actually lost his/her job, but it doesn't mean I can't make fun of that poor soul a little more for his "issues."