The Lions opened the 2012 free agency period on Wednesday with a bang, re-signing Calvin Johnson to a record breaking (for a wide receiver) 8 year, $132 million contract. The deal includes $60 million guaranteed, the most in NFL history. While this might seem like reckless spending from the Lions front office, I give you three reasons otherwise.
1. This.
2. The deal actually saves the Lions about $10 million in cap space next season, which was a big concern for the Lions as of a week ago.
Think about it like this: with this deal, Megatron would be the fourth-highest paid player on the Tigers. Prince Fielder doesn't see what the big deal is.
Soon after the deal was inked, Johnson was also not wasting any time. He tweeted his thanks to the fans, then asked an extremely important question that 99% of the fanbase likely doesn't have the answer to.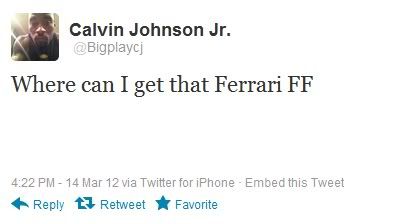 While I appreciate the gesture, I'm not sure I like the idea of him driving around in a station wagon.
Go for the Italia, Calvin. It's faster.