Hello Followers.  Hope your Apple Cup week is off to a great start!
This Friday our Washington State Cougars will travel west of the mountains to take on the massive jigsaw puzzle that is the 2015 version of the University of Washington Huskies.  I refer to this Husky team as a "puzzle" because they've been a really hard group to figure out.  I mean, can you remember the last time a Pac-12 led the conference in total defense but entered week 12 with a 3-5 conference record (5-6 overall) ?
Can you remember the last time a Pac-12 team was 3-5 in conference but had wins of 45 and 46 points against conference opposition—one of which is bowl eligible?
Of course, when you look at UW's point totals in conference games that were against teams not named Arizona or Oregon State, then the foundation of the Huskies' vulnerability becomes apparent:
24 points scored against CAL
17 against USC
20 against Oregon
14 against Stanford
23 against Utah
17 against Arizona State
And when you add those numbers up you get a group that is putting up around 19 points a game in what appear to be their "average" in-conference contests..
Now, contrast those numbers against the points allowed by our Washington State Cougars.  First, let's take a look at the points allowed by the Cougs through the first half of Pac-12 play:
34 against California
38 against Oregon
31 against Oregon State
42 against Arizona
(If you're keeping score at home that's an average of 36.25 points allowed during the first half of conference play)
Next, let's take a look at how the Cougar defense has fared during the second half of Pac-12 play :
30 points allowed against Stanford
24 against Arizona State
27 against UCLA
3 against Colorado
(That's 21 points per gamed allowed during the season's second half)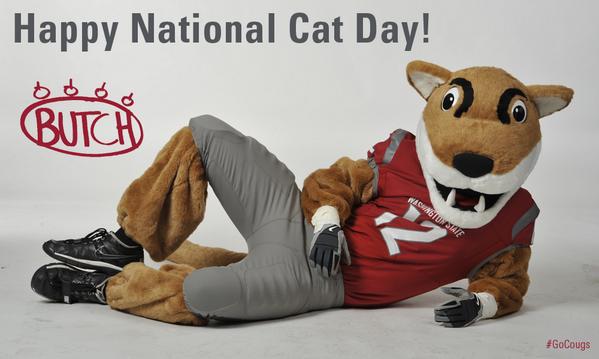 Now, obviously Colorado is a bit of an outlier.  At the same time, it is noteworthy that 3 out of our last 4 games came against teams that are currently ranked in the top 5 in the Pac12 in scoring offense.  In other words, while the Cougar defense has been a sieve in the past, this group has turned into a pretty good defense in the season's second half.
So, as we all look forward to Friday's game, we can probably look at "24" being the threshold number for the number of points that is needed to win this game.  And so, if Peyton Bender can mount four successful drives and avoid the costly turnover, then the Cougs will probably win it.
And if and when we do, we will show that we are not only the better team, but arguably, the better program as well.
+++++
Followers, I have to confess that ever since we started our latest run of victories, I have been thinking a lot about the prospect of contending for a playoff spot next year.
And as a part of that daydreaming, I have found myself taking a much more critical stance toward the dynamics involving the selection process this year.  And the reason for this stance is simple: The way that the Committee is treating teams like Iowa, Oklahoma State, and North Carolina the rest of the way may inform the way that the Cougs might be treated if we were to have a 10-1/11-1 type season.
So, given all that, I came up with a threshold question that I have yet to hear my good friends at ESPN (such as Ted Miller) talk about in a meaningful way.  And that question is as follows:
How did each contending team fare against the best team  on their schedule?
Now mind you, I understand the importance of attending to overall strength of schedule, the eye test, the overall body of work, AND bad losses, but when you're trying to create a field that will yield three quality games, don't you want to select teams that have actually beaten the best team on their schedule?
So with that question in mind, let's take a look at how a few national contenders fared relative to above question using the most recent AP Top 25 as a guide.  As you take a quick peek at this list, note whenever I put a result in bold face, it means that said team  lost to the (arguably) best team that they've played to date.
Michigan State:
W: @Ohio State (8), Oregon (19), @Michigan (12)
L:  None
Ohio State:
W: None
L:  Michigan State (#4)
Oklahoma:
W:  @Baylor (7)
L: None
Baylor:
W: @Oklahoma State (9)
L:  Oklahoma (5)
Notre Dame:
W:  Navy (16), Temple (25)
L:  @Clemson (1)
Alabama:
W: @Mississippi State (23)
L:  Ole Miss (19)
Mind you, this list doesn't get at larger issues of conference quality, overall strength of schedule, and the like. But it seems to me that if you're looking at selecting the 4 best teams—and the most competitive playoff games—you generally want to select teams that have beaten the best opponents they've played.  So, if the playoff started today, my selection would be as follows:
Clemson
Alabama (based on overall quality and the eye test)
B1G Winner
Oklahoma
Lastly, let's take a look at how the top 3 teams in the Pac-12 North fared relative to the same criteria:
Stanford:
W:  WSU (20), UCLA (24)
L: Oregon (19)  Northwestern (17)
Oregon:
W: Stanford (8)
L:  WSU (20) Michigan St (6) Utah (26)
Washington State:
W: Oregon (19) UCLA (22)
L: Stanford (13)
Anyhow, don't know about you all, but when you look at those numbers, a strong case can be made that if the Cougs can pull of the upset (of sorts) this weekend in Seattle, we would deserve the conference's #2 bowl slot—be it the Alamo or Stanford somehow got into the playoff, the Rose.  It also shows why, all things being equal, the Pac-12 really doesn't deserve a place in this year's playoff.
That's all the time I have for today,
I'll be back tomorrow with a special Football Friday on a Wednesday edition.
All for now.  Go Cougs!