Happy Football Friday to you, Followers. I hope you are having a terrific week.
Well, tonight, our Cougars play the most anticipated game in memory against the vaunted men of Troy.  In my mind, this is the biggest game that we've played since the Holiday Bowl in 2003. The reason?  Tonight's tilt against SC provides us with the best opportunity we've had to be launched into the National Spotlight (we had already taken on 2 or more losses in other "big" games under Leach). Win tonight and the Cougs figure to land somewhere near or inside the Top 10 in the country in next week's polls, while Luke Falk will (probably) become a part of the Heisman conversation for the next week—and potentially well beyond.
So, that's one reason why tonight's game is so big.
But here's the other. While a win tonight would indicate that the 2017 Cougars are headed for a 9, 10, or even 11 win season (i.e., an historic season), a loss tonight could send this season in an entirely different direction. And while I maintain that the most important game of the early/mid-season is not tonight, but next week against Oregon, tonight could mark the end of our national ranking, and related aspirations, if USC shows that some of our early season struggles  actually represent some seriously Toady warts.
In other words, while an 8-0 or 9-0 start might be imminently possible with a win tonight, 5-3 or even 4-4 loom as definite possibilities if SC jumps out of the gate and blows our stinking doors off.
What We Know and Don't About Both Teams
With one-third of the season already squarely in the rears, you would think that we'd know a lot about both teams.  But we really don't.  There are several  reasons for this ambiguity, but one of the more prominent ones might be motivation.  As we saw with the Huskies early in the season, motivation—or lack thereof—can act as a silent killer of good line play.  But as we saw last week with Washington, as soon as the Dawgs played a team that they took seriously, they took the gloves off.  They now look like they have one of the better offensive lines in the country.
To this point, I happen to think that USC has been truly fired up for just one game this season—and that game was Stanford.  I mean, without "Row the Boat," Western Michigan was a virtual yawn fest for them, and I honestly don't think they took Texas or CAL seriously either prior to getting punched in the mouth by each of them.  WSU, however, is and has been squarely on their radar.  In other words, there is NO CHANCE that they are sleeping on us.
And the Cougs? Well, if you take them at their word, they've treated every game the exact same. But, honestly, does anyone really believe that ?  And yes, I know that there was a revenge factor for that Boise State game, but to these eyes, I think we entered that game with the thought that we were going to show up, jump out of the gate quickly, and then blow their doors off. And when that didn't happen, we got real tight, real fast.
Of course, since that time we've been pretty darn workman like.  But, when Jim Mastro says stuff like (and I'm paraphrasing here) "Well, the Gameplan against Oregon State was to try to establish connections between Luke and his receivers, and then for Nevada we wanted to emphasize the running backs …" it sure seems like we viewed the last two weeks as 120 minutes of really important PRACTICE.
So, who the hell knows what is going to happen tonight if and when both teams decide they are going to really turn it on?
WSU Strengths and Weaknesses
If you look at WSU's first four games from a 30k foot view there are a couple of immediate takeaways. First, Luke Falk, despite his abysmal performance against Boise State, is having an incredible season. Tavares Martin has emerged as our most explosive receiver since Marques Wilson. Our running backs are averaging about 100 yards per game and nearly 250 All-Purpose Yards a game. Lastly, we are getting more production out of our H position (Renard Bell) than we ever have without sacrificing a lot of production from the Y.
Then defensively, this seems like the best front seven we've had since 2003. And while I do not think that our defense is on the level of that group—at least not yet—it appears to be much better than the teams that co-facilitated a 13-5 conference mark over the past two years.  So, if the past is prologue at all, then this D would seem at worst to position the Cougs to finish somewhere at the  7-2/6-3 league marks we've achieved the past two years.
Now, regarding our weaknesses. Well, in contrast to last year, we haven't shown any real ability to run the ball on a consistent basis—especially inside the ten yard line.  And that issue (including our puzzling unwillingness to #FeedWicks) figures to loom large as we face much faster and athletic defenses that will make the endzone look and feel much, much smaller.
The other offensive weakness is obvious—and it pertains to our offensive line. In brief, one of the reasons why I was so bullish on this Cougar team pre-season was that I thought the left side of our O-line was going to be absolute nails. And while they certainly might break out tonight, I have a sinking feeling that this group may never quite realize the promise posed by having a consensus All-American at Left Guard and a rising and athletic NFL prospect at LT.
Meanwhile, our defense has been largely spectacular. The two obvious weaknesses of that group are the corners—especially in the short/midrange passing game (although Harper remains someone to watch), and our newfound lack of depth at inside Linebacker with Pelluer out for the remainder of the season.  Other than that, this group looks strong enough to beat anyone, provided that the offense can score more than 30 points.
USC Strengths and Weaknesses
Over the past week and change I have watched USC's games against Stanford, Texas, and California a couple of times, and I have left each of those viewings feeling both highly impressed and mildly underwhelmed at the same time. Of course, the impressive side of SC is that they have size and speed everywhere.  They have the best QB in the country (in my view), a top 5 stable of RBs that can both carry and catch the pill, a wonderful front 7 on defense and a very athletic secondary that can match up with just about anyone.
But here are their challenges. First, their offensive line is wildly inconsistent.  Like most teams early in the season, they play well for a series or a couple of plays and then they seem to vanish—especially in pass pro. At the same time, they are pretty darn athletic and so they get downhill quickly, especially when the ball gets distributed out wide in their screen game.
But here is their biggest offensive challenge: Beyond the obvious brilliance of Burnett–who almost was a Coug–USC's receivers have been struggling to gain separation downfield. And so one of the reasons why Darnold has thrown so many picks early in the year is that his guys have been covered downfield. At some point, that is going to change, cuz those guys are burners. So, Let's just hope that they can't get off the line again tonight.
And on defense?  Well, both Texas and CAL showed that you can run on SC if you have both power and balance. Moreover, if you're able to run on SC, then you're able to throw on them.  Because even though they are athletic, when those LBs have to stay closer to the box, there is a LOT of space behind them.
But when their LBs are able to drop into coverage because the opposition cannot run the ball, then USC's defense starts to look dominant. And boy did CAL feel that dominance in the 4th quarter last week.
KEYS TO THE GAME
Make the Routine Play
This is a Leachism to be sure, but it applies BIG TIME to a game of this magnitude.  In short if you want to knock off a top 5 team, you have to make the routine play.  That is, if Darnold throws one into Thompson's breadbasket he has to catch it.  If Dimry catches a ball wide open in the flat, he has to catch it. If Kyle Sweek gets hit in the hands wide open across the middle, he has to catch it. And if Powell is giving a FG opportunity inside of 35 yards, he has to make it.
The 50-50 stuff as well as the spectacular will be important too, but none of that will matter if we mess up on easy stuff.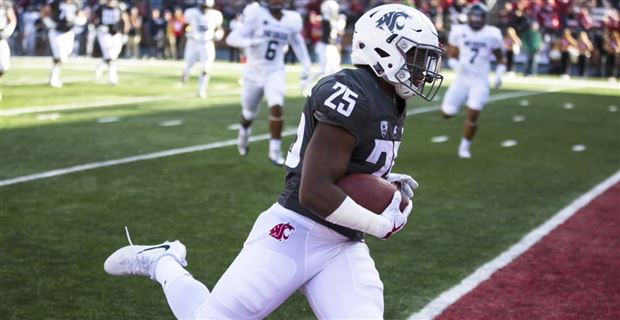 #RBU
I would expect that USC is going to mix and match a rush 3 drop 8 strategy with a mixture of stunts.  In either case, the WSU screen and running game is going to be key to getting them to bring their LBs up.  So, Williams and Morrow are gonna need to have great games. And honestly, I don't see how we win unless the coaching staff figures out how to get Wicks more involved.  Either way, our RBs are going to have to "Win the Day" tonight if we want to emerge victorious.
Move the Ball Early
Everybody and their brother are talking about the importance of a fast start tonight.  And while it would be great to jump out to a 14-3 lead or some such, the most important statistic tonight for me in the first half is going to be time of possession.  My view:  The Speed D will hold up if it stays off the field.  But a bunch of quick strikes early may not mean much ultimately for our chances if our D is on the field for 17 minutes in the first half.
Red Zone Conversion
See 2015 Stanford Game on this one.  The goal for this game is get the endzone. But above all, we need to make sure that we get points every single time we get near that 25 yard line.  That means that Falk CANNOT afford the stupid sack he took last week early against Nevada that takes us out of FG range, or the pick at the 3 yard line he threw early in the Boise State game.  Every point will matter tonight, so we need to convert.
And on the other side of the ball, we need to be nails in the redzone. My view: if we make the Trojans kick field goals more than 2 times inside the redzone, we'll win.
Don't Be Special
One of the big advantages that USC has in this game is on Special Teams.  Since their kicker missed his first attempt against Texas, he has been absolutely nails, including critical FGs against Texas that tied and won the game for them in CLUTCH moments. In truth, he feels a lot like Andrew Furney circa the last time we beat USC—and that should make us all VERY scared if this game turns into a veritable FG kicking contest.
Of course, our #SpecialForces have been solid to date this season. And that has to continue tonight, because we cannot afford ANY muffed punts, muffed returns, turnovers, and of course, we cannot give up any big returns. To be clear, we don't need to be spectacular, but we have to be rock solid.
KEYS TO WINNING
Will Luke Falk Throw for 400 Yards.  NO.  I think this is going to be slugfest for most of the game.  I am thinking 330 yards.
Will WSU's Running Backs run for 100 yards?  NO.  But only because I don't think we're going to try to run it much (and that will prove fatal).  I think we'll get some receiving yards out of that group.
Will WSU Score 35 or More Points?  NO, but if we do, we'll be 5-0.
Will we be +1 or better in turnover margin?  No and we might not need to be, but we probably won't win if we're -1.
Prediction/Final "Analysis"
I have gone back and forth on this game about 30 times.  My "final answer" is as follows:
This USC team is beatable: Their strengths on offense in stretching the field horizontally play nicely into the strengths of the SPEED D.  Moreover, while SC's defense has the potential to be dominant, they are NOT Alabama, and we have shown that we have ample playmakers to move the ball and score points, provided that our offensive line shows up and plays BIG.
And here's another fact to consider:  In the 33 games that Luke Falk has started, the Cougs have been held under 28 points only 9 times, with seven of those games occurring after the second week in November.  In other words, the evidence strongly indicates that we're going to find a way to put some points up on the board tonight.
But in the end, there are three things that are making me gun shy about pulling the trigger for our Cougs. First, while I think Powell has really started to turn the corner, I think USC has an obvious advantage in the kicking game. Second, while we know that USC can run the ball, we don't yet know if we can with any consistency, especially inside the RedZone.  And that's a problem entering Week 5—unless, of course, it isn't.
Third, I've been trying to think of a good example of team who hasn't had a lot of national attention breaking through on the first try.  Washington kind of did that last year when they blitzed Stanford in Week 4, but some of those guys were around for the butt kickings they suffered against Oregon on College GameDay.  The only recent example I could think of is last year when Lamar Jackson and Louisville broke through and pounded Florida State when GameDay came to town.
Ultimately, I just don't think the Cougs are there yet—which is frustrating since USC is a team that we can beat at home (maybe by 10 points) if we're firing on all cylinders. And so, if I can draw a parallel to past Cougar football seasons, this game feels a lot like our 2015 game against Goff and the CAL Bears where we took a step forward from the previous weeks but weren't quite able to finish off the deal.
And so, count me in as thinking that tonight's game is going have a similar flavor.  But instead of the 34-28 loss we suffered against CAL in 2015, I think this final is going to be 38-24 USC, with the score being 31-24 with 3:00 left before SC seals it after a costly turnover.
And then all eyes will turn to Oregon for what will be the true season-defining game—and that holds whether we win or lose tonight.
Elsewhere:
Washington 51  Oregon State 13. Who the hell cares?
Colorado 31 UCLA 30.  This is an elimination game for both teams and frankly, we should all be rooting for Colorado to get its doors blown off. Better to have them doubting themselves and their new DC sooner rather later.
Oregon 34  CAL 31.   CAL's quarterback is raw and he got really rattled last week in the 4th quarter, but the coaching job Wilcox and his staff have done is beyond remarkable. Baldwin has all of those multiple sets and that will keep this game close.
Stanford 40  ASU 24.   They're back……
Clemson 35  Va Tech 23.  Again, who the hell cares?
That's all the time I have for today.  Enjoy the game tonight, folks, because these kind of BIG TIME games just don't come around very often.
All for now. Go Cougs!