Ladies and gentlemen, boys and girls, our Lord and Savior hath returned to drag us back from the the edge of sin. Like a phoenix, he rose from the ashes of injury and put the Boston Bruins first line squarely on his back, leading the team to victory. He goes by many names.
The King of the Selke.
Mr. Corsi.
Boston's Prince Pretty.
Can I get a "Praise be to Orr"?
Praise Be To Orr. 
He, known as Patrice Bergeron, rose back from the virtual dead to amass 4 points and once again cement himself as the engine that keeps the first line running like a well oiled, hockey dominating machine.
Ladies and gentlemen, CAN I GET A PATRICE?!
Patrice! 
Let me hear it!
Patrice!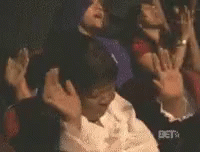 Today, my brothers and my sisters, we bathe in the glory of excellence because he made it so! The Boston Bruins are headed towards greatness and its because of #37. Patrice Bergeron is back!
—
Okay, that was a little much, but last night was the best looking Bruins team we've seen since opening night and you can make the argument that it's the best we've seen this season…offensively. The first line was buzzing since puck drop and while Brad Marchand doesn't need Patrice Bergeron to make him elite, it sure as shit helps.
What was really evident is how well Anders Bjork fit in with these guys.
We like to joke that it's Brad Marchand-Patrice Bergeron-[insert anyone here] and the star studded tag team will carry whoever is there. If Anders Bjork is the real deal, this may have been his coming out party. Bjork seemed to be everywhere on the ice last night and involved in almost everything when he was there.
Bjork had 12:29 of ice time last night, but he also logged over 2 minutes of powerplay time. That's huge. That means Bruce Cassidy either:
Knows the kid was hotter than Satan's nuts after a run
Trusts this kid on the powerplay.
It's funny. We have rookies playing on the powerplay when last season Brad Marchand couldn't sniff powerplay time if his nose grew 4x its size (how you doin Montreal?).
Seriously, it was wonderful to see the first line play like the first line and my favorite movie Watch Brad Marchand Drag Two Corpses Up And Down The Ice (rated PG-13). I feel like I've already fawned enough over these guys so let's get into the good, bad and unknown sections of the recap.
The First Line
Oh hey! It's these guys again.
Combined:
4 goals
6 assists
13 shots
30.7% shooting
60% faceoff wins
Sploosh.
I don't need to talk about how good these guys were anymore. I can't. I'll be shooting dust at that point.
(Guys, Patrice Bergeron's corsi was off the charts last night. He ONCE AGAIN  was a 61.54 CF%. That's fucking incredible).
—
The Second Line
Completely overshadowed by the first line is how well the Davids and Jake line played. While they didn't put up the star studded numbers that Bergeron and Co. did, they pulled their weight:
Combined:
2 goals
2 assists
6 shots
66% shooting (Pastrnak 2/4, Krejci 1/1)
63% faceoff wins (Krejci)
They were good. This is what happens when your top two lines and rocking and reeling and hanging from the ceiling. It gives the Bruins two solid scoring lines that teams have to plan for. The emergence of David Krejci this season cannot be understated. Instead of Marchand-Bergeron-Pastrnak and nothing else, David Pastrnak is paired with Krejci and Krejci is healthy. A healthy David Krejci is good for everyone.
—
Pastrnak Going Coast To Coast
Wow.
—
The Power Play
The Canucks gave the Bruins 8 chances on the powerplay. The Bruins converted 4 of those. The Bruins now hold the second best powerplay in the NHL – converting at a 29% clip on the season. Are..
Wait, is that real? 
Yeah, that's real. That's a real life thing dawg. Before last night's game, they converted 21% of the time.
So big ups to the Vancouver Canucks played like District 5. Love you guys.
The Opposition
So here is where I play Captain BringDown.
The Vancouver Canucks suck. The Vancouver Canucks has seemingly sucked since the Bruins stole their souls in the 2011 Stanley Cup, traded them in to the Devil and had them curse the rest of the league to not take David Pastrnak before they could select him in the NHL Draft.
Before last night's game the Vanucks scored 12 goals in 5 games. That was worse than Boston and Boston's scoring was pretty much like sex when you're married. You go through spurts of greatness and then have to wait out the dry spells.
Jacob Markstrom has been awful this season. He's currently battling a 2.88 GAA and a .902 SV%.
For everything the Bruins did right last night, we need to continually remind ourselves that the Vancouver Canucks are a very bad hockey team and this is a game the Bruins should have won.
—
Anton Khudobin
Khudobin wasn't great last night against a poor hockey team. His final stat line:
3.00 GAA
.897 SV%
Not great you guys. Last week I wrote what the Bruins would look like without Tuukka Rask. We're now living that life for the next week+.
And you know, it's wrong of me to say Khudobin looked bad, he just didn't look good. Average, maybe? But average isn't going to work with a team who has a defense that is the second coming of Jekyll and Hyde. Sometimes they're good and sometimes they're really, really bad. There hasn't been a "really good" game yet for this defense and I'm afraid there may not be.
I don't want it to look like I'm shitting on Khudobin, but a game like last night shows how Tuukka Rask keeps them in more games than it seems. There's no way the Canucks should score three goals on you.
—
Penalties. 
How many powerplays did the Canucks have when the horn blew at the end of the third period?
Against a better team, you're fucked. Vancouver is converting 12% of their powerplays this season. Buffalo, Boston's next opponent, is at 18%. Converting at 18 percent, the Sabres score 2 goals ont he powerplay instead of Vancouver's one.
It's important, as the season goes forward, to stop giving teams powerplays. Thankfully Boston is the 12th fewest team in the NHL in PK time on the season which means they're not giving up a ton of opportunities compared to the rest of the league.
But still.
Stop.
I'm interested to see the Bruins play some good teams with this current group, Anton Khudobin in net included. If the Bruins two lines can continue their offensive explosions (spoiler alert: they won't) and not have to lean heavily on the defense, they could make some noise on that playoff bubble.
Next week should be a better test for the Bruins as they welcome LA and San Jose into the Garden.