PITTSBURGH PENGUINS VS BUFFALO SABRES 
PPG PAINTS ARENA – PITTSBURGH, PA
7:00 PM EST. AT&T SN PITTSBURGH
Last night the Penguins played the Buffalo Sabres in a hockey contest. Rad wrote a whole bunch of words about the Pens and other stuff before that one. Tonight the Pens and Sabres play again for some reason.
Rad pretty much covered the state of the Pens yesterday (Murray hurt bad, Jarry good? Sprong lol, Cole trade?). Because Rad is so good at breaking all that stuff down it leaves me without a lot of new thoughts to offer you about this hockey game.
So that made me think it was the perfect time to enlist my good dipshit friends Pat and G to analyze hockey, but also not analyze hockey. Lets do this.
Question 1: What are you most sure of about the Sabres?
Pat: They exist
G: Dan Bylsma ruined their collective will to live
Both of these things are true the fact-checkers at Pensblog tell me.
Q2: Describe this picture in 8 words or less.
Pat: I have a fake ID, one alcohol please!
G: Saturdays are for ripping grunters in your pants in front of the boys.
I said 8 words yo
G: Fuck your 8 words. Everyone in that picture is reacting to Reaves literally shitting himself.
Question 3: What is Ian Cole getting traded for?
Pat: A MAGA hat, Keurig, and a 3C
G: a PF Changs gift card
Judging from these responses Pat and G are bad at Christmas. Let's see how bad.
Question 4: What is the best Christmas movie (there is a correct answer).
Pat: Die Hard
G: Trick question: they all suck (My real non publicized answer is Bad Santa and it's not even close)
I'm publishing it G
G: NO PUBLISH THEY ALL SUCK
Also the correct answer is Christmas Vacation
G: YOU WILL PUBLISH THAT I SAID THEY ALL SUCK I NEED THE BACKLASH
Can't do that, journalistic integrity.
Pat: It's a survey Rez! There is NO correct answer!!!!
(I then had to spend 30 minutes in the group chat arguing about the logistics of surveys.)
Last Question: What would you get the Pens and the Sabres for Christmas
Pat: Cocaine. Most Pens and Sabers (new spelling until they shake off the suck) are boring and need something to keep you awake.
G: I would get Jack Eichel an actual Sabre. Seems like he needs it. I would get the Pens Jason Botterill. Seems like they need it.
This has been a comprehensive breakdown of tonight's game. You are now ready. We have informed you.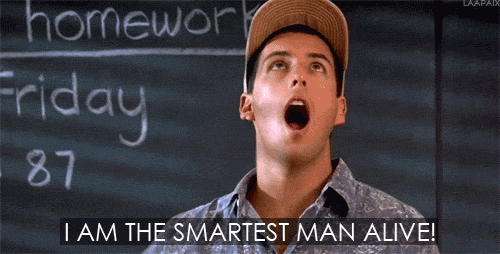 Go Pens.
Read next