PITTSBURGH PENGUINS VS  NJ DEVILS
PRUDENTIAL CENTER – NEWARK, NJ
7:00 PM EST. ATTP
Does is bother anyone else that a team named the DEVILS plays their home games in the PRUDEntial center? Because it should.
The Pens finish up the 2nd night of a back to back with the two teams in front of them in the Metro tonight in Newark. Both the Caps and Devils have games in hand on the Pens (who played 7300 games before the all-star break), so these points are kind of important.
It may come as a surprise but a Ray Shero GM'd team is struggling down the stretch. As the Pens have surged the Devils have begun to falter, going only 4-5-1 in their last ten.
Rumors beginning to circulate the NJGMRS is looking to trade for grit and heart to bring some life to the non-existent dead entity that embodies his team.
This is a potential playoff preview game for the Pens. I could look up the math on the likelihood of that, but I won't do that. It seems likely and if there's one thing that's important it's feelings. Feelings lead to momentum, and the Pens have momentum.
(Unless they lost last night. I don't know this is from the past. Things are fine here. Hope they're better in the future)
DEVILS LINES:
Hall-Hischier-Bratt
Wood-Zacha-Palmieri
Coleman-Zajac-Noesen
Boyle-Stafford-Mueller
Greene-Vatanen
Moore-Severson
Butcher-Lovejoy
Kinkaid-Appleby
If there was an award for acquiring talented players just barely too late NJGMRS would win that thing ever goddamn year. What a collection of stuff.
If you get bored pre-game please read my fanfic about Matt Murray winning the Conn Smythe in the upcoming playoffs. It is very good.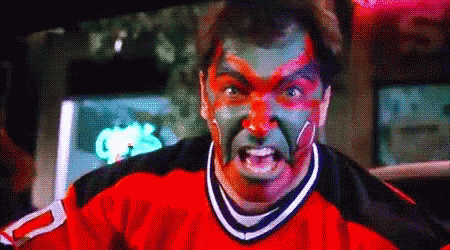 David Putty wasn't funny.
Go Pens