PITTSBURGH PENGUINS @ NEW YORK ISLANDERS
BARCLAYS CENTER. BROOKLYN, NY
7:00 PM EST. ATTSN
---
The Penguins are back at it tonight after a 4 day rest that allowed the team to get some much needed rest and practice time in. During the hiatus Matt Murray participated in practice and has been cleared to rejoin the team as at least the backup goaltender tonight as it is still uncertain if he will start. If he doesn't Casey DeSmith will be the man in net since the Pens had to send Tristan Jarry down once Matt Murray was no longer listed as injured. The Penguins also called up Josh Jooris to replace Carter Rowney who is out "longer term" with an injury.
The Islanders are currently sitting 12 points out of the final Wild Card bid with 10 games remaining which more or less means their season is over and the team will fail to put John Tavares into the playoffs for the 6th time in his 9 year tenure with the team. Tavares has 10 games left in his 6 year $5.5 million.year contract he signed following the expiration of his ELC in 2012. Often considered one of the most frequently forgotten talents in the NHL, Tavares as still managed to put up 610 points in 659 career games. Now the Islanders are facing a fanbase that has completely turned against the general manager:
One of the most difficult aspects for the Islander fans is that on paper they have a team that should be competitive with the league, but they are always missing that one extra piece, and this year that piece may be coaching. The Islanders have more players on their roster with 50+ points than the Penguins so it isn't a mater of the players not performing, when I see stats like that i automatically wonder about line combinations and deployments. Tavares is leading the Isles with 32 goals and 41 assists while supporting a ridiculous 14.3 shooting percentage. One bright star for the Islanders is they only have 3 NHL forwards on expiring contracts after this season meaning the majority of the team can stay together, of course one of those is the aforementioned Tavares. New York also has to deal with the expiring contracts of 4 of their starting defenders. In other words, it is going to be a very interesting offseason for the Isles and that is if they keep their general manager (which they will because lets be real here, he hasn't been fired yet).
Sullivan once again mixed up his lines yesterday in practice as you can see above. He has moved Conor Sheary for the 72nd time this year replacing him with Rust on the top line. Sheary momentarily falls to the third line wing but I have a feeling we will be seeing more of Sheahan with Brassard and Kessel and Sheary dropping to the fourth line with Jooris at center. Heading into the game Evgeni Malkin is 4 points behind Nikita Kucherov for league lead with both players having 10 games left. Jorris has a good opportunity to impress Sullivan again and possibly make the playoff lineup, note that if Rowney returns before the postseason Jooris will automatically sent back to Wilkes-Barre just like Jarry was.
WHO TO WATCH
FOR PITTSBURGH:     SIDNEY CROSBY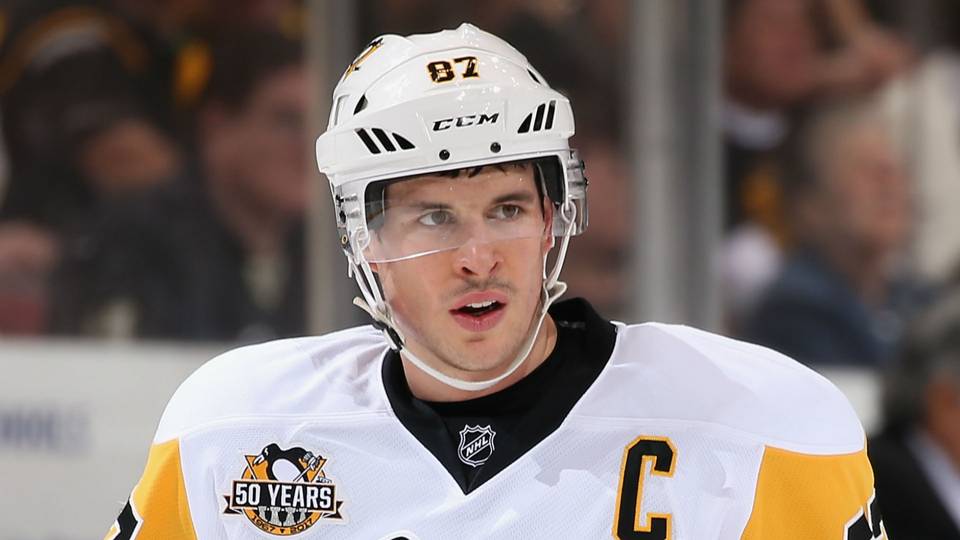 This might be a good time to mention that Crosby has his highest points per game total in his career against the Islanders which could be perfect timing for him to find his way back on the scoresheet. It is tough to completely blame Crosby for being a bit more streaky this season than we are used to seeing considering his linemates change every third game. Even during a "down" year according to mass media Crosby has still managed 77 points in 72 games while also playing some of the smartest hockey we've ever seen from him in terms of playmaking. The perfect storm tonight would be multiple powerplay chances and Sid and Geno combining for big nights.
FOR NEW YORK:     JOHN TAVARES
I talked about him a good amount in the beginning but this will be in a different way. During the last meeting between these two teams the Penguins completely smothered Tavares rendering him useless. This job was mainly left up to Brian Dumoulin who once again performed masterfully with limited recognition. When the Pens shut down Tavares they control the game, I would expect Dumo to get the call again tonight so watch for that matchup and get used to it because he will be matching up against each teams star in the playoffs.
---
During interviews after practice the Penguins all said that their goal is to win the division and get home ice advantage throughout the playoffs. Though their schedule is a little tougher than division leading Washington's, it is still possible but they cannot leave points like tonight on the table. The Penguins may look a little rusty in the beginning of the game but the Islanders always look rusty so that shouldn't be a problem. Go in, get to work, and head home with 2 more points.