So in case you missed it last week, Pat got duped by an Instagram comment showing what appeared to be Anthony Duclair hinting at possibly signing with the Penguins.
Not even four minutes after Pat tweeted the screenshot, a fellow blogger over at Five For Howling tipped Pat off that Duclair's comment on Daniel Sprong's Instagram post was actually a reply to reply.
Ugh, Internetting. It can happen to the best of us. Even Pat (who happens to be a dumb idiot* who has worked extensively in social media in his young professional career)!
However, that still didn't stop the "credentialed professionals" over at Pittsburgh Hockey Now from getting their fingertips on Pat's original screenshot and running with it. In fact, Matt Gadgetjakajkaka even went as far to write an article crediting "a source with knowledge" along with a "social media tip" (which he would later redact after people eventually tipped him off as well) as confirmation of the Penguins' interest in the 22-year old unrestricted free agent forward.

But before we go any further, let's take a quick look at the tally in the "scoop department" between the morons over at the blog you have to pay for to read (lolz).
Now, I don't want to bust Matt's balls too much on the Instagram mishap (just kidding, I'm gonna bust his balls), but here's where things get a little dicey in his article:
Pittsburgh Hockey Now – To boil it down, PHN is told the Penguins would like to sign Duclair if his going price is somewhere in the vicinity of the $1.2 million he got last summer on a one-year contract with the Coyotes.
What's the problem here, you ask? Well, it was announced yesterday that Duclair signed a one-year/one-way contract with the Columbus Blue Jackets to the tune of a cool $650,000 (or basically half as much money as what PHN was reporting the Penguins would be interested in signing Duclair for).
Now, I'm not going to say Matt was totally full of shit (in fact, it was reported by a few other randoms in hockey media including this dude from the Fourth Period that the Penguins at least had interest), but wouldn't the Penguins have picked up Duclair in a heartbeat if they were both truly interested AND knew they could get him for basically the league minimum (while still probably having enough cap space to re-sign Jamie Oleksiak)? Perhaps. Or maybe they were offering Duclair a two-way contract (which includes a much lower minor-league salary should the player get sent down to the minors) like other teams that expressed interest in the young winger as reported by Aaron Portzline of the Athletic. Although it's hard to fathom the Penguins would offer him an NHL contract anything north of $1M considering they only have $2.8M in remaining cap space to re-sign Oleksiak. Either way, something's not adding up. In fact, it almost feels like somebody's throwing something against the wall here.


And if we know anything about professional, experienced, credentialed writers at a hockey news website (aka a blog), it's that they definitely don't throw anything against the wall!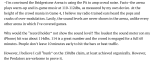 .
.
*Pat gave me approval to call him a dumb idiot in this blog.