Contributor: Nolan Howell
UFC 226 in Las Vegas, Nevada featured as close to a superfight you could have in the UFC these days in the main event as UFC Heavyweight Champion Stipe Miocic defended his title against UFC Light Heavyweight Champion Daniel Cormier, making his return to the weight class after over four years.
Coming into the fight off coaching what could be the penultimate season of The Ultimate Fighter together, the fighters were both in the middle of runs solidifying their legend in the history books of the UFC. Miocic broke the UFC heavyweight title defense record last fight in a third defense, while Cormier is in the midst of a three-year run with the light heavyweight belt after Jon Jones nullified the sole defeat of DC in as many years with a positive drug test.
Still, it could have been argued that the two were on different trajectories, with Cormier heading into the twilight of his career at 39 and looking to step out of Jones's shadow and Miocic in the middle of a history-making run in his division.
Coming out to the cage, it looked as though Miocic was poised to continue the run against the light heavyweight champion who seemed to be enjoying the spoils of moving up in weight. Cormier was pressed to the cage early and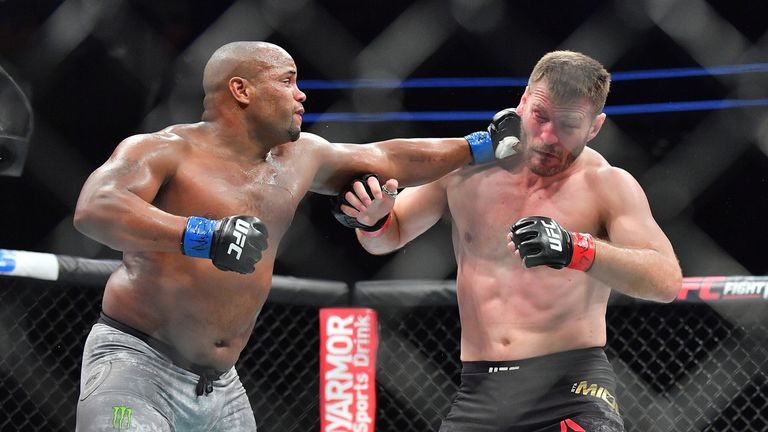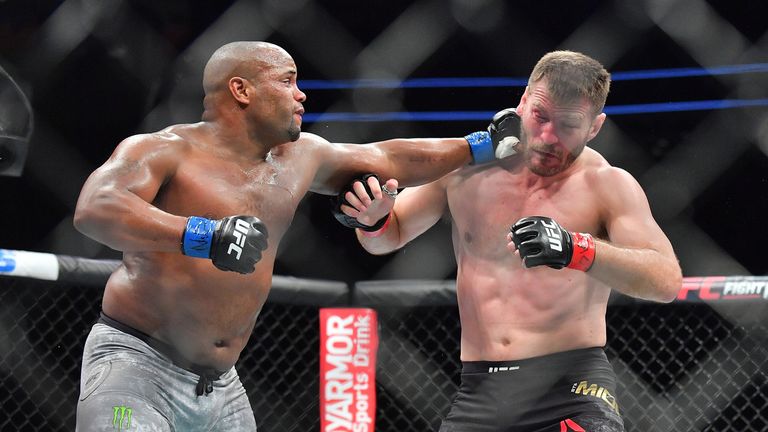 taken down momentarily by Miocic before eating punches against the cage. Miocic was firmly in control as Cormier desperately shot for clinch attempts from the outside and Miocic peppered him with a 1-2 combo that seemed to rock the smaller fighter. Cormier soon found his jab had a little more sting than expected though and gained confidence in drawing Miocic inside, drawing the champion into exchanges in the pocket. An eye poke stalled the action for a referee warning, but some damage had already been done around the eyes of Miocic and Cormier clnched after an exchange. With his left arm tied up with Miocic's right, Cormier fired a short right hook on the exit of a tie-up that floored Miocic and followed with ground and pound that made a new two-division champion with only thirty seconds left in the first round.
Post-match, Cormier said he never knew what he could become at heavyweight after leaving the division. Cormier said he noticed in study that Miocic exits clinches with his hands low and played up the moment, but then he took the microphone from Joe Rogan.
Cormier called attention to a man who walked to ringside before the main event, WWE Universal Champion Brock Lesnar. Cormier called Lesnar to the cage and Lesnar shoved him out of the way, calling out co-main eventer Francis Ngannou and Micoic as "shit" and telling Cormier that is he is coming for that "motherfucker." Cormier told Lesnar that he can push now and go to sleep later, setting up the two in deliciously cheesy pro wrestling style for a title fight in Madison Square Garden later this year.
For all the momentous glory of the main event, heavyweights Francis Ngannou and Derrick Lewis had expectations as heavy as their hands to deliver a spectacular brawl and they lived up to none of it, delivering one of the worst fights in UFC history. Lewis landed 22 strikes to Ngannou's 11 and both were hit harder by commentary and fans throughout, with fans even resorting to using their cellphones as lights in the audience and chanting "FIGHT!" Lewis's output literally doubling Ngannou's gave him a unanimous decision victory, and though Lewis made no excuses for his performance despite a bad back that plagued him and has been a problem throughout his UFC tenure, UFC President Dana White blamed Ngannou's performance on ego.
Paul Felder stepped up to welterweight to take on Mike Perry after Yancy Medeiros was injured two weeks before the bout. Felder showed out tough against the brawler Perry despite breaking his arm in the first round at some point, with announcers speculating it was on a spinning backfist that landed with more wrist against the forehead of Perry. While Felder threw with the right arm throughout, it hindered his counterstriking against a more controlled, but still ultimately aggressive Perry throughout their three rounds. The measured pressure striking from Perry kept Felder from landing too many combinations throughout and he mixed in some power takedowns against the opponent now grappling with one functional arm. Still, Felder used leg kicks and a jab in the third to keep Perry away and steal away a round, making it close going to the cards. Perry ended up with the split decision victory on the judge's scorecards in a fair choice.

Michael Chiesa missed weight for his lightweight fight against Anthony Pettis, but he didn't look bothered by the weight cut early. Chiesa got a takedown ten seconds into the fight off a leg kick from Pettis, getting the single-leg against the cage and soon getting the back of Pettis. Chiesa was too high on the back and Pettis switched out, but Chiesa made an argument for winning the first as most of it was spent with him controlling on the cage and scoring takedowns. That would be all for naught as Chiesa threw a leg kick early in the second round and followed with a lead-leg push kick. Pettis threw a straight right down the pipe that dropped Chiesa and Pettis went for a guillotine on a turtled Chiesa, transitioning to guard and into a triangle and armbar combo that gave Pettis the submission win.
Light heavyweights Gokhan Saki and Khalil Rountree Jr. opened up the pay-per-view in surprising fashion. Rountree found some success early with his boxing as Saki looked to establish range. Saki left himself open with a lazy leg kick and Rountree followed with a 1-2 with the left straight sending Saki crashing to the mat for Rountree's follow-up ground and pound to score the knockout victory in the first round against the former Glory Kickboxing Light Heavyweight Champion.
On the prelims, Dan Hooker and Paulo Costa scored the only two finishes, with Hooker knocking out Gilbert Burns in the first round during their featherweight contest, while Costa knocked out Uriah Hall in the second round of their middleweight fight. Raphael Assuncao earned 30-27 unanimous scores across the board at bantamweight against Rob Font, as did lightweight Drakkar Klose over Lando Vannata. Curtis Millender got two rounds out of three in a 29-28 sweep of the cards against Max Griffin at welterweight, as did women's straightweight Emily Whitmire over Jamie Moyle.
Performance of the Night bonuses went to Cormier, Pettis, Rountree Jr., and Costa to close the night.
-Nolan can be reached at nth993@gmail.com or @nolanundercard.