At the moment, the Penguins are like some loudmouth that tells you regularly how rich they are.  They'll tell you how good and awesome they are, how much money they have, but then your poor ass catches them flying Spirit Airlines and know they're full of shit.
So what's left to say about this team right now?
When they're on, they jump out to 4-1 leads against teams.
When they're off, they piss 4-1 leads away and lose…on home ice no less.
On one hand, it's dope that they finally got a point for once and actually looked like real boys for a while last night.  On the other hand, they didn't bury the team they were playing against, let them hang around and blew a 4-1 lead on home ice.
They're now 11-6-6 in their last 23 games in which they've scored first and 2-5-2 in their last 9 home games.
That's, in a word, bad.
---
LINEUP
No Crosby again for the second game in a row meant Derek Grant continued in the middle in his absence.  Sheahan returned to the lineup in place of the injured Matt Cullen, while The Smith got the nod in net after the team let Murray down again in the first period in Ottawa.
First Period
Right off the hop, the Pens actually looked like a team that gave a shit and wanted to be on the right side of history.  In true Penguins fashion when they needed a big win, though, they ultimately ran into a goalie playing out of his skull.
Cue Carter Hutton, who was dialed in more than Keanu Reeves in every movie he's ever been in.  At one end, Hutton robbed Pearson of his first as a Penguin.  At the other end, The Smith turned aside a ten-bell redirect from former All Star Zemgus Girgensons as Maatta caught him in the chops with a high stick.
The best chance of the first PP of the game did not come from the team with the man-advantage, however.  It came from the sticks of Derek Grant and ZAR, both looking to break the 44 game dry spell of 0 shorthanded goals for the Pens PK.
Following the kill, Malkin's line really started to establish dominance in this game, led by the Big Russian.  Again, Hutton was up to the task to stop Gene from getting on that SportsCenter bitcc.
But even with all of those high end scoring chances, the Pens would finally solve Hutton midway through the period.  First, Buffalo would storm into the Pens zone and getting a shot in on DeSmith to turn away.  The rebound loops over both crashing Sabres to Hornqvist to move it up to Brassard screaming out of the zone on a 2v1 against the latest #1 overall pick, Rasmus Dahlin.
Dahlin tried to keep up with Brassard, but Brassers rolled him up and smoked him, snapping a shot by Hutton in the process.
PIT – 1st Pd./8:46 – Brassard; A: Hornqvist, Malkin – 1-0
Big mood.
But about 3 minutes later, Buffalo would pull themselves back level.
On a controlled breakout, the Sabres would navigate the Pens neutral zone set up to get the puck in deep, only to have the Pens struggle at every turn to get the puck out.  Letang failed.  Sprong failed.  Simon failed.  Grant failed.  Every attempt to throw it off the boards or off the glass to get it out was pinched and held in by the Sabres, the last one of which was held in by Ristolainen.  He turned it quickly to Sam Reinhart to put it on a tee for Tage Thompson to rifle by The Smith.
BUF – 1st Pd./11:43 – Thompson; A: Reinhart, Ristolainen – 1-1
But just as the Sabres started to tilt the ice in their favor, the Pens would get their noses back in front, coming again on the heels of a DeSmith save and quick transition.
Just like the first one, the Sabres broke out and broke into the Pens zone to get a shot, turned away by DeSmith.  Maatta eventually took control behind the net, hitting Phil! in support along the wall.
Gene was all in on creating a goal, taking off and beating Phil! up ice to quickly that Phil! had to move him the puck.  Malkin's speed pushed back the Sabres D, opening up a lane to hit Pearson flying into the zone.  Bogosian and Dahlin got spun around by the pace that they forgot about Phil! sneaking in the backdoor to bang home Pearson's feed.  First point as a Penguin for Pearson.  He's off and running.  Look out.
PIT – 1st Pd./16:15 – Phil!; A: Pearson, Malkin – 2-1
To wrap up the period, Jake McCabe boarded the ever loving shit out of ZAR, which resulted in:
a Sheahan-McCabe scrap
just a minor penalty for boarding
nothing else
Second Period
One thing that was good about the Penguins last night is that for a good part of the game, they actually looked good.  It's encouraging, even if the rest of the game was anything but.  This continued into the 2nd period for a bit, including Jake Guentzel scoring 84 seconds into the period.
Again, the Pens quick-strike transition was on full display for the 3rd straight goal.  A missed shot went off the wall behind DeSmith to be met first by Kyle Okposo.  Missed high stick, but Guentzel read the play and got the turnover.
Hornqvist stepped as Bake flew the zone, hitting him with the head-man pass and driving straight to the net.  Guentzel carried, but ran out of real estate as he looked pass the whole way.  Clever little play to look for the pass of the pads from the tight angle only to have Hornqvist get it back to him with the yawning 4×6 begging to be fed.
PIT – 2nd Pd./1:24 – Guentzel; A: Hornqvist – 3-1
Less than 4 minutes later, we had what should've been the throat rip, this time coming from a more controlled breakout.
Gene carried the mail this go-around, getting into the offensive zone with a little chip to Phil! along the boards.  His subsequent shot got blocked and the grimy work down low kicked off.  Gene was not to be stifled, chasing down the puck, forcing a turnover, and moving it up high to Johnson at the point.  The shooting lane opened up like the Red Sea for him to throw it towards the net, where Tanner Pearson was getting his hands dirty to open his goal scoring account in a Pens sweater.
Update: Carl Hagelin got his first assist as an LA King last night, giving him half as many points with his new team as Pearson has with his new team.
PIT – 2nd Pd./5:00 – Pearson; A: Johnson, Malkin – 4-1
Just 42 seconds later, the Pens went back to the PP after Bogosian got called for hooking Dom Simon.  On the ensuing PP, Malkin took Scandella out of the game with a rocket of a one-timer, leading Scandella to accidentally attempt to decapitate Malkin, putting the Pens on a 5v3 for 29 seconds.
On that 5v3, the Pens had their chance to put the Sabres away and make it 5-1 with Phil! again on the backdoor.  Sure, he fanned on the shot a little bit, but you have to give Hutton credit for having his pad there and just giving himself a subtle little kick out to make sure the puck stayed out of the net.
This play was talked about ad nauseam by the Pens in their postgame quotes as being the save that let the Sabres back in.
Because damn near right after all of the penalties were killed off, Buffalo cut the Pens lead in half.
On a play which saw Guentzel chip the puck in deep only to be slowed down by Eichel sealing him off along the boards, Bogosian was able to collect and reverse it behind his own goal to Dahlin with only Bake on the forecheck.
Dahlin broke it out and off the Sabres went on the Pens, who were sitting way back.  Pominville hit Eichel streaking, chipping and blowing by Johnson in a little Jack on Jack crime.  Relentlessly, Eichel overtook Hornqvist behind the net, covering for Johnson.  Skinner swooped in, collected the turnover, sold wraparound and laid it off for Bogosian to step into one and beat DeSmith.
All created from Eichel making 3 very nice plays in all 3 zones.
BUF – 2nd Pd./10:39 – Bogosian; A: Skinner, Eichel – 4-2
And just went the Pens looked like they were going to take that 4-2 lead into the 3rd, it evaporated into a 4-2 lead with under 2 minutes to play.
First, Johnson was able to clean the play up behind his net and look to clear.  Once again, Buffalo had the walls sealed, leaving the weak backhand effort to barely make it out of the zone.  ZAR had to slow up and all he could do was sweep it back just inside of the Sabres zone.
With both teams overloaded to that far side of the ice, Buffalo switched the point of attack, hitting Okposo on the far side to scoot in with a lot of space in front of him.  His shot was turned aside by DeSmith, but only as far as the grittiest player in Penguins history/the Rich Miller of the NHL: Conor Sheary.
Sheary, lifting Rust's stick to take the puck to the wall, battled his balls off with some wall support from his teammates to eventually get it to Okposo in the middle of the zone.  They worked it back down low to Sheary and Mittelstadt, where the two of them beat the 3 Penguins that were below the goal line with them.
Let's give a little credit to Mittelstadt here for picking Geno's pocket.  That forces Ruhwedel to engage before Mittelstadt shifts it to Sheary.  Johnson jumps to Sheary a little late, but even that is fine.  Except no one was picking up Okposo in the faceoff circle.  Sheary sucks Ruhwedel and Johnson in, finding Okposo as they engage.  Pearson is quick to at least take away the shot, but it was at the expense of leaving Nelson free at the point.  By this point, Malkin, Ruhwedel, and Johnson are back in decent defensive posture, but Nelson's shot found a way through, beating DeSmith off Johnson's skate.
BUF – 2nd Pd./18:12 – Nelson; A: Okposo, Sheary – 4-3
Then, for the second period in a row, a Penguin player ended it by getting ass blasted in the face.
Third Period
Just 2:44 into the period, Brassard went off for hooking Pominville.  Though the Pens killed off the penalty, you just knew what was coming.
This time, it was the Sabres pinning the Pens back with a quick transition after Ruhwedel gained their zone (by himself with no goddamn support system), only to have his shot attempt end up in the corner.  Buffalo collected, disjointedly scrambled their way through the neutral zone, and they we were in.
Okposo took it straight to the goalline, reversing it back to Mittelstadt.  His attempt also went wide, but found its way back to Okposo's stick before going from low to high back down low.
At this point, it's worth noting that every single quote after the game also mentioned how the Pens knew about Buffalo's tendency to pinch down the wall to pin teams in their own zones.  They knew this coming into the game, the coaches had them prepared, and yet they still did nothing to execute a different exit strategy.
The Pens did well to turn the puck over, but Malkin's outlet look to Pearson eluded the newcomer, finding Bogosian instead holding the line.  His keep in also eluded Malkin, allowing Okposo to coolly hit Mittelstadt on the weak side to walk in and beat DeSmith short-side.
BUF – 3rd Pd./11:12 – Mittelstadt; A: Okposo, Bogosian – 4-4
Gotta say, DeSmith looks a little off here.  Ruhwedel and Dumo are doing work to take away the pass to Sheary on the backstick.  DeSmith is mostly squared up, but he's crouching down and making himself way too short to the point that Mittelstadt didn't even need to pick a corner.  He just needed to hit the top part of the net.  Imagine if that was Murray in goal…………..
Even at 4-4, the Pens still had a chance to win it in regulation, but an electric Kessel breakaway was stonewalled yet again by Hutton.
Just like Peep coming up short in the 3-on-3 Challenge, the Pens would come up short in holding a 4-1 lead and winning in regulation.
Overtime
But it gave us real 3-on-3.  Unfortunately for the glamorous spectacle that is 3v3 OT, the ice was preventing it from being that exact thing.  It was frozen dogshit.  The puck was bouncing around, bodies were hitting the floor, blood everywhere.
With all of that shit, Jack Eichel eventually took a diving Risto stretch pass, walking in on Letang as Phil! tracked back.  DeSmith got a big piece of his shot, but not enough to give the Pens a chance to win this.
BUF – OT/0:45 – Eichel; A: Ristolainen – 5-4
For as fucking loud as the "Murray sucks and DeSmith is better" crowd is, they were awfully quiet last night.  DeSmith has to stop this puck.  He got too big of a piece of it to not stop it.  Yet Matt Murray would've been burned at the stake for giving up this goal (and the 4th one, for that matter).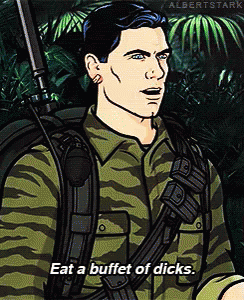 Game.
NOTES
There are 4 players immune to criticism this season: Crosby, Malkin, Kessel, and Letang.  That's it.  But clearly they can't do it all themselves.
Something's gotta give here soon.
Dallas comes to town on Wednesday.  Start there.  Go Pens.