LANDOVER, MD – Dwayne Haskins Jr. led the Washington Redskins to their second victory of the 2019 season, but most importantly his first career victory as a starting quarterback in the NFL. It wasn't a stellar game but a win is win. The rookie quarterback finished with: 13/29, 156 yards, and 1 interception.
Here are my top 5 photos from Sunday's action:
Dwayne Haskins

Derrius Guice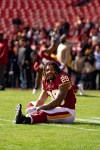 Native American Heritage Celebration
Terry McLaurin

Steven Sims Jr. 
The Redskins look to make it back to back wins as they visit the Carolina Panthers (5-6) next weekend in Charlotte, NC. You can find my top photos from Sunday's game against the Lion's here.
via The Sports Daily / All-Pro Reels / Robert Banez