Talk about an upgrade behind the bench.
The Islanders hired the biggest free agent head coach on the market in Barry Trotz on Thursday after days of speculation that he would be headed to New York. Official word from the team came just hours after reports began to surface that Trotz and the Islanders had come to an agreement on a deal.
The announcement highlighted a busy week for Trotz, who resigned as head coach of the Washington Capitals on Monday just weeks after leading the team to its first Stanley Cup championship. Trotz sat down with Lou Lamoriello earlier this week after the Islanders executive reached out to Trotz's agent.
[lawrence-related id=821930,821900]
"I talked to Mr. Lamoriello. I had a fantastic conversation," Trotz said during a conference call with reporters on Thursday. "He told me about his vision and his plan for the team. What he's already done in a very short period of time. Continuing to change a lot of the things, a lot of the cultural thing.
"I loved that. That's what they hired me to do in Washington and change a little bit of the culture. Try to win a Stanley Cup, so we're going to try to do the same thing on the Island. I'm excited about the whole process."
Trotz's hiring continues a massive change around the Islanders organization, which has gone through an upheaval in recent weeks. The Islanders hired Lamoriello to be the team's president of hockey operations in May and he proceeded to let go of longtime GM Garth Snow and head coach Doug Weight.
Lamoriello's hiring of Trotz brings one of the most experienced coaches in franchise history into the fold. Trotz is fresh off a Stanley Cup championship and back-to-back President's Trophy seasons with the Capitals.
Despite that, the Capitals would not meet Trotz's contract demands for an extension and Trotz resigned as coach allowing the Islanders to pounce.
Trotz began his NHL coaching career in Nashville where was behind the bench from 1998 to 2014 before heading east to coach the Capitals. Trotz holds a 762-568-60-134 career record behind the bench and ranks fifth in NHL history in wins and games coached (1,524).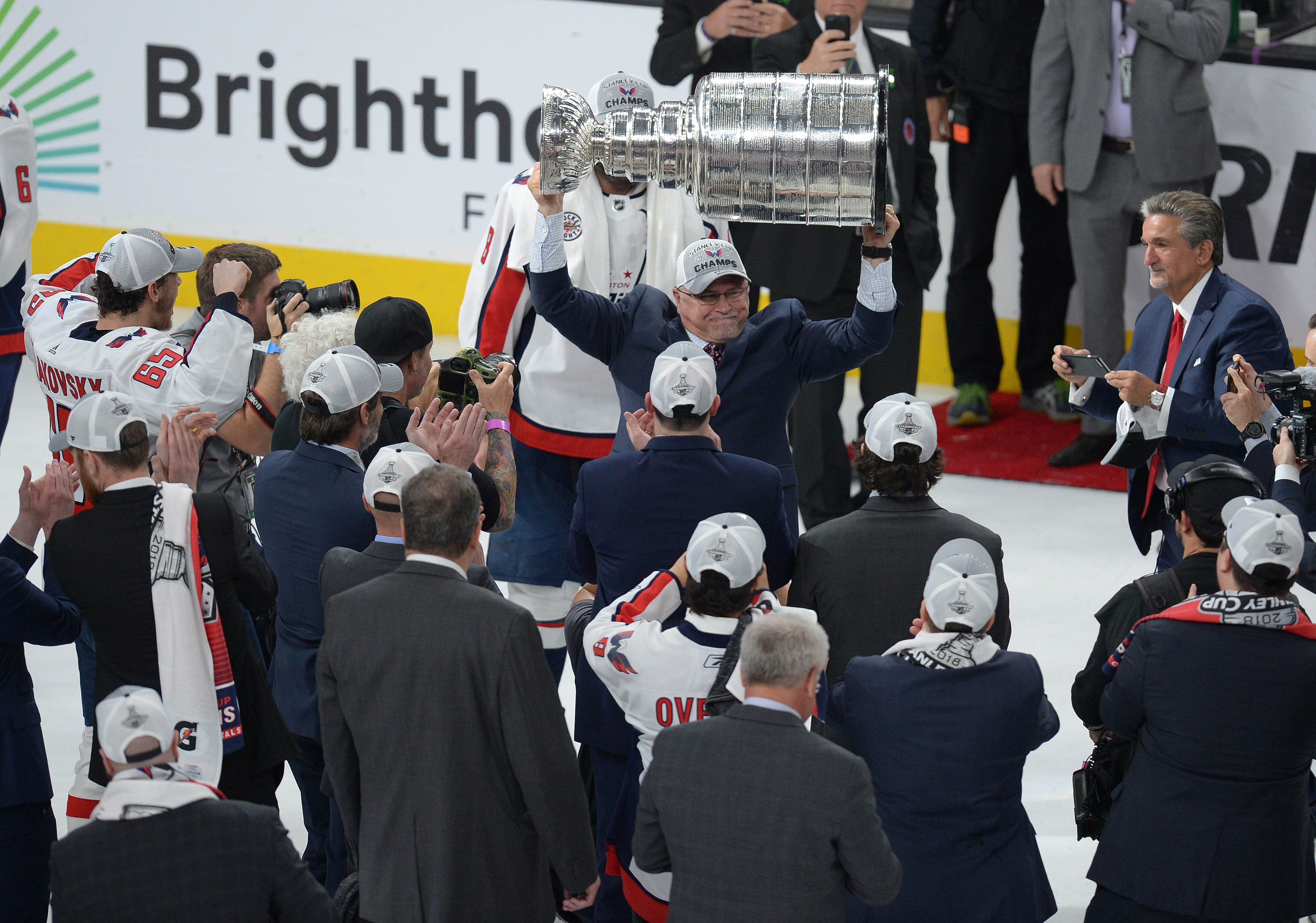 "He brings experience, he brings knowledge and he brings success which is the most important thing," Islanders president and general manager Lou Lamoriello told reporters in Dallas. "You have to win. He knows how to win and he's a good human being. I think he's a great role model for what we're trying to do as far as bring to the organization."
Trotz takes over an Islanders team that had plenty of offensive firepower last season, but struggled heavily in the defensive end of the ice. The new Islanders head coach envisions a team that utilizes the team's skill and can improve on the back end.
"We want to play fast," Trotz said. "I think the strength of the core group is that they have a lot of skill. They can play with pace. We have to clean up our back end in terms of our defensive play without the puck. I know we can fix that and get our goals against down…
"There's some really good pieces there that I know if we get our structure right and we can get our pace right we're going to be able to score and to defend much better."
Barry Trotz said he's reached out to John Tavares, had "great conversation" and says he thinks negotiations are in "great hands."

— Andrew Gross (@AGrossNewsday) June 21, 2018
Off the ice, the Islanders still need to re-sign John Tavares, who Trotz said he spoke to already and had a good conversation with. And the new coach will look to assemble a coaching staff around him.
Two names that could join Trotz on Long Island are longtime assistants Lane Lambert and Mitch Korn.
"The one mandate that I have is to get the best people out there," Trotz said about a new coaching staff. "We want a staff that's organized and we will be. We want a staff that's going to be a teaching staff because we have some young players and we're going try to develop the whole player. Not just the on-ice player, but the off-ice player and right through the organization."