While not a big of a name as some of the Indians fall league players of the past, Yu Chang has done nothing but impress since he was signed out of Taiwan in 2013. In his first year, he helped the AZL Indians to their first championship while playing third base and short stop. In his third year, he had jumped all the way to high A at just 20 years old and, now playing short stop full time, became a true power hitter with 13 home runs and 30 doubles. He played in the Arizona Fall League in 2016 to help him reach AA Akron by 2017 and stuck around in Columbus all year in 2018, hitting 13 more home runs and 28 more doubles while improving his defense considerably.
Unfortunately for Chang, he reached Columbus at a time when there was a gigantic wall between himself and Cleveland named Francisco Lindor. While his defense has improved considerably since his rookie year, he is nowhere near Lindor defensively and never will be. This makes his bat irrelevant as he will never be the Cleveland Indians starting short stop. Seeing this coming, Chang was used at second and third during the 2018 and is now continuing to play at third during the 2018 Arizona Fall League with the Glendale Desert Dogs.
This positional versatility should open up a door through that Lindor wall into Cleveland. While he will never be the starting short stop, he could easily be the Indians starting third baseman if they decide to keep Jose Ramirez at second. Even if not, he is a considerably more advanced hitter than Erik Gonzalez and the ability to play second, third and short would make him a huge offensive threat for a utility infielder.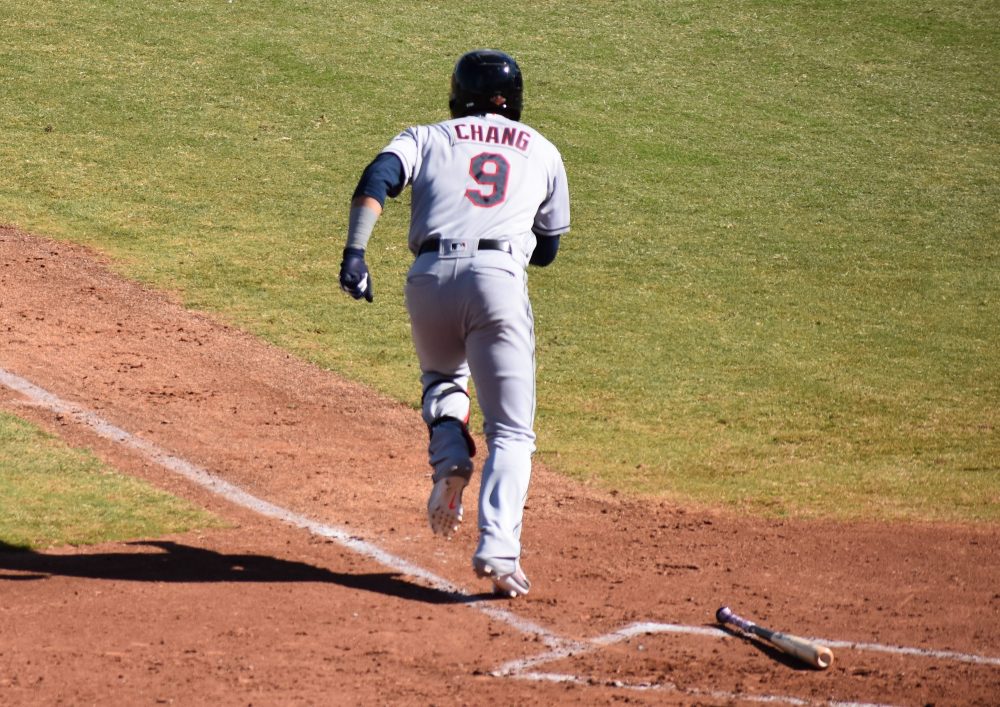 Opportunities aside, Chang appears to be forcing his way onto a Major League roster somewhere with his play during this year's fall season. After hitting .256/.330/.411 during the AAA season, he has smashed a .353/.421/.471 line during his first 10 games with the Desert Dogs. In what has been a truly awful season for the team, Chang has one of the team's two home runs and leads the team by far with 12 hits. He has went hitless just once and had multiple hits in three of his last four games including a home run and a double.
While it is a very small sample size, perhaps the most important stat for Chang right now is his strike out rate. The chart below shows his walk and strike out rates (based on total plate appearances) for his entire career.
| | | | |
| --- | --- | --- | --- |
| Year | Level | BB% | K% |
| 2014 | AZL | 10% | 15% |
| 2015 | A | 6% | 23% |
| 2016 | A+ | 9% | 23% |
| 2016 | AFL | 5% | 34% |
| 2017 | AA | 10% | 26% |
| 2018 | AAA | 8% | 28% |
| 2018 | AFL | 8% | 19% |
While a 23% K rate isn't good, things really started to get out of hand starting in his 2016 AFL stint and continuing over the last two years. While he does have power, it is not Giancarlo Stanton level power, so a decrease in that number will be necessary for a successful MLB career. Of course, he is a couple years older now, so instead of being one of the younger participants playing above his head, he is now one of the higher level players in the AFL. His improved approach at the plate has shown that increase in maturity.
Having seen him personally in both 2016 and 2018, it appears that Chang still swings at nearly everything, but has greater bat control and can foul off borderline pitches with greater ease. When he does get a pitch he likes, he can hit it as hard as anyone. While he is generally a pull hitter, he goes to the opposite field enough to keep teams from extreme shifts.
Chang doesn't have a distinct advantage against left handed pitching in power production, but he does appear to see the ball slightly better as he has walked more often (13% to 7% in 2018) and struck out less (22% to 30%) against south paws. Those numbers have continued from AAA into the AFL as he has walked twice in nine plate appearances vs LHP with just one walk in 28 against right handers. All of his hits, however, have come against right handers.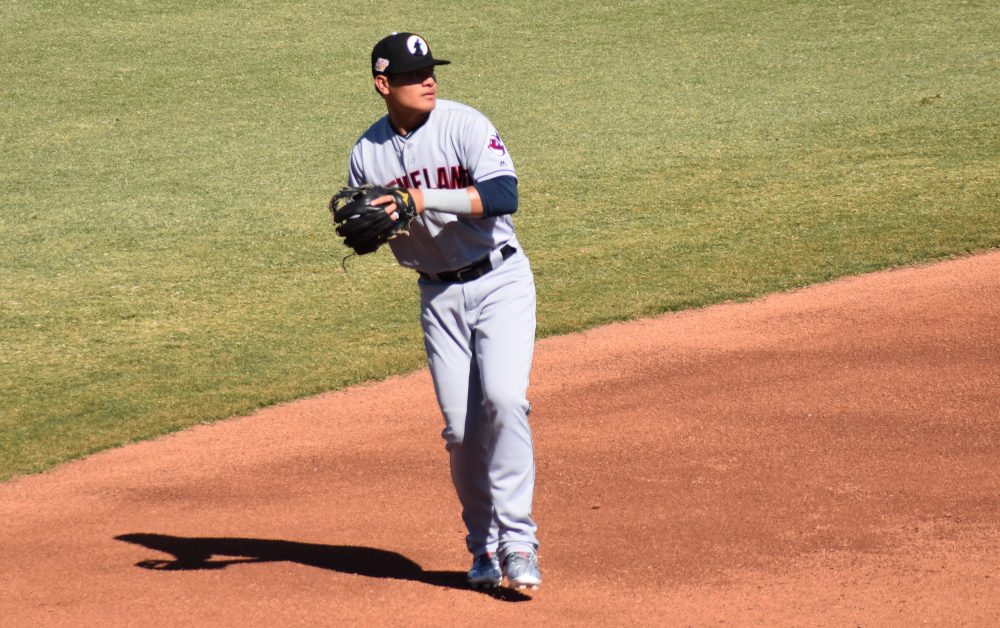 The Indians off-season plans could greatly depend on how much they believe in Chang. If they think he is a future starter at third, they could easily move Jason Kipnis to left, keep Ramirez at second and stand pat. If they don't, they will likely have to reach outside of the organization for at least one, possibly two outfielders to fill the holes left by the expected departures of Lonnie Chisenhall and Michael Brantley (in addition to the injury to Bradley Zimmer and illness of Leonys Martin).
The third option is that the Indians do value Chang, but less so than Yandy Diaz. In this case, he is in a similar situation to Francisco Mejia was at this time last year. Coincidentally, Mejia was also playing for the Glendale Desert Dogs at this time last year as he tried to transition into a third baseman. Like Mejia, Chang is useless to the Indians at his primary position, so the transition is integral to his future in Cleveland. However, for most other teams he would be more valuable at short.
A more apt comparison could be Jhonny Peralta, who was moved to third base by Cleveland in 2009 to make room for Asdrubal Cabrera, but as soon as Peralta moved to another team, he was switched back to short stop. Peralta could be the perfect comp for Chang as he hits extremely well for a short stop, but not necessarily for a third baseman. He also has limited range, but good hands and makes all the plays that he should.
The benefit for Chang over Mejia could be that the increase in both great defensive short stops and the emphasis on defense could mean that any team that would want him would want him at third. Where Mejia had to split time between right field and catcher last year, Chang should be able to focus at the one position that would be his best fit anywhere.
No matter where it is, Chang is destined for the big leagues in 2019.