Enjoy your off day, Eagles fans as well as players… we get serious real soon heading into our first exhibition game against the Packers on Thursday night August 10th… that's just 5 sleeps away as I write this…
We have an open practice this Sunday after a much deserved day off…so savor this weekend.  So far we know what our weaknesses are—questionable depth at cornerback and iffy projections at slot receiver. Maybe we're a little worried about Alshon Jeffrey's overall health after he's missed four straight days of practice? Sometimes you just have to trust your coaches and medical staff that they know by now how to pace a veteran racehorse.
Remember this idyllic time of the season when we are locked into combat in the freezing cold of early January of 2018—when we are 9-6 and must win our final game of the regular season to claim the NFC East division title… Oh yes, I can feel it happening. It's coming down to that one big game.
What loyal Eagles fan with all of the current evidence in front of him or her can't envision that kind of denouement to this pivotal season for Doug Pederson's and Howie Roseman's and Joe Douglas' Eagles?
In the interpretation of this season's potential, I feel it is coming down to one big win or loss at the end to define the relevance of this franchise heading into the next decade.
I'm not saying it will be easy—far from it. But for now, enjoy the potential. Don't dwell on the deficiencies.
Hey, even the Eagles relaxed as a team at the end of Friday's practice… it's okay to celebrate the end of the hell portion of training camp…
Sidney Jones was telling jokes at the defensive backs meeting:
"Why shouldn't you trust an atom, like a scientific atom?" Jones asked, recalling the most recent joke he used. "Because they make up everything."
Ba dum bum.
On Friday  Doug Pederson came up with the idea to have Fletcher Cox and Jason Peters test their punt return skills, with Cox representing the defense and Peters the offense. A catch meant that man's group would get a meeting cut from the schedule later that night.
The 35-year-old Peters had to charge up and to his left, then dropped to one knee to secure the ball just before it hit the ground.
"I lost it in the sun. I was just trying to get up under it," he said afterward.
Cox was up next. He made easy work of it, calmly backpedaling to haul in the ball as the defense swarmed him and Pederson threw his hands up in the air.
Sometimes you just gotta relax and let it go. There is still fun possible in the No Fun League.
  *   *   *   *   *   *   *   *   *   *   *
Check out Fran Duffy's podcast if you get a chance—it's a very informative half-hour bringing Eagles fans up to speed on what's going on at training camp. Mike Mayock chimes in with some typically good stuff, too: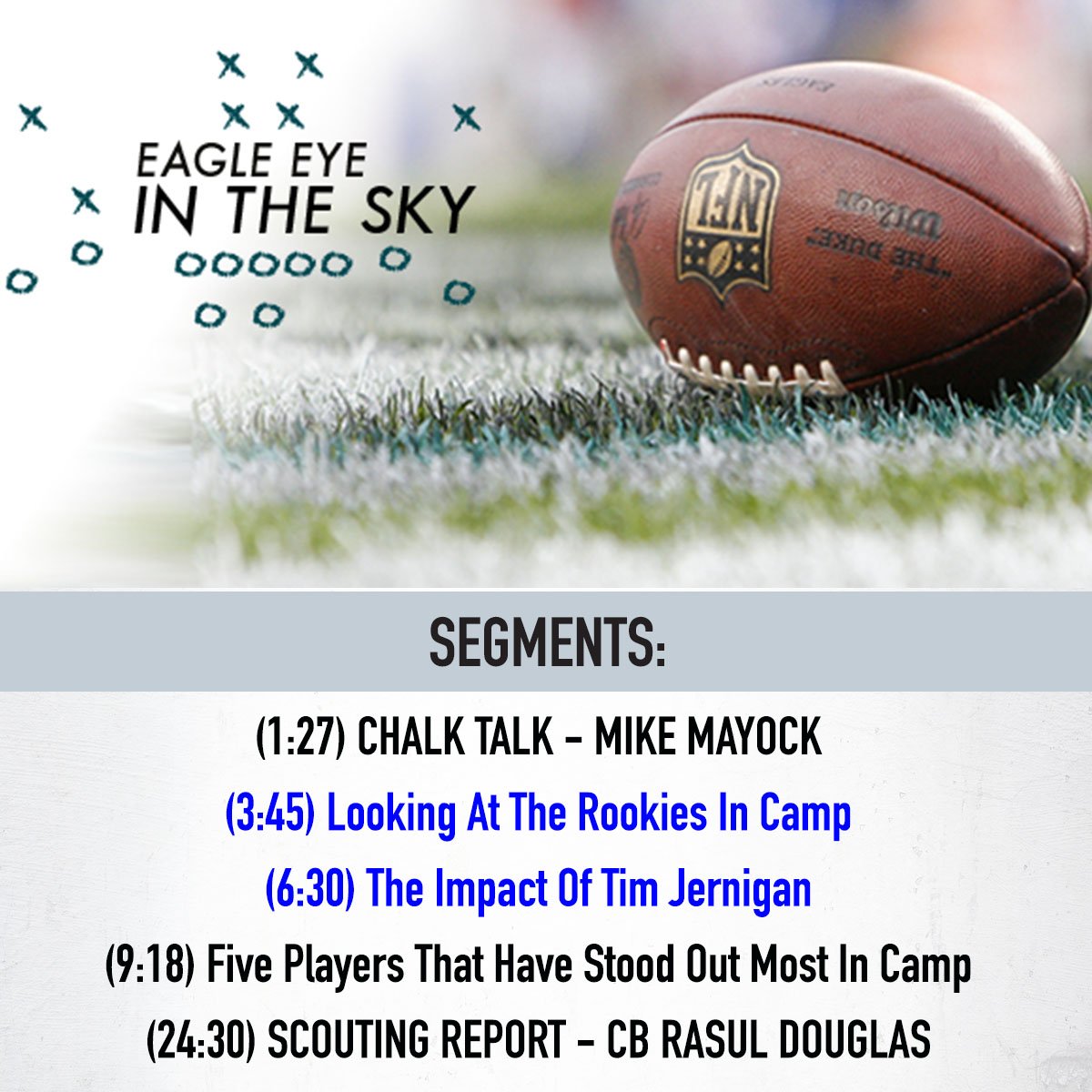 Video Content Manager; TV/Web Producer; former Football Video Coordinator for Temple U; All-22 / NFL Draft junkie.