When the Chargers drafted the Iowa defensive back in the 5th round of the 2017 NFL Draft, the most desirable and, arguably, least likely outcome would be Desmond King passing up Tre Boston on the depth chart, ultimately beating out incumbent Dwight Lowery, for the starting free safety position. If for no other reason than he fits the mold as a prospect and the team has sought a replacement at the position since electing not to bring back former all-pro, Eric Weddle. No disrespect to Weddle who brought a lot to the table in terms of leadership, versatility, and tackling, King has the potential to have a much greater impact.
A true ballhawk, who's just as heady and smart, similarly solid against the run and good enough in coverage to play at cornerback, Desmond King brings a lot more to the table coming out of college. That is, albeit, on paper at least.
How he fell to the fifth round is intriguing. After a thoroughly dominating performance during his junior season, collecting 8 picks and breaking up 13 passes, opposing teams simply stayed away from King's side of the field the following year. Though declaring for the draft may have been a more prudent financial decision in hindsight, finishing college with his teammates was important to King, according to Scott Dochterman. Dochterman who covers Iowa football also had this to say about King just prior to the Draft.
"Opponents avoided King on nearly every pass attempt this year. King often shuts down half the field, so he collected only two interceptions this year after eight as a junior. That kept him from earning consensus All-America honors…"
Fewer opportunities to make plays made it more difficult for NFL scouts to evaluate and grade him out. This, coupled with an underwhelming 40-time (4.55/40), and perhaps that fact that he's slightly undersized at 5'10, 185 lbs, ultimately allowed King to fall to the Chargers in the 5th round.
When reviewing the college highlights, what stands out right away is his ability to read the quarterback, recognize the route, and beat the receiver to the spot. Exceptional vision and superior fundamentals allow him to make an early break on the ball and compensate for any lack of make-up speed.
Voch Lombardi does an outstanding video analysis here, well worth taking the time. Lombardi calls him a "high-IQ" guy, who's extremely "polished," and dominates when the play unfolds in front of him as opposed to when chasing the play down from behind. The only knocks on him from Lombardi, PFF and others besides a lack of top-end speed, and slightly less than ideal size is that he's not as effective in man to man coverage and that he uses poor technique at times when making tackles. However, King's highlights reveal a strong, physical player who does not shy away from contact.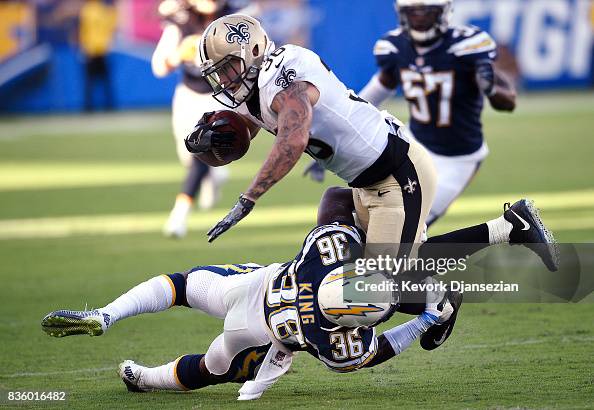 CARSON, CA – AUGUST 20: Defensive back Desmond King #36 of the Los Angeles Chargers tackles running back Daniel Lasco #36 of the New Orleans Saints short of the first down during the first half of their preseason football game at the StubHub Center August 20, 2017, in Carson, California. (Photo by Kevork Djansezian/Getty Images)
Questions about whether his skill sets translate into the NFL have been fairly well answered following an exceptional showing during the preseason. In the first two matchups he's been a game changer, with a sack, a pick, a tackle for a loss, a forced fumble, and a QB hit.
Asking King to win the starting job at free safety at the onset of his rookie campaign is almost certainly asking too much. There's no question he's a sharp cookie, finishing his BA in under four years. He's also ahead of the curve in many ways coming in and his competition is somewhat pedestrian. But free safety is one of the more complicated positions for a prospect out of college to master, especially for a player who's never played the position.
Based on what we've seen from the young man thus far, though, it might not be long, not long at all.