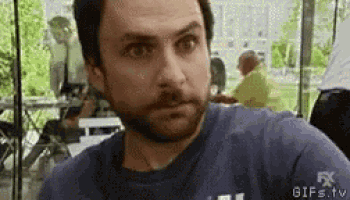 *Frustrated Oilers fan watches his team attempt to score a rare and elusive goal*
Penguins 2 – Oilers 1 (OT)
First of all, let's just say, thank the lord that McDavid scored that tying goal in the 3rd, because if he hadn't tonight's postgame could have been a lot worse. So thank you Connor, for at least getting your team a point this evening… Now onto the nitty gritty of it all.
It doesn't even have to be said, but if there is anything that remains screaming about this team, it is their current inability to score. Game in and game out, the Oilers are finishing off 60 minutes of play (sometimes more), leaving the impression that scoring more than one goal is a monumental, if not, impossible task. Tonight was no exception.
Despite sending 30 shots on net, once again, Edmonton was only able to register 1 goal on the evening. It would come with 4 minutes left in the 3rd, thanks to a brilliant shot by Connor McDavid. Once again, the offence, while limited, remained restricted to the top line.
As a result, this team has now transitioned from mind-numbing errors and porous goaltending them costing them wins, to an impotent offence, that is completely barren below #97's line. It is a glaring issue, and one that will soon need to be corrected. Tonight's game, perhaps more than any other so far, highlights the intensity of this issue.
Despite having moments of discombobulation, for the most part, the Oilers walked into the Penguins' barn this evening, and played a capable road game. There was no waterfall of mistakes that lead to multiple sieges on Cam Talbot. There wasn't a lethargic approach to the affair, with minimal checking, and botched systems play. Jeeze, even the start was better, considering Edmonton didn't give up a goal within the first 5 minutes.
No, the Oilers went into Pittsburgh, and played a solid road game, against the defending Stanley Cup Champions, and yet, came within 4 minutes of having absolutely nothing to show for their efforts. The same issue occurred Saturday in Philadelphia, when only scoring 1 goal in 60 minutes cost them a shot at overtime, and at the very least, a point to bank. In the game tonight, the Oilers even had multiple flurries against the Penguins, where a bit more patience or accuracy could have registered them a tally or two. Call it luck, call it flawed offensive execution, the result remains the same.
Yes, the Oilers were able to send this game into OT, and despite losing, registered a point to end their 3 game road trip at .500. In isolation, this would be a acceptable. But, it isn't viewed in isolation, and as a result, discussions need to be had about how to juice up this offence.
Of course, maybe if opponent's like Matt Murray weren't making saves like this, we would be having a different discussion:
Overall, it took Todd McLellan 50 minutes to reunite Draisaitl with McDavid, and in just about every one of their shifts they were able to register a scoring chance. If you are a betting person, you would be wise that the Oilers key to scoring at least 2 goals a game starts with #97 and #29 being paired together going forward. It doesn't solve the 0's on the scoresheet beneath line #1, but it has proven to work in the past.
When it works, it works. And it is time for this team to start winning games. The Oilers missed their shot tonight, in a game where Cam Talbot gave them every opportunity to walk away victorious. Edmonton has to get some wins collected here quick, and they will look to do so on Thursday night against the Dallas Stars. Expect a roster tweak or two.
Player of the Game
Cam Talbot is back, and he looks fantastic. He made multiple beautiful saves, but by far, his stop on Kessel (as seen below) was his finest. 42 saves on the night, for a .955 save %. He was stellar, and deserved a win for his efforts. Hopefully he can get some more run support going forward, because it is a shame to waste starts like this one.
Bench Chatter
For starters, maybe putting Lucic out against Kessel and Malkin in 3 on 3 OT isn't the best idea. I like Lucic, but I am sure we can all agree that in a format that is heavily dependent on skating, he probably isn't best suited. On the game winning goal, he just didn't have the foot speed to catch Kessel, and it cost them the game. Blame Lucic if you will, but that is a coaching decision right there.
Time to send Yamamoto down? Maybe. The kid still does a lot of good, but tonight's game showcased the difficulty of playing him on the road. When the matchups get tough, spotting him in to play gets challenging, especially on nights where he is being physically overwhelmed. With Draisaitl and Caggiula back, perhaps it is time.
Caggiula didn't have an amazing game, but one thing sure was noticeable about his presence: speed. The Oilers are a better team with his footspeed in the lineup.
Adam Larsson had a fantastic game, and to the defensive enthusiast, there was a lot to like in the subtelties of his game tonight.
Coupling on to the last point, the Oilers PK had a great night tonight, and Adam Larsson was a big part of that. The Penguins PP is lethal, yet, Edmonton shut them down on all 3 attempts. Positive arrow.
If Khaira is going to slot into the lineup and only play 6 minutes, I fail to see why Malone couldn't be considered more effective. I think swapping Khaira for Malone, at this point, is an easy way to make your 4th line immediately better.
Last point, the Nuge trio continues to do a lot of good things. They cycle the puck effectively, play physical, generally control the flow of the game when they are out there, and do generate shots. The issue is that… they cannot score. For the life of them. Better decisions with the puck when in close, will help them immensely.
Darnell Nurse
The last note I would like to highlight is the play of Darnell Nurse over these last couple of games. I am seeing a lot of positives in his game, and the results of his play are showing it. He looks much more confident with the puck, and his ability to make stretch passes seems to be improving. In one instance this evening, Darnell held the puck patiently in his own end, waited for the play to develop, and made a long pass to McDavid to send him in on a dangerous rush.
Play like this will undoubtedly help to solidify Nurse's spot in the top 4. I'm not saying that it is a foregone conclusion that Nurse is now on his way into this position on a permanent basis, but from what we have seen so far, there is a lot to like. Maturity, physicality, and a growing ability with the puck. Much to like.
Up Next: Dallas Stars
The Oilers will look to take a cattle prod to their offensive instincts, and fill up the net at home on Thursday when they take on the Dallas Stars. The Stars have been pretty good so far at keeping the puck out of their net, sitting at 9th in terms of GA/GP, so Edmonton will have to work for it. Hopefully, a better fate awaits.