The Mets and Marlins gave us a contrast in crispness on Saturday night. There were plays that blew you away … Brian Anderson ran a mile to slide towards the wall to catch a foul pop. Brandon Nimmo made a diving play in the gap after a late start. Starlin Castro made a gem to rob Nimmo and start a double play late in the game which saved the Marlins in this very, very important series.
But most of the runs in the game were scored because of silly mistakes. Todd Frazier hit a three run double after Dan Straily got robbed on a ball four call to Nimmo …
Sounds fake, but OK. pic.twitter.com/EvtSoezp5P

— Miami Marlins (@Marlins) August 12, 2018
The Marlins scored two runs because Jeff McNeil decided that he wasn't close enough to cover on a double play ball back to pitcher Corey Oswalt, and Oswalt hesitated on his throw to Rosario, who was covering, because Oswalt didn't believe in his ability to be Sam Darnold and lead the receiver to the bag.
But forget all of that, because the Mets lost in 11 innings to Miami because when in Miami, do what the Mets do … which is lose in walk-off fashion. Jacob Rhame, whose stats say he's awful against lefties but lost the game facing three righties, gave up a walk-off hit down the line to pinch hitter Bryan Holaday. Amazingly, it had been 327 days since the last Mets walk-off loss in Miami, which is the fourth longest wait between Marlins walk-off wins against the Mets in the last seven seasons. (Yes, I've figured this out.) Since Opening Day 2012, the Mets have lost in the final at-bat in Miami 13 times. That's a shade over twice a year. That's 13 times a Marlin in a monkey mask came on the field and poured white powder on somebody.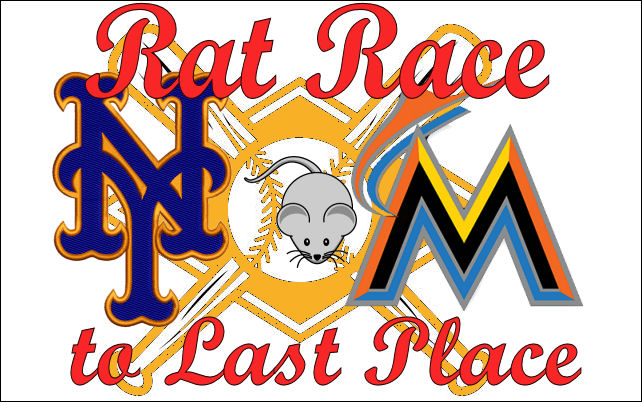 The Mets are four games behind the Marlins for last place in the loss column. With Noah Syndergaard going on Sunday, you would think that the Marlins could make a statement and pull away in the race for the higher draft pick. But baseball is a funny game.
Today's Hate List
I put Miguel Rojas at the top of the hate list last night, simply because he hit a home run. But after finding out he lost his dog last night and played the entire game in tears, I take it back. I can't hate anybody … not even in that sports hate kinda way like "hey you're good against my favorite team so I can't stand you" … that loves his dog so much. My condolences and thoughts to you, Miguel.
Read next