It's hard to believe the greatest car commercial of all time dropped nearly 11 years ago, but the good news is I'm here to bring it back. Don't thank me, though. Thank the troop's. And thank people like this nice woman who voted not once, but TWICE this past Tuesday (#SaluteToService, indeed). After all, I'm just a lowly blogger who lives in his parents' basement lives two blocks away from his parents.
Anyways, since I wrote over a thousand words in last week's edition of #TBT, I'm going to keep this one nice and short. Not to mention, I also wrote the recap for today. Again, no need to thank me, though. I'm just a humble blogger doing his job. True next man up mentality (on a side note, Geoff will be back in business next week doing his thing).
Now, enough about me. Let's get down to the highlights of the infamous A&L Motors commercial from 2008:
– Colby Armstrong's jeans.

Ahhhh, 2008. A much simpler time where you could literally where parachutes around your calves and nobody would bat an eye. A+ fit on the Levi 559 relaxed straight legs .
– Max Talbot's Fu Manchu.

Talbot was an absolute maniac back then. You can almost smell the sex directly through your screen just by looking at that image. Guaranteed he had more confirmed kills that year than Chris Kyle.
– And the nominees for best actors in a local TV commercial with an approximate budget of $72 goes to…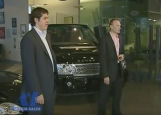 $20 to anyone that can figure out whatever the fuck it is that Gonchar says to Malkin before tossing him the keys. Take a Jag? I have absolutely no idea what he said and neither do you.
But that toss, though…

And shoutout to this guy for the comment of the century.
Never has a statement been more accurate than that.
P.S. – R.I.P. Thrashers.
.