I might as well enjoy the ride to Crazytown because why fight it? I'm tied and strapped into the passenger's side seat, Mickey Callaway is at the wheel, and Jeffy is in the back taking careful notes which he'll probably lose because we're in a convertible with a flat tire and it's raining. And next to Jeffy? Why, it's Jose Reyes. Of course!
First off, if there's a secret strategy to Mickey Art Howellaway continuing to make pitching changes before a pinch hitter is announced, I don't see it. He did it again in the seventh inning on Sunday as Paul Sewald was coming in to face Adam Duvall, but Duvall was never announced so Brian "I'll Use My Replay Challenges In The Ninth Inning Of A 55-3 Game" Snitker was able to pull Duvall back and bring in Ryan Flaherty. The fact that Duvall struck out in the ninth inning anyway is irrelevant. You wait until the pinch hitter is announced. Always!!! That's a basic tenet of managing. Callaway has failed to do this twice in one season!!! Are we just going to shuffle it aside because it didn't matter in the end?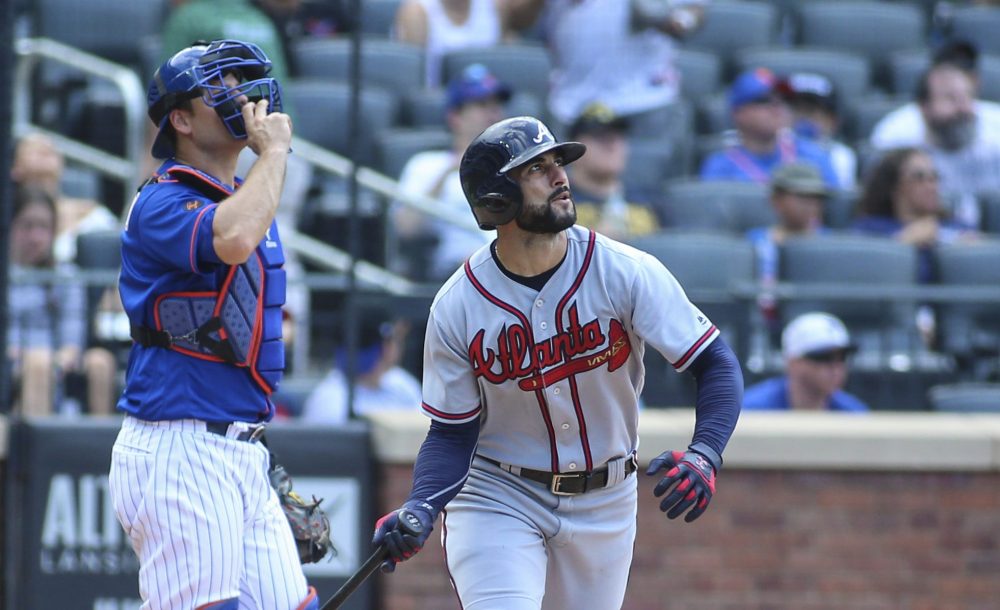 The other thing that drove me nuts was something that Callaway did which, managerially, was the right thing to do. And this is another thing that in the grand scheme of things didn't matter because the Mets lost, they gave up a home run to a pitcher, and Todd Frazier made the last out of a ballgame again. But when Frazier went into the ballgame on a double switch in the eighth, Reyes went to second and Jeff McNeil left the game. McNeil was the last player to make an out in the seventh so it was managerially sound. But aren't we looking at McNeil? Would you have not wanted to see what he can do in the ninth to lead off the inning down a run instead of Reyes? Who knows, maybe Devin Mesoraco's home run in the ninth is a game winner, followed by much rejoicing and the spilling of Gatorade, rather than a game tying home run which was followed by a video review and maybe three high fives when he got back to the dugout like it was the third inning of a 7-1 game, because God please don't make me play baseball for this team in 98 degree heat for another inning!!!
Instead, the Mets lost on a home run by Nick Markakis in the tenth inning, as Jose Bautista couldn't drive in Wilmer Flores from third base with one out as he's now 0-for-his last 23 (and also, as mentioned before, Frazier ended the game with a weak groundout.) The ride to Crazytown continues, with the next rest stop coming up in three days. I hope there is a Roy Rogers waiting for me.
Today's Hate List
Not a hate list today, but I'm sure you all saw this:
The Mets requested from the Reds that Matt Harvey hold his gathering with NY reporters tomorrow at 3:45 or 4:15 so it won't conflict with Callaway's press conference at 4. … Harvey has decided to speak at 4.

— Mike Puma (@NYPost_Mets) August 5, 2018
Regarding tomorrow's Harvey press conference, the Reds say Harvey was unaware of the Mets' request for a different time than 4. But Harvey will probably talk around 4 when Callaway meets with reporters because it fits his schedule best. Reds say no slight intended by Harvey.

— Mike Puma (@NYPost_Mets) August 6, 2018
Okay. Just to get it straight with you: I don't know which side I'm on. I don't know who I believe. And I don't really care. Matt Harvey isn't here anymore, so it really isn't worth any time spent by "Baseball Night In New York" or whatever that show is called to discuss it. But I'm willing to put my money on this: After all the newspapers who are down to one beat reporter (whether by choice or by downsizing) send their lone person to Harvey's media scrum because they can always catch up on Callaway's goofy explanations through the Mets' twitter account anyway, Harvey is going to show up late. It's written in the stars.