Nobody apparently wants to see my annual 90-man training camp roster of the top Eagles players of all time anymore. The current trend is to limit the list to the mythical "Top 10", that sort of thing. I blame the attention deficit disorder of the younger generation. Go ahead, walk about with yer noses in yer mobile phones!Okay, I yield to the majority for now. But remember, my old format gave recognition not only to the players from all eras but also the coaches, trainers, equipment managers, general managers and team doctors.

But for the sake of conformity, I'll walk away and live to post my all-time Eagles TC roster another day.

Here is the kind of thing the kids want today—TOP 10 ALL-TIME!

I don't necessarily agree with this list, because 10 is not enough.  But…

With the Eagles rich history of talented players, who are the greatest Philadelphia Eagles of all time? Jeff Kerr on 247Sports broke the list down to his best 10, and yes, there are members of the current Super Bowl champions on this list.

Here are the 10 greatest players in franchise history according to Kerr:
10. WILBERT MONTGOMERY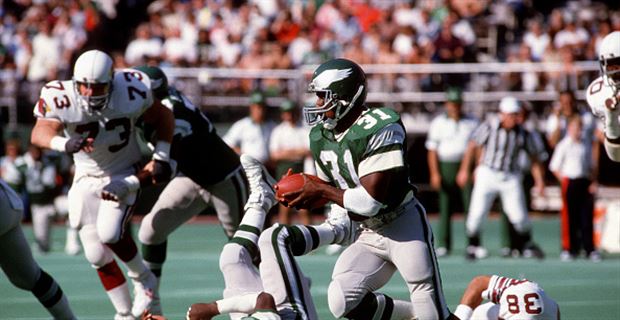 Montgomery held the Eagles all-time rushing record for three decades as he was arguably the best player in the Dick Vermeil-era teams, and one of the most underrated players in team history. In eight seasons with the Eagles, Montgomery rushed for 6,538 yards and 45 touchdowns while compiling 2,447 receiving yards and 12 touchdowns.
From 1978 to 1981, Montgomery was beyond dominant, rushing for 4,912 yards and 34 touchdowns in 57 games. During that stretch, he earned three Pro Bowl selections and two All-Pro teams.
Montgomery also led the Eagles to their first Super Bowl appearance, rushing for 194 yards on 26 carries in the 1980 NFC Championship Game, a 20-7 win over the Dallas Cowboys.
His place in Eagles history is cemented.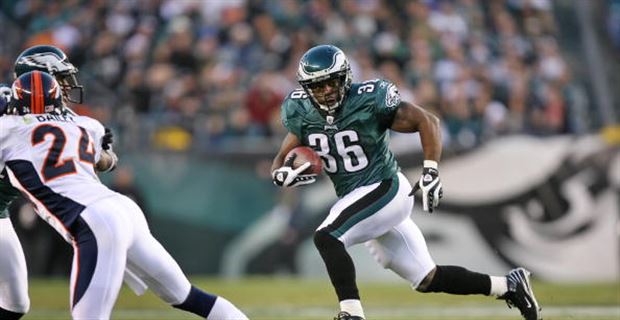 Westbrook is arguably the greatest all-purpose back in Eagles history, compiling 9,785 yards from scrimmage (first all-time) and 66 touchdowns in eight NFL seasons with the team. In Westbrook's one full season as the team's punt returner (2003), he led the NFL with two touchdowns.
Westbrook led he NFL in yards from scrimmage in 2007, earning a First Team All-Pro selection. He also was selected to the Pro Bowl twice and is third on the Eagles all-time rushing list. He finished his Eagles career with 5,995 rushing yards and 3,940 receiving yards.
Injuries derailed a potential Hall of Fame career for Westbrook, who carried the Eagles offense in 2006 and 2007, totaling 4,020 yards from scrimmage and 14 touchdowns, averaging 4.9 yards per carry.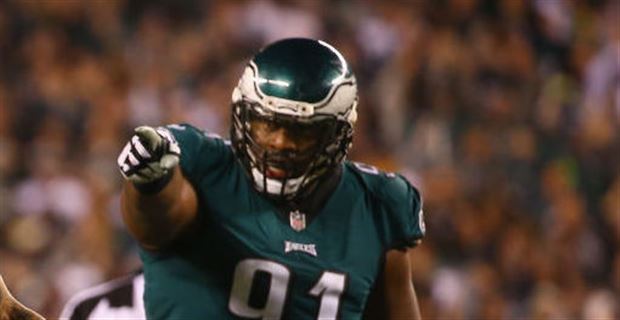 Cox has been dominant enough to earn a spot on this list, especially since he's the anchor on the Super Bowl championship defensive line, one of the greatest defensive lines in Eagles history. Cox proved his dominance in the 2017 postseason, taking his game to another level by finishing with 16 total pressures in three games (including six in the Super Bowl).
Cox has 284 tackles, 34 sacks, seven forced fumbles, and nine fumble recoveries in six NFL seasons, already establishing himself as one of the best pass rushing defensive tackles in Eagles history. He is second all-time in franchise history in sacks, just five behind Andy Harmon (and should pass him in 2018).
A three-time All-Pro and three time Pro Bowler, Cox is one of the best players in football. He's climbing up the chart as one of the best players in Eagles history.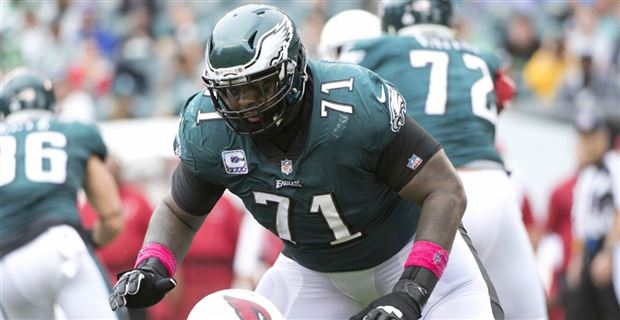 The Eagles had some great offensive lineman in their history, but Peters takes the reins as the best tackle the franchise has ever had. Since Peters arrived with the Eagles in 2009, he's been dominant. Peters has made the Pro Bowl seven of his eight seasons in Philadelphia, earning six All-Pro selections.
Peters has been a dominant force at left tackle, controlling the line of scrimmage and paving the way for LeSean McCoy to find space on the left side of the line. Only Joe Thomas has more Pro Bowl and All-Pro selection than Peters over the last decade.
Peters is heading to the Hall of Fame. A well-deserved honor for his dominance at left tackle, who still is playing at a high level despite being 36-years old. Peters is also a Super Bowl champion, being one of the leaders on the 2017 Eagles despite ending the year on injured reserve with a torn ACL and MCL.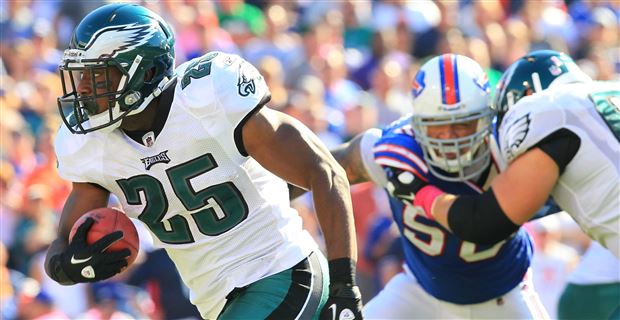 The Eagles had a long line of great running backs. McCoy is the one that is the franchise's all-time leading rusher.  In six seasons with the Eagles, McCoy had 6,792 rushing yards and 42 touchdowns, averaging 4.6 yards per carry. He led the NFL with 17 touchdowns in 2011.
McCoy also had 300 catches for 2,282 yards and and 10 touchdowns, totaling 9,074 all-purpose yards in his Eagles career with three Pro Bowl selections and two First Team All-Pro honors. He's a four-time 1,000-yard rusher with the Eagles and led the NFL with 1,647 rushing yards and 2,146 yards from scrimmage in 2013.
McCoy has been selected to three Pro Bowls since being traded to the Buffalo Bills in 2015, rushing for 3,300 yards and 22 touchdowns. In nine NFL seasons, McCoy has 10,092 rushing yards and 66 touchdowns along with 3,378 receiving yards and 15 touchdowns.
In his 16-year NFL career, Dawkins finished with 1,131 tackles, 37 interceptions, 26 sacks, 120 pass deflections, 36 forced fumbles and 19 fumble recoveries in 224 career games (221 starts). He was selected to the Pro Bowl nine times and earned four First Team All-Pro Honors (six times overall).
Dawkins is one of just six players in NFL history with 25 sacks and 25 interceptions in his career. He's the only player in NFL history to record a sack, interception, fumble recovery and touchdown catch in same game against the Houston Texans in 2002. Dawkins was selected to the Pro Football Hall of Fame All-Decade Team in the 2000s.
Dawkins has 34 career interceptions with the Eagles, tied with Bill Bradley and Eric Allen for the most in franchise history. His 32 forced fumbles are the most in franchise history, while his 97 passes defended are second all-time.
"Weapon X" also leads the Eagles in most sacks by a defensive back (21) and tied with Wes Hopkins for most fumble recoveries in franchise history by a defensive player (16).
Dawkins was selected to the Pro Football Hall of Fame in 2018, an honor he deserved after revolutionizing the safety position.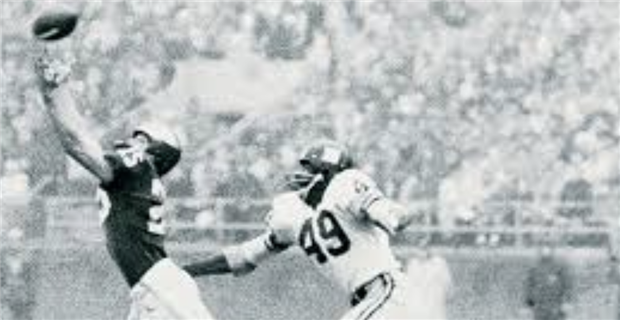 A third-round draft pick of the Eagles in 1957, McDonald was arguably the best wide receiver of his era, catching 495 passes for 8,410 yards and 84 touchdowns.
Playing with Hall of Fame quarterbacks Norm Van Brocklin and Sonny Jurgensen, McDonald averaged an astonishing 19.2 yards per catch with the Eagles. He had 287 catches for 5,499 yards and 66 touchdowns in his seven seasons in Philadelphia (1957 to 1963), an overwhelming majority coming from 1958 to 1963.
McDonald earned five of his six Pro Bowl selections with the Eagles (1958-1962) and all four of his All-Pro honors with the franchise. He ranked in the top-five in receptions in three years with Philadelphia (1959, 1961-1962) and in the top-five in touchdown catches for five consecutive seasons from 1958 to 1962.
McDonald ranked sixth all-time in receptions (495), fourth in receiving yards (8,910) and second in touchdown receptions (84) at the time of his retirement in 1968. He was a member of the Pro Football Hall of Fame All-Decade Team of the 1960s and was finally enshrined into Canton in 1998.
McDonald was the Eagles best offensive player on the Eagles 1960 championship team. His impact on the Eagles can be compared to Jim Brown in Cleveland and Bart Starr in Green Bay.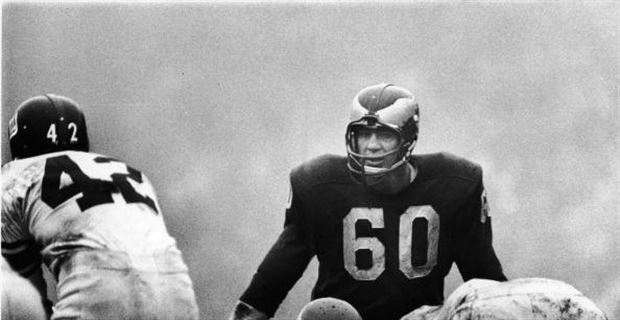 The last of the "60 minute men," Bednarik played his entire career with the Eagles, earning nine All-Pro selections and eight Pro Bowls as a center and linebacker. Bednarik played 169 games with the Eagles, missing only three games in 14 years. He finished his career with 20 interceptions and was named the NFL's all-time greatest center in 1969, commemorating the league's 50th anniversary.
Bednarik played 58 minutes and made the game-saving tackle to clinch the Eagles last title, a 17-13 victory over the Green Bay Packers, in 1960.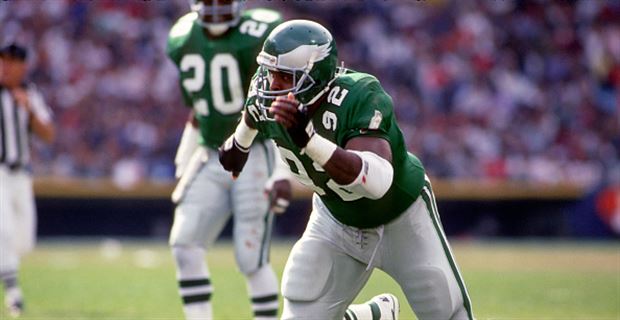 The "Minister of Defense" was arguably the best defensive end in NFL history, finishing his career with 198 sacks (second all-time) andwas on another planet during his eight years with the Eagles, registering 124 sacks in 121 games.
White's best season was in the strike-shorted 1987 campaign, compiling 21 sacks in 12 games, which included four forced fumbles. He had 57 sacks from 1986 to 1988, compiling the best stretch for any defensive player in NFL history.
White was the NFL Defensive Player of the Year in 1987, 1991, and 1998 and was an All-Pro in 13 of his 15 seasons. He finished with 198 sacks (second all-time), while also having 1,048 solo tackles, 33 forced fumbles, and 20 fumble recoveries.
He was named to the 1980s and 1990s NFL's All-Decade Team, the league's 75th Anniversary Team in 1994, and was a First Team All-Pro selection 10 times.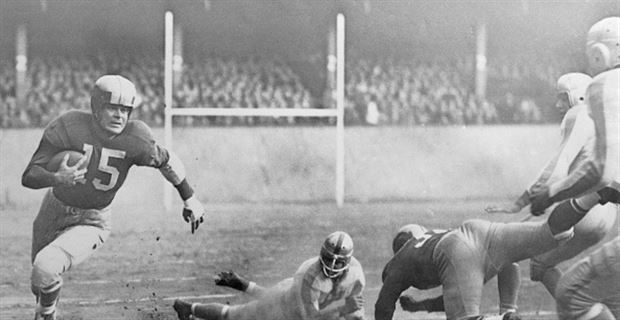 The No. 1 overall pick in 1944 was a six-time All-Pro selection and arguably the best player on the Eagles championship teams in 1948 and 1949.
In eight NFL seasons, Van Buren rushed for 5,860 yards and scored 464 points (69 touchdowns). He scored the game's only touchdown in the 1948 NFL Championship Game and rushed for 196 yards in the 1949 NFL Championship Game, both Eagles victories. Van Buren was the most clutch player in Eagles history, obviously rising to the occasion based on his championship game performances.
Van Buren still holds the Eagles single-game rushing record with 205 yards and holds the franchise record with a rushing touchdown in eight consecutive games. He was named to the NFL's prestigious 75th-anniversary team in 1994 and was a selection on the Pro Football Hall of Fame 1940s All-Decade Team.
When Van Buren retired, he was the NFL's all-time leading rusher and scoring leader. He was the Eagles first inductee into the Pro Football Hall of Fame, elected in 1965.
The Eagles retired Van Buren's No. 15 shortly after his retirement, the first retired number in the history of the franchise. Van Buren is still second in team history with 77 total touchdowns.