There's 50 games left in the Pittsburgh Pirates regular season.  Two of the club's most used relief pitchers are inexperienced at the Major League level and their workload could be a topic of discussion at some point.
Edgar Santana and Richard Rodriguez are in their rookie seasons and pitched a collective 23.7 innings at the Major League level entering the 2018 season.  This year, Clint Hurdle has trusted the two relief pitchers to toss 52 games and 41 games respectively.  Santana's 52 games leads all pitchers on the Pirates and is in top 20 usage all across baseball.
Given the usage it was important to add some backend pieces to the bullpen to give a break to some of these pitchers, something the club did by adding Keone Kela at the trade deadline.
The Pirates have had some inclination of usage with their relievers in the past, as in Saturday night's loss the Pirates trusted Alex McRae to give the team length instead of turning to either Santana or Rodriguez given the off day on Thursday.
Santana was likely unavailable because he tossed 35 pitches Friday night, but Rodriguez only threw five after the off day (he threw 25 Wednesday night).  Giving relievers a break is needed, especially in Santana's case on Saturday, but using McRae for 3.1 innings and 78 pitches after throwing 3.0 innings and 56 pitches Wednesday wonders what the workload limit is.
Looking individually, Santana has thrown 50.3 innings (on pace for 73) after throwing 76 innings last year.  He's on pace to throw fewer innings, which is good going forward in the last 50 games, but innings aren't the only way to look at the workload.
One way to look at the workload is the amount of pitches that the pitcher threw in a given year.  Using baseball-reference's Minor League and Major League game log, pitch data is available for some years.  Unfortunately, not all years have all the amount of pitches thrown, so this will only look at years where each game has the amount of pitches.  Below is Santana's number of pitchers each year: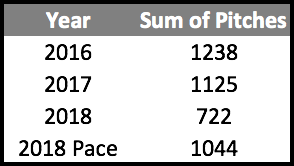 In 2016, Santana spent time in the Arizona Fall League, adding 141 pitches to the usage.  In 2017, he threw 12 pitches in the Dominican Winter League, which is not included above.
This year Santana is on pace to throw his fewest pitches in the years where all data is available, which should keep him fresh as the season winds to and end over the last 50 games.
Of course, just pitches doesn't tell the entire story of usage.  For example, 60 total pitches split up between two games on two days is different from two games over three days.
Using the game logs, just subtracting the dates in games the reliever is used can give the amount of days rest (have to also subtract off one).  Below is the amount of rest Santana has had between outings over the last three years:
The 38 days of rest between outings in 2016 is from the end of the Minor League season and the start of the Arizona Fall League.  The biggest take away from 2016 is never pitching on back-to-back days.
But looking at the zero days of rest column, Santana has doubled the amount of games used on back-to-back days, and he only has five less games used on one day of rest.  Overall that's a two game increase on zero or one game of rest and there's still 50 games left of the season in which Santana is projected by PECOTA for 23.7 more innings.
With Santana being a one inning guy, occasionally more than that, Santana is projected for about 20 more outings, putting him at 72 for the season.  His current pace of 52 outings in 112 game is 75 games.
Pacing out the amount of games in which Santana has been used on zero or one day of rest (27 of 52 games) and assuming he will pitch 20 more times, Santana will be used 10.38 times on zero or one day of rest.  Considering the rookie is at plus two on games used on zero or one day of rest, adding in the 10 puts Santana at 12 more games on zero or one day of rest in 2018 compared to 2017.
Given the amount that Santana has been used based off days rest, it's important to keep Santana's pitches down, and that's something that he has been both efficient in as well as Hurdle managing.  In order to keep Santana fresh in the last two months, giving him a break here or there is important.
This doesn't include games in which Santana has gotten hot and hasn't pitcher, but given the volume of zero or one day of rest outings, Santana on pace for less pitches is a big part on why he should be able to stay effective.
On Friday, I'll take a look at another young Pirates arm in Richard Rodriguez.  Like Santana, it's important to watch and monitor the workload for him to stay effective not just for the remainder of 2018, but also for next year considering that Rodriguez came out of nowhere with his success in 2018.