WEEK FIVE: CHARGERS @ GIANTS
In a brutal turn of events, the Chargers have to pull themselves up by their bootstraps after a demoralizing loss to the Philadelphia Eagles only to jump on a transcontinental flight to New York to face the much-improved G-Men. Despite QB Eli Manning being on the "back nine of his career," many NFL experts predict the New York Giants to get over the hump in 2017, win the NFC East, and ultimately reach, if not win, the Super Bowl (You gotta love early season optimism in the NFL!) This theory has gained some traction recently, rekindling the public's thirst for a possible third Eli Manning vs. Tom Brady Super Bowl. Ah, but I digress. It's never easy to fly across the country and come home with a road win, much less against a good NFL squad poised to make the jump to the next level in 2017.
Apparently, Eli will now be surrounded by the best wide receiver corps he's enjoyed since the heyday of Plaxico Burress and Victor Cruz and Big Blue's defense speaks for itself. The Chargers will be hard pressed to march into the Meadowlands and defeat the G-Men in their house. This game will feature lots of defense with both squads making plays. Chargers head coach Anthony Lynn will stick to his "ground and pound" philosophy in an attempt to control time of possession and burn the clock in this one. Unfortunately, New York's revamped passing attack will give the Chargers secondary fits, forcing Joey Bosa and the pass rush to try and single-handedly win the game by getting to Manning before he can poke their eyes out with a hot stick. Although the Bolts have historically played well against the G-Men, even winning at the Meadowlands on the road in recent years, it won't be enough on this Sunday as another NFC East squad on the rise sends the Chargers back to SoCal with another tough loss.
FINAL PREDICTION:
Chargers lose another physical game on the road to a surging Giants team eager to prove that they can improve on last year's Wild Card loss to Green Bay on the frozen tundra of Lambeau Field. Chargers fall to the G-Men at the Meadowlands by a final score of 24-20, once again going sub-.500, moving to a (2-3) overall record in 2017. Like it or not, this is familiar territory for the Chargers after the first five games of the NFL season over the past decade.
WEEK SIX: CHARGERS @ RAIDERS
After a two game skid against high caliber NFC East teams, things don't get any easier for the Chargers as they return to the Pacific Time Zone to travel to Oakland to take on hated divisional rivals, The Oakland Raiders. It goes without saying that the Derek Carr-led Silver and Black were poised for a run deep into the playoffs last season when Carr went down with a broken ankle, effectively ending their bid to challenge the New England Patriots in the AFC Championship game. Oakland is "loaded" and defensive player of the year Kahlil Mack is poised to repeat or even improve upon his stellar on-field performance from 2016.  Jack Del Rio's club has added Marshawn Lynch, a.k.a. "Beastmode," to their roster and there's even talk of Calvin "Megatron" Johnson "unretiring" and joining an already indomitable offensive attack in Oakland that will surely strike fear into teams around the league. Let's not forget that the Silver and Black has owned the Chargers for the past two seasons, sweeping them in both campaigns. The Bolts simply have to find a way to slow down Oakland's offense while keeping Kahlil Mack from eating Phillip Rivers for breakfast. That's not even to mention stopping Marshawn Lynch from reaching the end zone every time he touches the rock inside the red zone!
This game will be yet another trial by fire for Forrest Lamp, Dan Feeney, Matt Slauson, Joe Barksdale and the Chargers offensive line. Factor in the close nature of all divisional games, and you've got a recipe for disaster in Oakland. To have a chance of winning this one, the Bolts must play a near-perfect game, winning the turnover battle, grinding the clock, pushing the ball down field to WR Travis Benjamin, forcing Derek Carr out of rhythm on passing downs, and most importantly, scoring touchdowns on offense when inside the red zone themselves!  But alas, the Bolts will undoubtedly shoot themselves in the foot by stalling out in the red zone, kicking field goals in lieu of scoring touchdowns, turning the ball over, failing to call time outs at pivotal moments in the game, missing opportunities to challenge controversial calls on the field, and losing the scoring battle against a high-powered Oakland offensive attack. Bottom Line: As with the Bolts' other divisional series against the Chiefs and the Broncos, they must at least split with Oakland to have any chance of winning the division.
FINAL PREDICTION:
Chargers lose another divisional game on the road to a talented Raiders team that very well might have won it all last year if not for the season-ending injury to Derek Carr. Bolts fall to the Silver and Black at "The Black Hole" by a final score of 30-21, leaving win-starved Chargers fans scratching their heads as the familiar, "Here we go again," mantra fills the air. It's never easy to watch our beloved Bolts sink to a (2-4) overall record on the season after six games, but this time it really hurts as all the hype, hot air, and hydrogenous Los Angeles rhetoric goes up in flames faster than the Hindenburg. Suddenly, but not surprisingly, the proverbial "Fight for L.A." isn't looking so winnable. Or is it?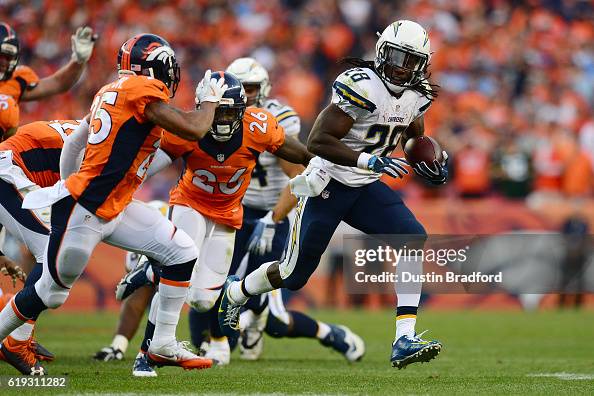 WEEK SEVEN: BRONCOS @ CHARGERS
Alas, the Denver Broncos come to Los Angeles to play their first game against the Chargers at Stub Hub Center. Having lost a close one to Denver at Mile High in the season opener, Head Coach Anthony Lynn and the Bolts will be hungry for revenge. Look, these two clubs, like all divisional rivals, know each other's' tendencies extremely well. These games, as stated earlier, are almost always decided by a touchdown or less. The difference here will be that the Bolts' backs will be up against the wall and losing this one is a season ending proposition. Chargers players will have to ball out for "Player's Coach" Anthony Lynn to save the season and, most likely, Lynn's job. These observations will not bring Charger fans much solace though, as this storied franchise's track record in times of desperation is pretty depressing. Nevertheless, the Bolts will find a way to edge out Denver at home to win a close one. By this time in the season, Denver will probably be unraveling in similar fashion to what we saw in 2016 as a result of inconsistent quarterback play, a struggling running game, and a chronic inability to score more than 24 points a game. Whether it's Paxton Lynch, Trevor Siemian, or a third stringer at the helm in this game, the Chargers will exorcize their AFC West demons and prevail in this week seven divisional matchup. The Bolts offensive line will be gelling by now and keep Von Miller and the vaunted Denver front seven in check. Melvin Gordon will have a breakout day running the rock, and Phillip Rivers, who routinely plays well in games against the Broncos, will put it all together here. Just as it seemed the light at the end of the tunnel was growing faint, the Bolts will once again tantalize its fan base with a glimmer of hope. Despite a recently-renegotiated, big-money contract with the team, GM John Elway will once again be on the hot seat as the Broncos own chances of competing for the AFC West Crown and a playoff berth start to peter out.
FINAL PREDICTION
The Bolts are recharged at Stub Hub Center as they find a way to knock off the division rival Denver Broncos, finally getting the monkey off their back by splitting games with the Broncos and avoiding the sweep. Just when it seemed like all was lost, Phillip Rivers and the Bolts win this one (and look good doing it!) by a final score of 31-24, improving to a (3-4) record on the season. This is high drama in the great, one step forward/two steps backward, in the time-honored tradition of the former San Diego Super Chargers!
WEEK EIGHT: CHARGERS @ PATRIOTS
 Finally, we reach the game I've had circled on the schedule since the day it came out! Yes, Bolts fans, it's the much-maligned New England Patriots. It'll be TB12 and the Evil Emperor himself, Bill Belichick, calling the shots as the Chargers travel cross-country to take on the defending Super Bowl Champs in this intriguing AFC matchup. Regardless of your school of thought on the Patriots, cheaters or champions, newly acquired Jets linebacker David Harris is right to call them the "Gold Standard" of the NFL. What rival Pittsburgh Steelers have dubbed a "Patriots Problem" is a league-wide conundrum that has most teams scratching their heads when trying to game plan for Bill Bellichick and company. While most NFL teams run a similar offensive and defensive scheme every week, Bill Belichick and Matt Patricia can be counted on to cook up unique game plans that exploit the weaknesses of their opponents on a weekly basis, endowing the Patriots with a chameleon-like malleability that makes them virtually unbeatable if not extremely unpredictable. Most NFL coaches get royally "outcoached" when going up against Bill Belichick, TB12, and the New England Patriots (See: Steelers Coach Mike Tomlin). The real shocker here is that seemingly no one in the NFL, including the last two Chargers head coaches, has been able to make the necessary adjustments to slow down, much less short-circuit the high-scoring Patriots offensive onslaught. For Bolts fans, this game will undoubtedly be another exercise in football futility as Phillip Rivers and the Los Angeles Chargers march into Gillette Stadium on October the 29th and get shellacked!
Phillip Rivers has played poorly in his career outings against Tom Brady, Bill Belichick, and the Pats, with games at Gillette being almost farcical in terms of their lopsided outcome. I ask you, what reason have we to believe things will be any different this time around? As passionately as I loathe the Patriots and routinely root for their opponents, especially the Chargers, to dethrone them atop the NFL's power pyramid, my spider senses are telling me to chalk this one up to a loss, and a bad one at that. Even if the Pats weren't loaded on both sides of the ball, Bill Belichick would find ways to neutralize what the Bolts do well and "make it look easy" against Phillip Rivers and the Chargers.
In fact, Phillip Rivers is one of the easiest quarterbacks in the league to neutralize due to his lack of mobility, tendency to make poor decisions in the clutch, and desire to carry the team on his back/do too much, usually resulting in sack fumbles, interceptions, or disastrous turnovers of some kind. Can already see Trey Flowers and Rob Ninkovick knifing into the backfield to sack Phillip Rivers or tackle Melvin Gordon for a loss, right when Pats need a big play on defense (look no further than the key sack of Matt Ryan in Super Bowl LI to spark the "biggest comeback in Super Bowl History!"). No offense, but Phillip Rivers is no "Matty Ice." Once rattled, Phillip will begin gesturing wildly at his receivers for running the wrong routes, tongue-lashing his offensive lineman for not pass protecting better, getting overly excited, and generally melting down, all when what he really needs to be doing is protecting the football. As a long-time Bolts fan, I have witnessed this "Super Choker" act one too many times to believe it won't be reprised in this game. I know, I know. None of these things are Rivers' fault. He's actually a top-tier, elite quarterback who would have more rings than Tom Brady if he had only had a half-way decent supporting cast around him all these years. Sound familiar? This skeptical Bolts fan will believe it when he sees it (preferably in a big game against a top- tier opponent like the New England Patriots for instance!) Because, as the age-old truism goes, "Seeing is believing, baby!"
Although the Bolts' upgraded offense and improved offensive line play should help them avoid a total embarrassment in this game, Brady's still going to put up a 40 burger on them while New England's defense does a number on Phillip Rivers and the Chargers' running game. Dante Scarneccia's all-pro offensive line will severely limit the effectiveness of the Chargers' pass rushing tandem of Joey Bosa and Melvin Ingram, allowing TB12 to dismantle the Chargers' secondary with surgical precision. Julian Edelman and the Patriots wide receiving corps will have a big day in this matchup, while Stephon Gilmore, Malcolm Butler, Devin McCourty and the New England Secondary feast on picks from Phillip Rivers. Look for the Pats to dominate time of possession and field position throughout the game, pinning the Chargers inside their own 20-yard line on most of their offensive possessions. The discerning NFL fan will keep a close eye on this game as it could be a preview of playoff matchups to come, with emphasis on the conditional helping verb "could" here. Again, like all die-hard Chargers fans, I want this win for the Bolts so badly I can taste it, but that doesn't mean this pipe dream has even a remote chance of coming true.
FINAL PREDICTION
Bolts put up 27 in a losing effort as Tom Brady and the New England Patriots once again show why they are the NFL's "Gold Standard." Neophyte Head Coach Anthony Lynn gets circles coached around him and can't seem to make in- game or halftime adjustments that change the flow of the game in any meaningful way.  Bolts get blown out by the Patriots by a final score of 40-27, taking yet another step backward while falling to a .500 (4-4) record on the season. Bolts fans can only count their blessings that they've gotten through the first half of the 2017 regular season schedule with even numbers in the win-loss columns (and pray that the other teams in the AFC West have had a similarly rough time of it up to this point!)
 There you have it, we've made it to the buy-week. Keep an eye out for the next installment in the five-part series by Scott James titled – PART III: HISTORY REPEATS ITSELF…AGAIN