Like all baseball seasons, this one has been full of surprises. We have division leaders we didn't expect, stat leaders we couldn't have guessed and even some disasters we had no chance of predicting. How do I know this? Because Off The Bench tried to predict all this stuff in our 30 Teams in 30 Days feature before the season started.  Let's take a look at some of the most interesting surprises from the year so far:
The NL Central Standings: After the Brewers' addition of Zach Greinke, the Reds' Division title last season, and the injury to Cardinals' ace Adam Wainwright in spring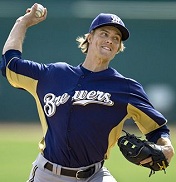 training, the NL Central seemed pretty easy to project. What actually happened is that the reigning champion Reds are only 1 game over .500 and stuck in 3rd place 4.5 games back, the injury riddled Cards are only a half game out and have been  in or near first for a couple weeks and the Brewers, who missed Greinke for the start of the season, have won 24 of their past 32 games and could take over first place with one more win.
The Cleveland Indians: The Indians started 30-15 and a recently as May 23rd had a 7 game lead in the AL Central. Since then, however, they have been a disaster, falling into a first place tie with the Detroit Tigers. They can't pitch, they can't field, they certainly can't hit and even perennial "good-guy" Shin-Soo Choo got arrested for DUI. I'm not sure what's more of a surprise, the great baseball that got Cleveland off to such an impressive start or that they have fallen back to earth the way they have. Wait, yes I do. The collapse of the Indians isn't a surprise at all! I predicted it on this very blog a few weeks ago, remember? Hah, I do know something.
The AL Home Run Lead: If you were asked who you thought would be in the AL home run lead on June 12th, chances are Jose Bautista wouldn't have been too far from your mind. You might be surprised to learn, though, that he is tied for the lead despite not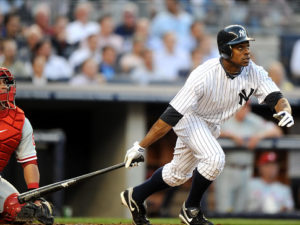 hitting a homer between May 28 and June 12, a span of 13 games. (His average has also dropped 22 points since the start of June, all the way to .338) The big surprise is who is second to Jose for the AL lead in HRs: Curtis Granderson. Granderson has always been capable of hitting homers but so far he's kept pace with Roger Maris in the historic 1961 season. It seems like Curtis is launching one nearly everyday, much the way Bautista was in the beginning of the year. In fact, for the past 3 days, he has been hitting a homer every day.
Ichiro Suzuki: Ichiro Suzuki is hitting only .256 so far this season. His previous career low is .303, in the only season the two time batting champ (including .372 in 2004) didn't receive MVP votes. This season, the former MVP and Rookie of the Year has been thrown out trying to steal 4 times in 18 attempts. That's still pretty good until you realize  that in 2008 he was thrown out 4 times in 47 attempts. His strike out to walk ratio currently stands at 1 to 1, the first time its been even close to that in his entire American career. He has never had fewer than 206 hits in a season but is on pace for about 165 this year. What's going on? Is age finally catching up with the 37 year old? Has almost 2 decades of professional baseball taken its toll?
Rookies Of The Year: It's always really hard to predict the Rookies of the Year because its impossible to know who's in the running. You never quite know which player will get hurt and create an opening for a young guy to come up go off or which team will be better or worse than they thought prompting them to promote someone ahead of schedule or who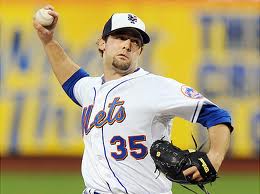 will come out of complete obscurity and take over in the big leagues. A perfect example of this is Dillon Gee of the New York Mets. Gee made 5 starts last year and was 2-2 but I believe he is still eligible for the ROY award. This season, he's an astonishing 7-0 for the lowly Mets and has a 3.05 ERA and a 1.09 WHIP. He's got to be in the running but if you're not a Gee fan, how about Josh Collmenter? The Arizona righty with a funky delivery is 4-1 and has a 1.12 ERA in 13 games and 6 starts. He's surrendered only 28 hits in 48.1 innings.
Over in the AL, you've got Eric Hosmer leading the pack. The much anticipated Hosmer was called up by the Royals on May 6 and has since hit .290 with 5 HRs and 21 RBI. Over the course of an entire season, his numbers could be very impressive. Also, who knows what his new teammate Mike Moustakas will do now that he's in the MLB.
Minnesota Twins: The 2009 and 2010 Twins won the AL Central and last year they won 94 games. This season, however, they are 25-39. Their franchise player, catcher Joe Mauer, has played exactly 9 games this season with leg injuries, their slugger, 1B Justin Morneau, is hitting only .225 and has only 4 homers. Also, ace Fransico Liriano has an ERA over 5 and 6 losses. This is not a good ball club. Closer Joe Nathan's return from Tommy John Surgery has been bumpy, he's served time on the DL and has an ERA of 7.63. Right now, the Twinkies are 9 games out despite having won 8 of their last 10 and may be completely out of contention this season.
Arizona Diamondbacks: While the Twins are disappointing everyone this year, the Dbacks are exceeding expectations. Kirk Gibson is in his first full year managing and, after 2 consecutive last place finishes and only 65 wins in 2010, this was supposed to be a throwaway year in Arizona. Instead, the team's got three players with more than 10 homers. They've also got Collmenter, Daniel Hudson, and Ian Kennedy doing real well in the rotation and JJ Putz with 17 saves and a 2.00 ERA. The Dbacks are currently 35-30 and only half a game behind the Giants for first place in the NL West.
Oakland A's: The A's were considered a good pick to win the AL West at the outset of the season, mostly due to a wealth of starting pitching. Now, however, after injuries to almost the entire opening day rotation, the A's are a mess. They've lost 12 of their last 13, and currently sit in dead last in the AL West. They fired manager Bob Geren in the midst of a 10 game losing streak last week. New manager Bob Melvin has already started to make some changes, most notably rescuing Hideki Matsui from the bench and making him the three hitter. We'll see if Melvin can resurrect Oakland's playoff hopes but it's a tall order with a patchwork pitching staff and a shaky offense.
Jose Reyes: Reyes's numbers right now put him in the MVP conversation. He's batting a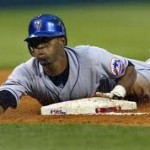 league leading .346 and has 3 HRs and 25 RBIs. This is a big surprise. Trust me. It's surprising he's healthy, it's surprising he's playing so well, it's surprising that he responded so well to his owners criticisms. Mets fans are uniting behind him and the idea of keeping him in Queens. If he keeps up what he's been doing, he'll definitely deserve the MVP.
-Max Frankel