Hello Followers.  Hope you are doing great!
I have a big, big work week ahead of me. And so, I thought I'd take a couple of minutes tonight to reflect a bit on last night's epic win over Boise State and its implications for the next few weeks of the season.
To begin, a few thoughts about last night's historic win:
First, with respect to our opponent, I have to say I was impressed.  Boise State had a fantastic game plan, had some really good Power 5 quality players, they had a stout defense, and above all, they played hard and tackled really, REALLY well in open space.  And while its possible that Boise could parlay last night's "snatch defeat from the jaws of victory" moment into a highly disappointing season, they looked and played like a fringe top 25 team most of the night.
In other words, last night represented a true quality win no matter how it came about.
Now, regarding the game, well, as I noted on Twitter last night, I absolutely HATED that game. I was 100% miserable for nearly all of the first three plus quarters (as our offense looked terrible), and I was equally miserable the rest of the game–since I was sure that our comeback was going to fall short.
And honestly, if Harsin had decided to go for two after the BSU touchdown in the second overtime, I think we would have been talking about a 42-41 loss, instead of the 47-44 thriller that wound up being the final score.
That all said, a couple of quick takeaways from the game that I think are relevant to this Cougar team moving forward.
Takeaway #1.   We are NOT a mediocre football team
There were a couple of guys that I follow on Twitter that were ready to throw the football team, Mike Leach, and the entire program off a bridge by the middle of the fourth quarter.
And while I was not  one of them, I had become despondent as I watched what  looked like a painful cross between the Cougar team that played Portland State in 2015 and the one that tanked against Minnesota in last year's Holiday Bowl.
Moreover, when I factored in the games against Colorado, UW, Minnesota, Montana State (which I thought was a bad offensive performance) and then the first three quarters plus against Boise, it became quickly apparent that we hadn't put anything together of substance in, well, like almost 20 quarters???
And then the damn kind of broke when Hilinksi came in. And all of a sudden, we weren't mediocre anymore.  In other words, instead of wondering whether or not we can move the ball, the question quickly became "who is best qualified to help us move the ball??" (and score).
And that latter question, brings me to my second set of take-aways…
Takeaway #2. The Cougs Can't Afford to Get Boobie Trapped
Lots of folks out there really, REALLY like James Williams. And believe me, I do too.
That being said, if you happened to be in Bryant Denny stadium like I was on Saturday, or if you caught a bit of Stanford-USC, or if you watched any part of the Nebraska-Oregon game, then you know that in the grand scheme of things Boobie is a taco north of a dime a dozen.
Mind you, that is not to say that Boobie isn't a good player or that he can't (or wont) wreak havoc on many of our opponents moving forward.
What I am saying is that we should NOT view Boobie as some sort of Heisman caliber running back, nor should we view him as an All-Conference candidate. Because he isn't–at least not at this point as a sophomore.
And for that very reason, it is ASININE to me that we would start (a) Giving him 70% of the snaps/touches in a game; and (b) Give Gerard Wicks two fricking touches in ANY game, let alone a big one.
I mean, if you're a coach and you know that teams are going to rush 3 and drop 8 all season, don't you think that you might want to try to run a 230 pound RB up the middle 5-10 times a game just to keep the other team honest and/or rough up their safeties a bit?
In brief, if this team has any ambition about exceeding last year's win total, then we best return to that 3 headed monster that was so darn successful last year. Because if left by himself, we will see the Cougs get #BoobieTrapped to the tune of the 2.2 yards a carry we saw from James last night. And who needs that?
But add Wicks and Morrow to the mix in a 33-33-33 type distribution and I think we will get to see them ALL go off.
Takeaway #3.  Is Luke Falk getting Tom Brady'd?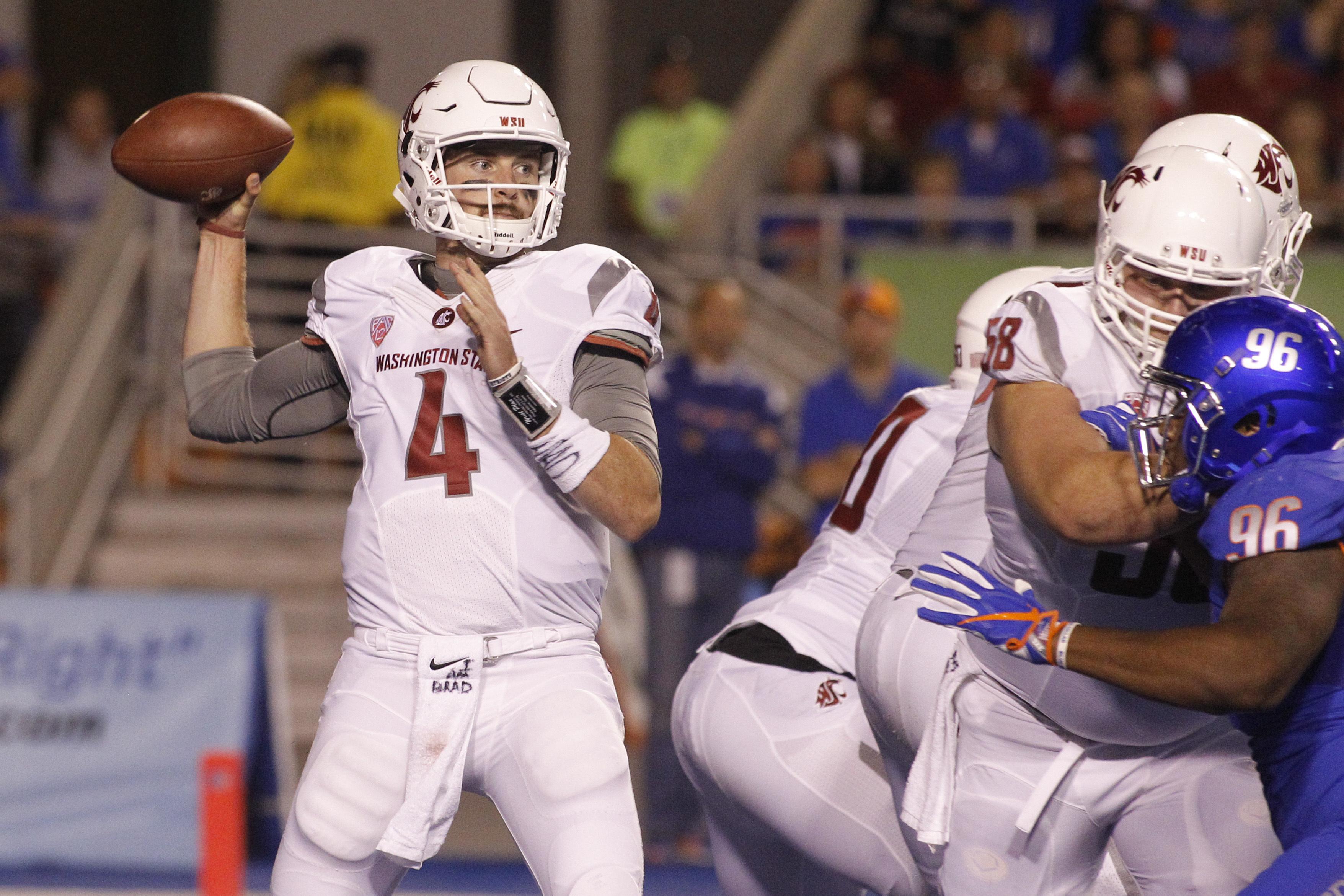 A few years back, Kevin Hogan of the Stanford Cardinal was having a fantastic sophomore season. Then, in his Junior season, he hit a MAJOR wall, one that led to a 7-5 season.
Now, as it turns out, one of the reason why Hogan struggled so much that year is that he was losing his father to cancer.
But the other reason for Hogan's struggles was that teams figured out that he really struggled throwing intermediate passes—especially to the outside.  And so, teams started scheming toward that and with great effect. And truly, the only thing that saved Hogan and his career was that (a) he was a great runner; and (b) Christian McCaffrey showed up and decided he was going to be one of the best players to ever play college football.
Now, the reason I mention Hogan here is that I wonder whether or not teams have finally figured Falk out? Because it seems like what teams are doing right now is jamming him from wherever he wants to go and forcing him into ALL of his bad tendencies and limitations—which include holding the ball for WAY too long and throwing really errant deep balls which show his (at times) painful lack of arm strength.
And so, I left last night with the pretty firm belief that Hilinski should be the guy moving forward, at least until he shows that he can't handle the starting job (kind of like Gary Rogers in 2006). Because there are a couple of strengths in Hilinksi's game that Falk appears to not have at his disposal right now.  And those strengths are:
He (Hilinski) gets rid of the ball quickly
He appears to have better arm strength than Falk
He is much faster and quicker than Falk and therefore offers some mobility that adds dimension to the offense.
As a back-up, he is arguably more familiar with the receivers we have now—most of whom he played with in practice as back-ups (e.g., Dimry, IJM, Sweet, Bell, Patmon), while he is equally as familiar with the new kids like Calvin.
In short, Falk has always modeled his game after Brady. Well, Brady wasn't the consistent starter at Michigan during his season year either.
And while I have nothing but good thoughts and admiration to send toward Luke Falk (for this season and beyond), last night felt like a MAJOR turning point.
Takeaway #4.  Powell looks legit
If you want to play championship football—or at least compete to be a #3 or #4 team in the conference, you have to win the two or three 1-5 point games that typically define a season (we got one of those last night).  And last night, Powell came up clutch in several key moments of the game—ranging from clutch extra points to that first OT field goal that everyone KNEW he was going to miss.
In short, Powell's confidence was noteworthy last night and that is GREAT news for Cougar fans moving forward!!
Takeaway #5.   Don't ignore our secondary concerns.
Outside of the Quarterbacks and running backs, the most glaring issue about the Defense in my book is the continued struggles of our corners.  And so, as we go through the next two weeks, it would be really great if Grinch unleashed the guys who he thinks have the biggest upsides—even if it means they get played a bit along the way.
Because the only way to stay in the game against the likes against UW,  USC, and Stanford is to get better play at that position—or at least to develop more depth so we keep guys like Molton and Pippins more fresh.  To that point, I liked what I saw from Strong last night. So, here's to hoping that he and the young freshman get more reps over the next two weeks.
CONCLUSION
With 8:00 left in the game last night, I thought I was watching a team with a decent, serviceable defense and a mediocre to sub-mediocre offense. That team, looked like a 5-7 outfit–which was a far cry from what I expected from this team and this season.
But by the end of last night's game, I thought I was watching a defense that was capable of winning 8-10 games IF the offense was high flying.
So, again, moving forward, the question now is who is best equipped to get that offense is going—especially now that we've all seen that it CAN go with the current group of players!
The good news is that the next two weeks are going to offer "serviceable" opponents that are good enough to beat us if we bring our C games, but not good enough to beat us if we play well.  And that means that we now have an incredible opportunity to prepare for what is going to be the SEASON DEFINING stretch that is USC and Oregon in a couple of weeks without a ton of worry.
And to be clear:  I think that USC is going to POUND us in a few weeks. However, after watching the games I taped yesterday, I still have a decent amount of confidence that we can be the 3rd or 4th best team in the conference IF we can get our QB and RB situation ironed out over the next two weeks.
That's all the time I have for today.
I'll be back on Friday with another set of  *HOT TAEKS* for the games in Week 3.
All for now.  Go Cougs!