Happy Football Friday to you Followers!  Hope you are doing great.
For the entire off-season, I had tomorrow's game against Oregon State as a key swing game of the season.  If you recall, last year's Beaver squad nearly ran us out of Reser Stadium in late October, taking a 24-6 halftime lead behind the very capable legs of Ryan "the Wall' Nall, before Luke Falk, #RioSuave, and company took it to the Beavs in the second half.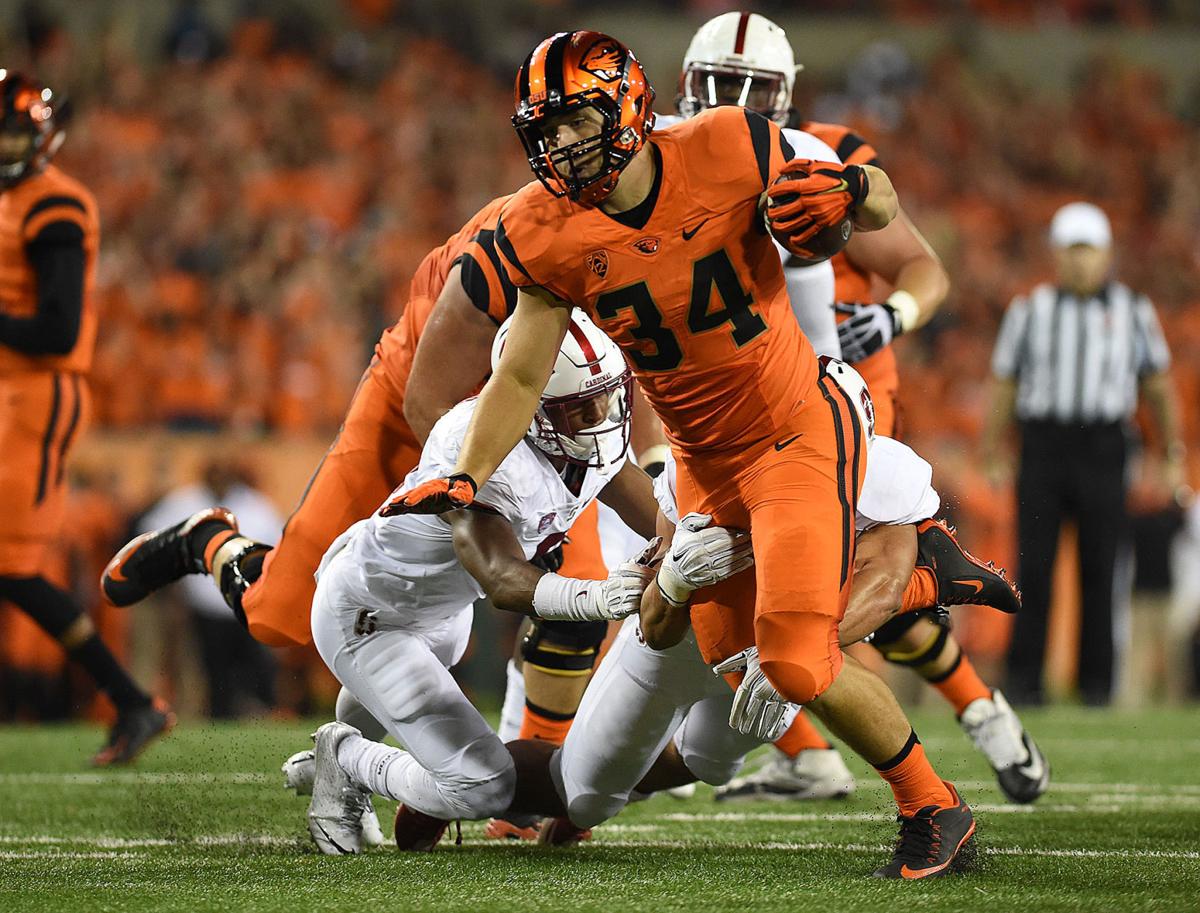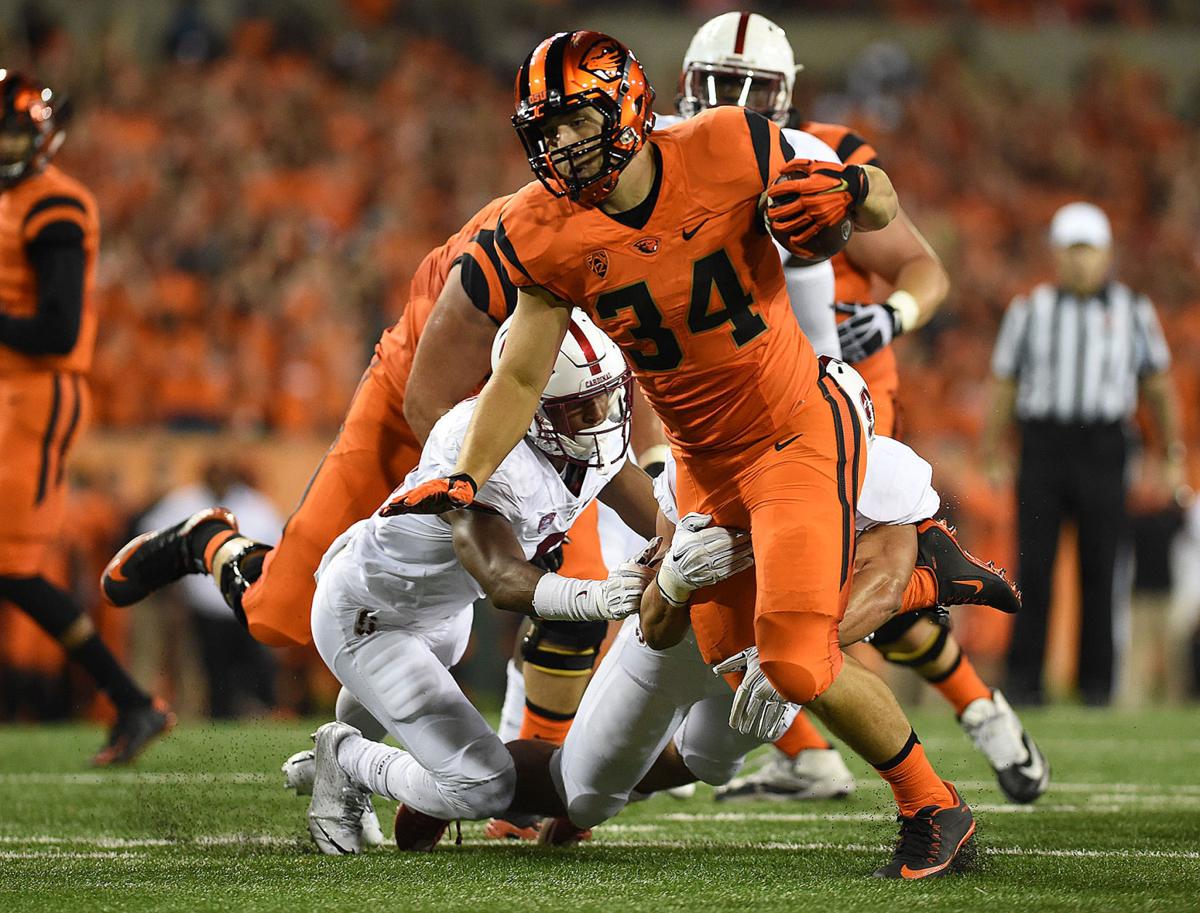 Then, later in the year, the Beavs ended an 8 year losing streak to the Oregon Ducks behind Nall's 155 yards and four touchdowns—enabling all of the Beaver Backers to dream about a 6, 7, maybe even 8 win campaign in 2017.  Sound familiar, Coug fans??
Of course, the 2017 season has turned out to be anything but dreamy for the Beavs—at least until now. And while part of me still worries that the Beavs might figure things out on the bus somewhere between Corvallis and Pullman, the fact of the matter is that the Beavs remain too slow and too undersized—at least on defense—to be able to keep up with a Cougar offense playing its C to C+ game, let alone one that is playing well.
So, while I initially worried that this  game was one that we could easily lose if our minds weren't right—that fear now seems a bit far-fetched.  And since a win tomorrow seems considerably more likely than not, tomorrow's game has moved from a potential disaster game to more of a tune-up contest–at least in my book.  Here's what I am looking for tomorrow:
It's easy to look at what teams like Colorado State, Portland State, and Minnesota have done to the Beavs and start the great expectation game of dropping 60 on them or some such. And while the chance may be there for the Cougs to have that kind of record-setting day, the first order of business tomorrow is just to win the damn game and stay healthy.
Earlier in the week, Mike Leach assailed his offensive line for exhibiting the same type of timidity that we saw from the Cougs through the first two weeks of last year.  Of course, the Cougs responded to last year's tongue lashing by winning 8 straight.
Tomorrow, I hope to see the Offensive Line really get after it.
The last two weeks have shown that there may be trust issues between Luke Falk and his young group of receivers—issues that need to be ironed out in a hurry if WSU is to retain its Divisional title hopes beyond the first week in October.  So, while I am NOT expecting for our offense to completely arrive tomorrow, it would be nice to see Luke enjoy the same kind of offensive rhythm that we saw Hilinski enjoy last week on most of these drives.  Because there is no way in hell that this team is going to win 8-10 games unless this offense starts to fire on all cylinders.
THE KEYS TO WINNING
Will Luke Falk Throw for 400 or More Yards?  Yes.  And he better. With a weak Beaver defensive line, two starting corners out, and their starting safety suspended for the first half, Luke should have 240 yards passing by intermission.  And if he doesn't, then you can expect folks like me to start to look toward the sidelines. And honestly, that is the LAST thing that I ever wanted or expected to have happen this season.  So, let's not go there, okay Luke?
Will WSU rush for more than 100 yards?
Yes.  WSU should be shooting for about 600 yards total offense in this one.  And, based on what I saw Colorado State do to the Beavs in the second half, we should see Gerard Wicks, Boobie, and Jamal run all over the Beaver defense in the second half.  So, let's say the Cougs get 137 on the ground tomoorow, with Boobie leading the way with about 80 yards.
Also:  #FEEDWICKS
Will WSU score more than 35 points?  See below, but its worth noting at this point that the Cougs are now 2-0 when scoring more than 30 points a game this year and 1-0 when scoring more than 35.  If you remember, my call was that if WSU scored at least 35 in every game they would be 10-2 at year's end.  Well, let's see if they can get things rolling this week, shall we?
Will WSU be better than +1 in turnover margin?
So far this year, the Beavs have been a turnover machine—and their penchant for turning the ball over is the primary reason for their 2 blow-out losses.  I'm thinking the Cougs are going to be +1 tomorrow—but if we are +2 or better then this thing will get out of hand.  My view +1 or worse is a recipe for a 35-24 type game.  +2 or better moves the needle closer to 49-14.
Prediction
The word out of Pullman this week from Mike Leach et al. is that Luke Falk has had a really great week of practice.  And while I hope that the Cougs' effort on the practice filed transfer to grid iron, I fear that we are going to see another sputtering offensive performance from the passing game. So, although it would not surprise me in the slightest if we were to go out and boat race the Beavs to the tune of 55-17, I'm thinking this game is going to be far more uncomfortable than most of us would like to see.
So, here's to thinking that the Cougs pull away late to secure a 45-24 win (with the score being somewhere around 24-21 or 24-17 in the third.)
ELSEWHERE
Texas 42 USC 38  It wouldn't surprise me if this game is something like 58-21 USC, but this one would have me worried if I was a USC fan. To begin, I think that its quite possible that Stanford is not nearly as good as folks thought they were and that USC is now primed for a major let down game. Moreover, since Tom Herman was an Assistant at Ohio State, his teams are something like 15-0 straight up when they are underdogs.  That has me thinking that the Trojans should be on upset alert.
UCLA 42  Memphis 31. I noted at the end of the Texas A&M game that UCLA is a team that I wouldn't want to play because they have the feel of a "team of destiny." Well, that destiny is going to be put squarely to the test on Saturday with that 9:00am Pacific start time.  Here's to thinking that the Bruins pass that test.
Oregon 56 Wyoming 21.  They're back……..
Stanford 35 San Diego State 24.  I predicted earlier in the season that the loser of the Stanford-USC game would lose 4 games this season. And while I predict Stanford to rebound this weekend (cuz that's the Stanford thing to do), I feel pretty darn good about that prediction, especially with WSU, UW, Oregon, UCLA, Utah, and Notre Dame left on their schedule.
CAL 37  Ole Miss 28.  I don't think that CAL is back by any stretch, but this win is going to add to an unusually strong non-conference's resume for the Pac-12
Arizona will win, ASU will not.
Clemson 38  Louisville 21.  Lamar Jackson is so damn good, but that Clemson D is really, really something.  Might we be in for a back-to-back National title for the men in Orange?
That's all the time I have for today—hopefully SeanHawk will be adding his picks to this post later sometime today.
All for now. Go Cougs
SEANHAWK SEZ:
Greetings Cougs!  Happy Football Friday Week 3 to you and yours.  As our good friend Sutra says above, here's hoping all is well in your neck of the woods.
So with my love of all things Star Wars, I went with a Yoda/Luke GIF today.  Why?  Well, I think we're seeing a Luke Falk/Luke Skywalker kind of deal right now.  I don't mean the Last Jedi version of Luke however, the old, weathered, beaten-down Skywalker that we are about to see in the next offering from LucasFilm.  No, I'm thinking more along the lines of what we saw in Empire, where a guy thinks he might have it all figured out, but still needs some further training/clarity/TRUST YOUR FEELINGS?!?
Like many of you, I was quite surprised to see our Jedi struggle last week.  But should we have been, after thinking it over?  Now I do believe that Boise State had something to do with it, let's just get that out of the way first.  I think that's a well-coached defensive outfit down Boise way, and they are athletic and pretty sound in how they play defense.  Their scheme against our beloved Cougs worked well last year too and that was WITH River Cracraft and Gabe Marks.  So maybe we should have seen it coming a little better than we did?
I'm kind of in that camp though where a lot of people have weighed in this week and the consensus building on Falk is that he may just be struggling with some trust and confidence in the new receiver group?  I tend to believe that simply because people a lot smarter than me have said as much this week (Alex Brink and Jed Collins mentioned it on KJR, by the way if you haven't checked it out I would HIGHLY recommend that segment with Ian Furness!  It's a great 30-minute weekly segment on what's up with the Cougs).  But I like the way Brink described the Air Raid, in that the throws into the windows/spaces require the QB and WR's to not just be on the same page, but the QB has to believe that his WR is seeing the same thing he is on a specific situation.  Maybe the break-in period for some of these new faces just takes a little longer?  Maybe the early season struggles are just par for the course in a Mike Leach offense, where the first few weeks the defenses tend to be ahead of the offenses in a lot of cases?
I don't know what it is.  I mean I'm not in film study and I don't have access to the all-22 coaches film, so who knows what is really happening off camera if you also aren't in the stadium with your eyes trained in the secondary.  But I can see with my own two eyes that Falk did look hesitant at times vs. Boise State.  Part of that was BSU's pass rush was pretty good, and Luke definitely had to "move off his spot" as all the sexy ESPN commentators like to say with their "HAWT TAEKS".  But even in times where he did have enough opportunities to make those downfield throws we all hope to see, it just seemed to be a guy who was a little hesitant to really let 'er rip.  Was it coverage?  Was it the WR's he's counting on just not quite there yet?  ALL of these things!?
Whatever the case, that was then, this is now.  If we know anything about Mike Leach and the way he wants his players to approach the game of football, it's always on to the next opportunity.  Don't look at the scoreboard or the stat sheet, just go and play the next play.  So with that said, I don't think Luke will be trudging around Martin Stadium Saturday afternoon with his chin in his chest and feeling sad about Boise State!  It's a new day, a new opportunity and for the first time he has really been PUSHED for his job.  I have a feeling we are going to see the young man respond, and take another step in his growth towards mastery of this offense.
I have kept an eye on Oregon State this year too, and I do think they present some interesting matchups.  The leading receiver is a tight end fergawdsakes!?!  Who the hell uses a tight end anymore!?  But they are going to win or lose on their running game, pure and simple.  If Ryan Nall gets off and they avoid turnovers, then we're in some trouble.  For the running game can really cover up issues you may have elsewhere, like a not-so-special passing game and/or a defense that lacks depth in how you can just keep them off the field if you can move the chains and eat clock.
But if the speed D keeps bringing it on early downs and they put Jake Luton in predictable passing situations, then they've got them right where they want 'em.  Luton is gigantic at 6-7, has a strong arm and is talented as a passer, but there have been issues with turnovers, now with 4 INT's in 3 starts in Beaverland.  But 3 of those came in the first game at Colorado State, so he may be starting to clean up some issues there.
I agree with Sutra in that I too think we may be in for a grind early on.  The Beavs are hanging on by a thread already into the young season, and with their early struggles AND the gauntlet of a schedule on the horizon, this is one that they may believe they can come in and steal after what happened last year in WSU's comeback victory.  So if it's already backs-against-the-wall time in Corvallis, we may just get the best version these guys have left to offer in 2017.  By the way have you seen their upcoming schedule!?  AT WSU, then home against #6 UW, then at #4 USC.  Then they get Colorado, which still looks tough, and then they host Stanford!  Serious meat-grinder time.
Anyway Luke comes through and things click really well as the game progresses, and the Cougs break open a tight one in the third.  Meanwhile the defense adjusts to the running game after some early issues, forces the Beavs to throw more in the second half, and a tight one becomes a 37-20 Cougar win.
ELSEWHERE
USC 40, Texas 21  – Sam Darnold is fantastic, the second coming of Andrew Luck.  Texas still doesn't know who they are.  Give Tom Herman some time but as he himself said, he can't just sprinkle "magic dust" on things and expect it to all turn around.  The Horns will be fine, maybe even a headache later this year, but not this week.  Troy in a blowout.
UCLA 23, Memphis 21 – Bruins win, but it's a sleepwalk-type affair.  I mean isn't this the kind of game you can see UCLA totally blowing after that crazy win?  On the road, early wake-up call (9 AM PST!?), an opponent you just aren't excited about, etc, etc, etc.
Quacks 34, Wyoming 27.  Oregon looked great in the first half vs. Nebraska, then hung on.  I wonder if now that there's some good game tape on these guys under Willie Taggart's offense that they might slow down a bit?  They are still better than Wyoming though and should win on the road with that deep offensive backfield, but I don't think they will coast.
Stanford 30 San Diego State 27.  Agreed with Sutra here, Stanford may just not be all that.  Plus SD State is a tough out.  Cardinal squeeze one out but it won't be easy.
Ole Miss 24, Cal 17.  Low scoring as the SEC takes out a finesse Pac-12 foe.
AZ 31, UTEP 24 – Where have you gone Mike Price?  Miner nation turns their lonely eyes to you.  Mildcats gut one out.
Texas Tech 48, ASU 30 – Shootout in Lubbock goes the way of the Ryan Gosling's.
All for now.  Enjoy the game tomorrow, and of course, GO COUGS!