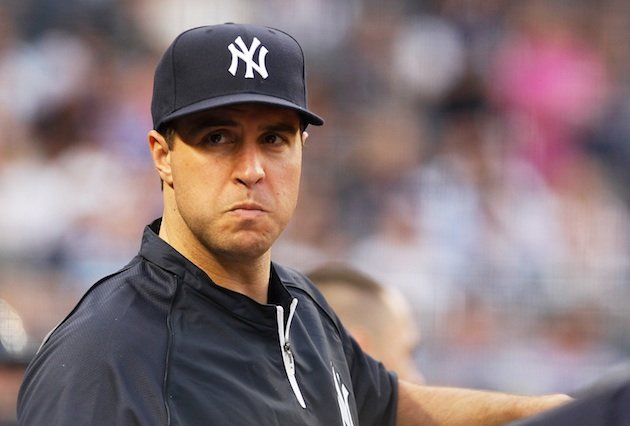 It's mid-August and the Washington Nationals are below .500, 14.0 games back; the $159 Million Philadelphia Phillies haven't been in contention all year; the $228 Million Yankees are in fourth place, closer to the (also disappointing) last place Toronto Blue Jays than the first place Red Sox.  These teams are all languishing in that dark place where the only hope of salvation is in a Yasiel Puig or Mike Trout figure to ascend from obscurity and invigorate a stagnant clubhouse.  Problem is, lightning has already struck twice in two years and the skies above these franchises look mighty clear.  Even lesser reinforcements are not exactly teeming up from the minor leagues.  Before you examine the merits of my use of "teeming" in the previous sentence, let's look at who's to blame for each team's disappointing season.
Adam LaRoche, 1B, Washington Nationals
The Nationals have to be the biggest disappointment of the 2013 season.  Nearly everyone had them pegged as the eventual winners of the NL East, and even those who considered the Braves a better team predicted the two clubs were to battle throughout the summer.  That narrative has not unfolded and there's more than Adam LaRoche to blame for the Nats' struggles (including but not limited to Dan Haren, Denard Span, and the architect of Dodger Stadium), but Adam LaRoche is the big bad guy.  He signed with the Nationals this offseason for a 2-year $22 Million deal with an option year worth $15 Million in 2015 after finishing sixth in the MVP voting last year.  Some regression was expected from his excellent 2012 season, but LaRoche is currently posting his worst average ever.  The Nats bet on LaRoche and opted to trade Mike Morse.  Morse has been injured in his move back to Seattle, but things may have been different if he stayed in DC.  LaRoche was not expected to carry this team, but his 0.3 WAR is a large part of why they have not kept pace with the Braves.
Scott Sheridan, Head Athletic Trainer, Philadelphia Phillies
Pinning the Phillies struggles the past two years on one player doesn't seem fair.  The organization has been handicapped by injuries to its stars.  Chase Utley and Ryan Howard are supposed to carry the offense but neither has been able to stay on the field.  Roy Halladay's shoulder deteriorated significantly.  The guy to blame isn't the injury bug.  The guy to blame is the head athletic trainer.  (I also considered Delmon Young because look at him and his -1.2 WAR).
Mark Teixeira, Curtis Granderson, and CC Sabathia, NY Yankees
It's easy to say that Derek Jeter and Alex Rodriguez respective appearances in extended are the biggest reasons for the Yankee struggles this year, but those absences were expected.  Over the offseason the Yankees knew that Jeter may or may not be fat and that A-Rod was a long way off.  They could not expect the respective injuries to Mark Teixeira and Curtis Granderson that left GM Brian Cashman to acquire Vernon Wells and for Manager Joe Girardi to seriously write Lyle Overbay into the starting lineup 107 times this year.  Those two injuries sent the Yankees down a bad course, but teams can stay in contention behind a strong rotation and a solid bullpen.  The bullpen has been exceptional and Hiroki Kuroda is making a case to win the Cy Young, but CC Sabathia is sporting a career worst 4.73 ERA and leads the AL in hits allowed and earned runs.  The Yankees organization deserves credit for staying within a stone's throw of .500 despite the blatant tanking from these three stars.
Pete Walker, Pitching Coach, Toronto Blue Jays
I wanted to pick RA Dickey for this, and then I wanted to pick Josh Johnson, and then I wanted to pick Brandon Morrow.  Instead, it's obvious that the Blue Jays made the correct decision to replace the pitching coach behind a club that posted a 4.64 ERA in 2012.  I just don't quite get why they would keep it in house.  The Blue Jays have managed to drop their ERA all the way to 4.48 (29th in MLB) after the additions of the reigning NL Cy Young winner, a 4-time All-Star, and a guy with a 3.15 career ERA across over 900 Major League innings.  The offense has largely held its own in Toronto despite injuries toJose Reyes and Brett Lawrie, as they rank 5th in the AL in runs scored.  It's the pitching that has been abysmal, and the guy responsible for that at the end of the day is pitching coach Pete Walker.
Paul Konerko, 1B, Chicago White Sox
Konerko also gets special consideration for ruining my fantasy baseball team.  After posting nine straight 20-homer seasons, and coming off of three All-Star appearances, Konerko has posted a -1.2 WAR.  The White Sox have the worst offense in the AL.  They probably were never going to be that great this year, we picked them for 83 wins before the season, but Paul Konerko and Jeff Keppinger (-2.2 WAR) have taken what should have been an average team and turned it into a team that is eight wins better than the Astros.
Arte Moreno, Owner, Los Angeles Angels
So many things went wrong with this Angels team this year that I couldn't pick one player, or position group.  Albert Pujols and Josh Hamilton have made Angels fans fear the future.  Over the last calander year, Josh Hamilton has a worse fWAR than Denard Span, Mark Ellis, James Loney, and Brandon Crawford.  Tommy Hanson has over a 5.00 ERA since the All-Star Break–in 2011!!!–and Jerome Williams has started more games than Jered Weaver.  It's simply a bad team and since we've got to pick somebody to blame, it's Arte Moreno.  His decision to sign Josh Hamilton instead of ponying up on Zack Grienkie has proven to be a fatal flaw and time will tell if his decision on Pujols will cramp the organization as much as it looks like it might over the next eight years.
Why have your teams struggled in 2013?  It's because in 2013, these people have failed at their job.  Here's to changes; better luck next year.
-Sean Morash